Many big brands are well aware of the fact that they need not only to find more new customers but that they also have to retain the existing ones.
If your business doesn't give them what they want, they will move on. Even if they were once satisfied with your service or product, this is not enough anymore. Customer retention is an important strategy and you should master it, too.
Here's why DTC brands invest in customer retention:
to make better returns on the acquisition costs paid
quality customer relationships lead to brand advocacy
because their niche is not huge and they cannot expand exponentially
because they aim to create a love mark product that people would stick to
Difference between Retention Marketing and Acquisition Marketing
Acquisition Marketing aims to attract new customers to your business while retention marketing's goal is to keep the once-converted customers coming back for more and converting again.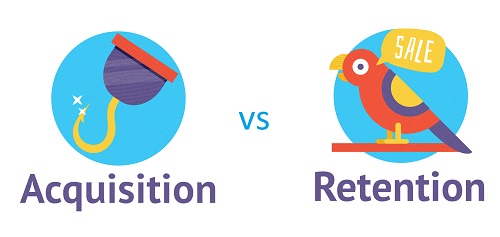 Both marketing strategies should be used together. All big brands that are known world-wide use both.
It's cheaper and easier to convince people who already know and have used your product/ service and were satisfied to use them again.
Because you don't need to spend time, money or efforts on educating new customers on your product/ brand and hoping they convert. The value of customer loyalty and retention is faster and more efficient conversion and revenue.
Even big companies that gain new customers on a daily basis just by being famous have to offer their consumer something more to keep their loyalty.
They gain customers by impressing them at the very first interaction and retain them by impressing them every time they come back for something.
Most of the online stores rely on acquiring new customers and make their revenue from one-time buyers.
Related: Short-term vs long-term strategy in ecommerce
However, these stores are limiting their own growth and popularization. They do not care about retaining their customers and do not use any retention marketing strategies.
Even today, businesses whose original idea was to center around the people, the customers, and find a way to solve a problem, are changing the ways people shop and look for what they need.
Direct-to-consumer brands are offering their customers the right product/ service and a great experience so they come back for more.
This is distilled into a Growth Engine most successful brands have in place. It includes all activities aimed at retention and increasing LTV and ROI.
Learn more: The Growth Engine for digitally native brands
Customer-centric approach
Customers are demanding more and wish to be satisfied 'right now.' Smart direct-to-consumer brands have realized the power of the customers and are using it to their advantage in their retention marketing strategy.
The customer becomes the center of the marketing world. Everything should revolve around them.
It is what allows the brands to cut on their acquisition marketing costs and invest less in marketing strategies for their existing customers and still get a higher ROI.
Brands that rely on a better relationship with their customers spend less money on convincing them to buy again and again. "The happy customer is a loyal customer."
Why should you care about retaining your customers?
Because existing customers have already had a taste of your product, they are familiar with it, with you, and if they were satisfied the first time, it is easier to convince them to buy from you again.
You also can know your existing customers and what they have or need if you're using a retention platform, so you can easily offer it to them.
Related: Customer lifetime value 101
If you just listen to them and answer to the needs of your returning users, you will get more conversions for your business. This would mean that with less investment and work, you will get high ROI. Some people call this the Pareto principle.
*The Pareto principle or the 80/20 rule states that 20% of the efforts will give 80% of the result. Because you will need to spend less on your retention marketing strategy and would have about 80% success rate out of all returning customers.
Of course, this is just a principle but successful direct-to-consumer brands can be getting up to 50% of their sales from returning customers. Retention for DTC means survival.
Think about it this way: it's better to have 100 customers coming back to you and buying regularly with almost no efforts on your side than spending money on advertising and only managing to convert 100 people from time to time.
Brand loyalty is hard to achieve these days because people's attention span is shorter, they are in a hurry to get what they want. If you don't give it to them, they will go to your competitor who will satisfy their need right away.
Direct-to-consumer brands and what makes them successful
All of the examples below have created and grown their businesses based on customer-centricity. And by targeting the right audience.
Investing in the right customers will give a better return of investment (ROI). There's no point in spending money on advertising to people who are not your target audience.
The socks giant works with a marketing strategy that offers people more than just socks. What they do is:
offer a quality product and
allow customers to return the product if they are not fully satisfied with it, which for many people is a huge trust factor.
Their return process is easy, simply wash the worn socks and send them back. Returning worn items is amazing for buyers!
And what makes the company stand out among other sock manufacturers is the fact that they donate a pair of socks for every pair purchased.
The incentive to buy all your socks from them is huge since every time you help a person in need (charities often remind donors that poor people also need socks and underwear, but get mostly second-hand items like shoes and coats).
The "buy one, donate one" model has proven very successful for pioneers Toms and Warby Parker, also direct-to-consumer brands.
It creates a feeling of doing good, not just shopping. In times when Millenials are the driving power of all trends, brands have to do more than just sell, to work for values that attract customers.
They are a company that has been growing incredibly over the past couple of years. How they do it?
They have a great customer acquisition marketing – yes. But they also have a perfect service, innovative and quality product, and are a customer-centric brand.
Nature box makes unique, natural snacks and offers them in a personalised munch box for foodie lovers. The interesting offer is complete with lots of free samples and a store credit guarantee for items you don't like.
The latter removes the barrier to repeat orders because it lets people try new things and don't worry about the premium price. It's almost too good to be true as noone wants you to return the packages you didn't like.
Another direct-to-consumer brand turned into a success story. This clothing ecommerce business has a certain target audience. Their clothes are not for every taste or budget.
The visuals, the copy, the aesthetics of the site and the clothes they make attract a very specific customer and the brand doesn't target anyone else.
An engaged community that shares styles and looks with the company's hashtag on Instagram helps a lot, too. Their customer base is religiously loyal as a result.
Customer retention marketing strategies for DTC
One of the most useful strategies is customer feedback. Listen to your customers – nowadays with so many social media platforms where people communicate freely with brands and businesses, you can easily get a ton of positive and negative feedback. Listen to it and improve your consumers' experience.
Observe their behavior. Keep track of their experience with your brand. Notice if and where they encounter problems and fix them.
Personalize their experience. People want you to be talking directly to them, relating to them, and this makes them happy and more inclined to buy from you. And to come back to you if you have something more to offer.
Give your existing customers some benefit if they buy from you again. Discounts, games, vouchers, small gift with their next purchase, etc. You can offer them through personalized ads or emails.
Engage with your customers through content. Make social media and other channels a frequently visited place for info and inspo by your audience.Post regularly and create a community of followers, not just buyers.
And of course, none of these strategies would matter if you don't offer quality products or services. This is the first step at growing your brand and brand popularity, and later on customer loyalty. Offer the best to your customers and they will come back for more.
In the end, retention for DTC is about creating a strong customer-brand bond. Every next visit to your store should give them value, you have to welcome them as the old friends they are to your business.