Cohort analysis sounds so complicated and so boring. Isn't it big-player stuff, one of those reports prepared for board meetings that no-one cares about? Do you need a data geek to do it?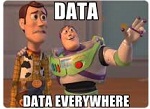 Fortunately, no, no and no.
It's actually a fun exercise for you as an ecommerce marketer that paves the way for meaningful customer retention marketing. And it doesn't need to be a pain the a**.
Let me explain.
What is cohort analysis in ecommerce?
Cohort analysis is a type of ecommerce report, which segments customers by a certain criterion and shows the group's buying behavior over time – how often they shop in your store, how much they spend, for how long they stay customers, etc.
Criteria can be things like the first product people bought from you, the month of their first order ever, the channel they came from, the coupon that activated them and so on.

This way, you see an overview of the behavior of a group of customers who share something in common – they became a customer because of the same product, or during the same campaign, or responded positively to a particular coupon offer.
They decide to make a purchase in similar ways, thanks to the same stimuli, which is a solid ground for grouping those people together for future monitoring too.
Sounds good so far? This is why cohort analysis is a gem:
Cohort analysis gives you a deeper understanding of how people buy and what makes them shop from your store again and again.
This is qualitative and quantitative data that shows you what works for customer retention so using it will get you more loyal customers and repeat orders.
In short: it's behavioral data that illustrates how well you do customer retention.
Thanks to cohort analysis, you can optimize your marketing and offers for higher customer retention in a data-driven way.
How to do cohort analysis?
Since this is a bit of a long-term tracking report, it's hard to do in an excel sheet, for example. You can either
set up a report in GA,
use specific tags in your current CRM and check on the tagged groups regularly, but that's too time-consuming.
In Metrilo's Retention Analysis, you can track cohorts by first product bought, month of first order and coupon used.
You can compare cohorts by retention metrics like CLV, AOV, return rate and total revenue.
But the coolest thing is the retention matrix, showing when the next orders happen and how customer loyalty unfolds. It's a goldmine of info when to send emails, what products to sell, and how you can stimulate additional orders.
How to read a cohort analysis?
Usually, those reports appear in a matrix shape where you have time in the columns and the name of the cohort or other attribute in the rows.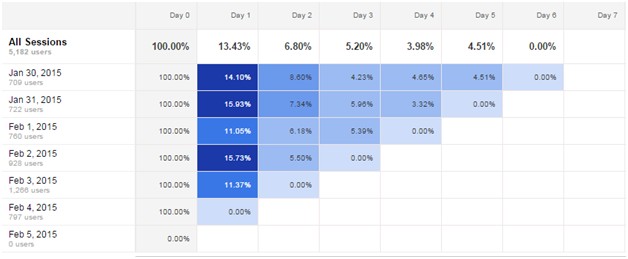 There's color coding – darker and lighter hues – that indicates more orders/ sessions/ goal completions happen in a particular period for a particular cohort. You also get numbers/ values/ percentages to compare.
Basically, for ecommerce needs, such a matrix would lay out when people place their next orders after the first.
For some cohorts this can be each month – a healthy rate of repeat orders within the cohort mean it's a good one and loyal.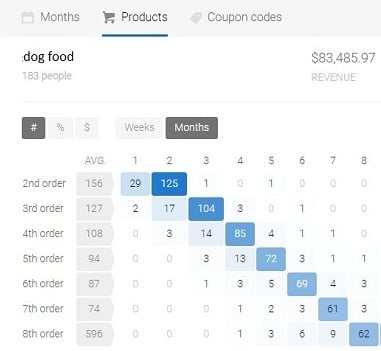 For other cohorts, the picture can be just a handful of scattered orders here and there, indicating they were not a good fit.
A cohort's lifespan ends when the last people in it churn. If most of your cohorts churn soon and return rates are low, you have a retention problem.
Full explanation how to read cohort analysis
Cohort analysis vs churn analysis
Wait, isn't that the same thing?
The two are similar, but not the same thing. Where cohorts die out, churn begin.
Cohort analysis is how customers sharing a common characteristic behave over time.
Churn analysis explains why people leave and never shop from you again. For ecommerce, the best way to find that out is asking for feedback.
Negative reviews can be incredibly helpful for improving the customer experience for the next customers to come – and why not a turning point where you fix issues someone complains about and they appreciate it and shop again.
How cohort analysis helps customer retention
As you see, we are big fans of the two concepts and we believe customer retention actually depends on cohort analysis.
If you're planning any marketing efforts towards retention, you have to look at the data first. Data-driven approach to ecommerce marketing will be increasingly a differentiator in results in an industry with such a low barrier to entry.
So, by exploring customer behavior by meaningful cohorts, you'll get:
You'll know what stimulates retention
You get detailed performance results of your marketing group by group.
Comparing cohorts by the month of their first order can tell you lots about the campaigns you ran in that month, the site changes you implemented, the motivation for the buying decision (a holiday coming up, new season items, people getting ready for a vacation, etc.).
You'll see how demand for your products changes and if seasonality is playing a role.
Comparing cohorts by the first product bought shows how those products impact the customer experience and perception of your store.
Some items will naturally make buyers happy and content, and will win their trust and next orders. Others are not so satisfying and ruin the first impression of your store, resulting in less repeat customers.
Comparing cohorts by the coupon used in their first order reveals what kinds of promotions work best with your customers – percentage off, money value off or something else.
Also, you'll see the real effect of first-order discounts on the long-term loyalty of your customers. In some cases, it may be just fine, not hurting retention and doing only what it's supposed to do – converting visitors into customers. But for some businesses it backfires and they see a huge share of one-time buyers and very low retention rates.
Predict future behavior and get ready to react
While cohort analysis is a long-term and continuous report, some cohorts can be used as models for future estimations. Their behavior can guide you what to expect from the cohort that comes in the same time next year.
Such cohorts are holiday shoppers (November – December), parents with kids (Back to school shoppers), deep discount hunters (winter clearance shoppers) and so on.
We especially recommend you plan holiday promotions taking past data into account because it turns out store owners not only realize there lies an opportunity.
Case in point: One client of ours, a seller of artisan coffee, didn't think they have much to offer for Valentine's Day.
But a cohort analysis we did together showed that their sales actually got a boost in early February and lots of customers needed gift wrap. Our client didn't even expect coffee to be a good Valentine's Day gift, but turns out – it is.
So since then, every year they carefully plan a good marketing campaign for the holiday.
Non-intrusive marketing makes happy customers
Sometimes less is more. Not emailing too often, but emailing at the right time will get you more conversions.
With cohort analysis, you'll know when the different customers are ready to buy again and when they need a little push. Timing your emails properly means you won't be annoying but hitting just when it's needed.
But how do you evaluate all that?
Metrics to look for when doing cohort analysis
Repeat rate
The single most important metric for retention. It's the share of returning customers vs the one-timers in a cohort. If you're reading this, you know that's the prize in retention marketing.
Orders per customer
This one is logical and connected to repeat rate: the more repeat buyers you have, the more orders they make each.
Time between orders
That's a truly eye-opening metric for those of you who don't want to spam with too many emails, but want to be proactive and react customers at the right time when they're ready to buy again.
Customer lifetime value (CLV)
When cohort-specific, the CLV metric measures customer loyalty in money spent. It's a good starting point for comparing product- or campaign-based cohorts.
Average order value (AOV)
While not crucial, the AOV metric shows differences in the spending habits among your cohorts. Depending on what you sell, it might make sense for you to optimize and gear your marketing towards higher- AOV customers.
Now, you're probably dying to start doing things about your retention. We have those cool ideas for you.
Cohort analysis marketing – how to use the insights
Suddenly uncovering lots of data can be overwhelming, but here's how to put the insights into action. We give you 6 ideas, but really, you can execute any retention marketing idea after such analysis.
Properly time reactivation emails
Now that you know how often the people in the different cohorts shop from your store, you can be proactive and anticipate their needs without spamming too much.
Some cohorts will like to see what's new in your store each month and other will shop big once every 3 months so your emails can give to each their own and be welcome instead of hated and deleted.
Give a little push only when it's needed
Nobody likes mass emails and you can spare your customers. The urgent, action-requiring emails can go only to those idle customers who have missed the cohort average time for a new order and seem to be slipping away.
This way, they get reminded before it's too late and you keep the cohort going forward, but don't annoy the regular buyers in the group.
Tailor your marketing
The data accumulated will show what works best and what makes people loyal to your shop. To stimulate even more customer loyalty, you can replicate successful campaigns using this data.
Example #1: If one monthly cohort outperforms the others by a lot, the campaign you run during that month was the absolute best. You should replicate it to get more loyal customers like these ones.
Example #2: You might find that all coupons with a specific amount off perform far better than those with a percent off. Listen to this data and use only the kind that yields results.
Optimize your product offers
The first order from a store is often a test so customers can judge the quality and service you provide. If they get hooked on the first thing they buy from you and come back again and again, you got a winner – a great product that inspires loyalty.
Look for the product that does it best for your store and make that product a lot more visible (in ads, featured on home page, in content, etc.) so more people buy it and get hooked.
This will also help your inventory management because you can discard low-quality stuff that loses you customers and get more of the things that keep them coming.
More about the Superstar Product Technique here.
Introduce subscriptions
If you see lots of cohorts with strong repeat orders, it might be time for a subscription option or at least an automated reorder.
A simple way it can be done is with an email automation that triggers around the time a new order should be placed (look at your time between orders metric).
Reward loyalty without additional software
Bonus points and discount tiers are great, but if you want to do something special for your loyal buyers without all the complications of using yet another app, you can simply do it with emails after cohort analysis.
The cohorts that show the greatest engagement can get a secret offer, an extended sale or priority shipping for next orders. The point is, you know who they are and how much they make you so it's easy to get a good ROI on any special activity.
Excited to do Cohort Analysis for your online store?