This is an ecommerce metrics report for CBD brands selling online. The most important ecommerce metrics for CBD brands included are:
Retention rate
Share of revenue from returning customers
Orders per customer
Customer lifetime value
Cart abandonment rate
Conversion rate
Average order value
Major acquisition sources
Most popular type of CBD product sold
Participants: CBD ecommerce brands that agreed to take part in our survey.
Method: We extracted the data from the participants' Metrilo accounts and ran a quick analysis.
*Notes:
All monetary values are in US dollars, where data from shops in other currencies have been converted. There are CBD shops from the US, Canada, and Europe, for more information about this be sure to find marijuana doctors near you.
The report looks at DTC (b2c) CBD retailers and wholesalers (b2b) separately.
CBD shop benchmarks overview
This CBD report found that:

In our previous report on DTC brands and customer retention, we found that CBD is the category with the best customer lifetime value and average order value. But now these more detailed results really show CBD is a product, driven by frequent use and its customers are hugely loyal.
Now let's dive into the individual ecommerce metrics CBD DTC brands exhibit.
CBD Retention rate
With an average retention rate of 47.9%, CBD is a truly sustainable category. It's only logical, but we're glad our customers manage to find their perfect customers and keep them so well. Although non of them offers a subscription service, customer loyalty is great.
The worst result here belongs to a relatively new company on the market so we expected their repeat purchase rate will go up over time. The mind-blowing result of 99.3% retention rate is our pride.
Read more about this tactic here.
Share of revenue from returning customers
This metric adds information to the retention rate one. It's not just about how many customers you keep around with a Cannabis Payment Processing solution, but also what's their contribution to your revenue. Because there could be the case where a lot of repeat customers drive only a small portion of sales and that's bad.
On average, our CBD brands get 78.4% of their revenue from repeat customers. That's awesome for their marketing budget because over ¾ of sales come at no cost. They are able to pay a lot for new customer acquisition.
Related: Why successful DTC brands invest in customer retention?
A note on the absolutely insane 99.9% share of revenue from returning customers one company has: it looks great, but means they're a little stuck getting new customers. You want to acquire new people in case the old churn (to keep revenue stable) and to grow. Right now, it looks as if they don't want to or can't expand, which could turn into a problem if existing customers fall out with the product.
Orders per customer
The average number of orders per customer for CBD brands is 3.7. This is quite higher than the DTC average of 2.1 across categories.
Time between orders
The average time between orders of CBD products tends to be 61 days. You can expect a cycle between 21 and 97 days, not more. It's a great category to sell for quick turnover. And this is achieved without any subscriptions. What this short sales cycle also shows is that people don't usually stock up on CBD products but buy as needed.
This conclusion is supported by the average order value stat as well.
Average order value
An AOV of $129, knowing the prices of CBD products, is not so much. Most orders include 2 to 3 items so people buy just what they'd use immediately.
The outlier brand here offers 6-packs to end customers, that's why their average order value is much higher.
To increase your CBD store's AOV, use product analysis. Metrilo's product report tells you not only what people bought together, but also what other products they have ordered at other times so you get an insight what products they are interested in.
Customer lifetime value
Customer lifetime value is essential for the financial stability of your CBD business. With higher LTV, your customer acquisition cost is offset by multiple profitable orders. This means you can spend more on acquiring customers and still be profitable.
Related: Optimizing profit margins
Our survey found that the average customer lifetime value of CBD brands is $588. Given that – as you very well know – advertising is not the go-to acquisition strategy for the category, this LTV can very well pay for legitimate marketing channels like SEO and content marketing, influencers, partnerships.
Read more: CBD Marketing and Advertising
Cart abandonment rate & Conversion rate
The average cart abandonment rate is 57% and the average conversion rate is 10%, which is great for CBD brands and probably makes other categories feel bad.
But the truth is people go to CBD shops with high intent to buy cbd gummies watermelon – and obviously from the high retention rate, they're very comfortable shopping repeatedly from their favorite shop. So no wonder sales come easy.
Browse abandonment emails can help convert customers who didn't get to the "Add to cart" phase.
Major acquisition sources
Because of the restrictions on marketing your CBD brand online, it was important to identify the marketing channels that drive sales.
The graph below measures the importance of each marketing channel as a first acquisition source, second, third and so on. The statistic is done by extracting data from Metrilo on which are the top marketing channels for each survey participant, and then stacking them as number 1 sources, number 2 sources, etc. This shows us not only which channels are the top ones, but also how other channels can work very well as a third, fourth or fifth marketing channel. Let's read the results.
"Direct" (in deep blue on the graph) is the most common channel, bringing sales. It is either the first or the second acquisition source for most of the CBD brands interviewed. This means brand awareness is huge – and this is clear from the retention rate as well. Once they like a company, they keep coming back.
Organic Google search (in bright pink) is the most common second source of sales. It's logical that people look for you online when they know you cannot advertise. A surprisingly good second source is bing search (in teal), so look into ranking there if you don't now. It shows up in all other positions as well, being the best in the 4th. Yahoo search (in light blue) is also present, being the strongest in 5th place.
Email (in orange) and a brand's other site redirecting (in light pink) to the one where the sale happens are both equally impactful as third acquisition sources. Many of you have a few different sites so make sure to interlink properly between them and get your customers to the one site where they can buy according to their location, needs, etc..
Email is undoubtedly useful because it does not restrict you (at least Metrilo is CBD friendly) in your marketing. Especially for a product with recurring use, reminders and replenishment emails can be all the customer retention marketing you do with great results.
Referral traffic (in dark blue) emerges as a driving force in 3rd place and is prominent as a 4th and 5th most converting source as well.
Facebook (in green) is surprisingly weak in driving sales. Even private CBD communities apparently don't help much.
Google CPC (in brown) is not very successful, as expected. Wholesale sites (in black), leading to the b2c site also have limited impact.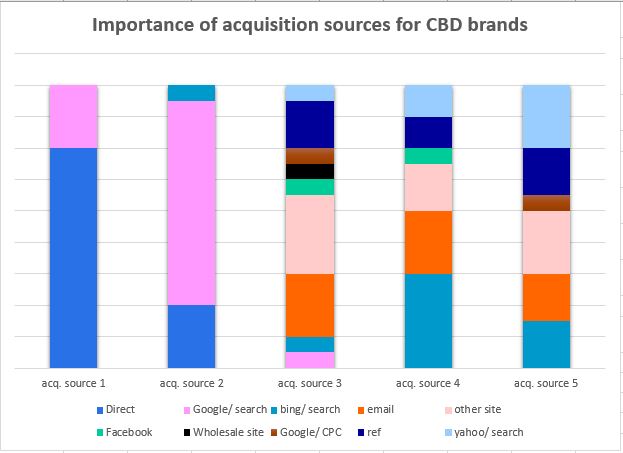 The most popular type of CBD product sold
Since there are many variations of CBD products, it's important to know which ones are the best sellers. It seems that if you don't offer CBD oils and gummies, you're losing out a lot.
We recommend looking at not just which products sell best, but also which ones drive customer loyalty – and featuring those loyalty drivers more prominently on your website. If you're thinking about starting your own cannabis dispensary business, you can simplify your operations with cannabis delivery software at https://www.blaze.me/cannabis-delivery-software/.
Read more about the Superstar product technique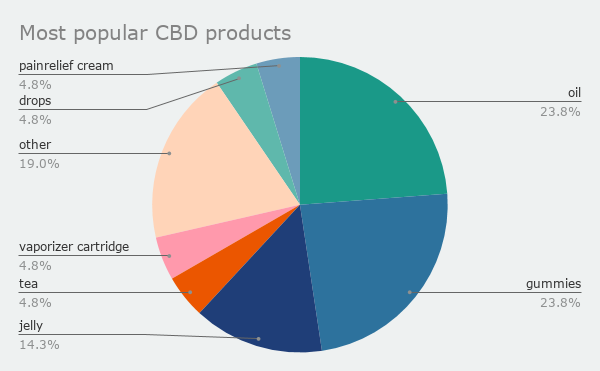 If you're interested, check out our food brand report as well.
CBD Wholesalers
Here's how things look for b2b CBD businesses. Keep in mind most of them also have a b2c shop on a different domain.

The graph below shows that the most important acquisition channels for CBD wholesalers are Direct (brand awareness is again very important), wholesaler market sites, Google organic search and the b2c sites of the brands redirecting.