Who has not heard about eCommerce content marketing? It's an omnipresent yet mythical creature that everybody talks about and boasts having tamed, but have they really?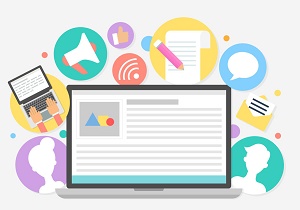 In eCommerce, it gives extra points for brand image and traffic and helps win sales in the end. Here's what a good eCommerce content marketing strategy can do for you.
It's good for your store and your competitors are probably already doing it. But what kind of content should you have?
That's strongly specific for your business, but we've selected some of the best eCommerce content marketing examples from a few online stores to get you in a creative mood.
The businesses we looked at are almost exclusively owned and ran by entrepreneurs who don't have huge marketing departments and budgets.
Many of them offer niche products and we feature a wide range of categories to illustrate what can be done for all of them. This is to show that content marketing is doable even in small teams and with little budget.
Why Ecommerce Content Marketing?

Because it's a great way to drive traffic to your store! And it's qualified traffic – meaning only people genuinely interested in your products and related topics.
It usually happens that people are not looking to buy anything, they're researching a topic of interest. They stumble upon your article/ video/ whatever about it and like it. They start following what you do or come back later when they need similar information.
Eventually, they discover your products – and because they already like your content – they transfer this positive attitude to your brand. You just won a customer thanks to a well-executed content strategy.
The best part is that you can observe how people interact with different formats, channels, and pieces, and adjust your efforts on the go. Analytics tools for eCommerce can show you how that funnel works – they don't just display revenue trends.
Ecommerce content is the foundation of Inbound Marketing (pulling people in with something interesting, rather than pushing ads on them, for example).
Read more: Inbound Marketing for Ecommerce
Ecommerce content ideas
Let's talk format first.
The most popular examples of content formats are:
Written: blog, newsletter, magazine, e-book, guides/ how-to, book review, list, interview, research report/ study, white paper, press release, opinion piece, product review, social media
Mixed: video, podcast, graph/ infographic, image gallery, meme, webinar/webcast, demo
It's up to you to decide which ones to use, but bear in mind that it also depends on your business as some formats might add significantly more value than others in your specific case.
You can have a blog with different formats, or you can separate them on your pages. Our advice is to start off with just a few that you're sure you can keep going on (this means ideas, time and people) and expand when you feel you're ready.
In case you're blushing because you really don't know where to start with blogging and content creation, check out the beginners' guide from First Site Guide or directly get help from professionals to set it up for you.
Ok, here we go.
Inform on complimentary products to yours 
Unique Cases sell custom phone cases. On their blog, they provide information about new phone models – a product they don't sell but without it, they're out of business.
These pieces of content might get people to buy a new phone…and they'd need a new case. It's highly possible that the first place they'd look for that case is Unique Cases.
Press coverage you receive, partnerships, giveaways
You can write about all these on your blog because they are easy-to-read and a nice break from the standard informative posts (no offense).
Annie Sloan, a chalk paint manufacturer, couldn't help but share the Daily Mail's gossip piece on how they supplied pink paint for the Duke and Duchess of Cambridge's second child's nursery. Yes, it's a bit of bragging and it's yellow journalism, but still funny. And definitely makes you want to buy the paint Kate Middleton got!
Guides
Transportfiets Online do it very well by putting together advice on cycling trips and yes, they sell bikes. Their guides on topics like "best destinations for cycling vacations" are related to the product, but not screaming "buy from us". It's a fine line.
Product videos
These are a great form of content marketing for eCommerce, especially when the product is interesting. STOX introduce their innovative energizing socks with this inspirational video that makes you get out and run, Forest, run. The high quality definitely gives us vibes of a premium product.
When local, talk about the community
If that's your highlight, your eCommerce content strategy should reflect it.
Mitten Crate is a subscription box of artisan Michigan food. They're deeply connected with the state of Michigan, its traditions, and land. On their blog, they promote local food-making entrepreneurs while giving them a distribution channel.
Turn events you participate in into content
Being present at trade shows/ concerts/ fairs/ exhibitions offline is a great way to meet your customers in person and it adds solidity to your claim for a share in the marketplace – you're real and not afraid to be seen by your product stand. This way you're building brand image literally with your bare hands. Segafredo Zanetti Australia regularly tell their blog readers where they are going to participate and how it went last time. It's a great real-life touch to an online store!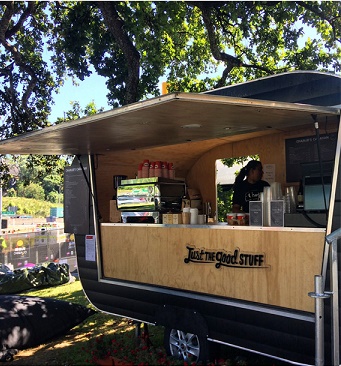 Relate to other passions of your customers
ZANEROBE, men's apparel store, knows its audience and its music taste. They host parties with the right DJs and promote them on their blog. Who wouldn't be happy to see that their favorite brand supports their favorite music?
DIY blog posts
Showing yet another use of your product gives additional reasons to add it to want it. All recipes, tutorials, and repurpose ideas will keep you good on e-commerce content for the next year or two. Also, those need to be too cool to miss so somebody might even buy just to try them!
A compilation of student works/ customers' achievements
Works especially when you sell online courses. Story Studio Chicago, which sells writing courses, posted a selection of one-sentence horror stories written by their students for Halloween.
At the very least, it shows what they do in the course and that it can be fun. It's an awesome example of customer-generated content that is not the usual Instagram photos.
Be part of your customers' lives with more than just your product
Barney Cools have 1000+ followers on Soundcloud. And they are not an artist – they sell men's clothes!
The best eCommerce content marketing blends with the target group's interests and life to be there for them not just with their products, but as a supporter of their lifestyle.
Announce product changes in a cool way
A new feature is good, adding "so what" about it is better. RushTix (a monthly subscription for cultural events) and their "10 Things More Expensive Than Our New $8.99 Starter Plan" made our morning and we're ready to spend those $8.99. Too bad they're only in the Bay Area, US.
Beautiful images for upscale feel
Online, where people cannot touch or smell the product, image is king. Online stores should have blogs heavy with beautiful images. You already know the stats that humans are visual creatures.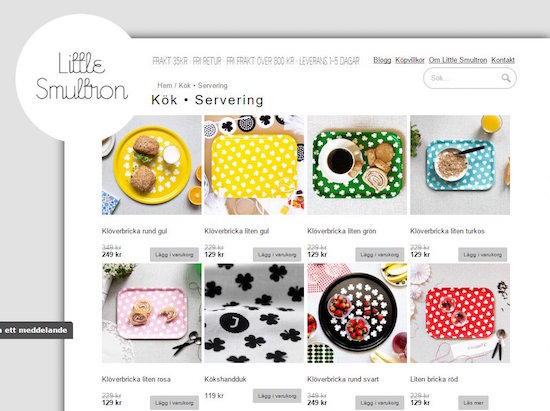 Terminology glossary
We bet whatever your product is, your customers don't know all the fancy terms. The sweet thing about a glossary is that you put it together once and then re-use, repost and redirect to it as needed – it'll be an evergreen point of reference. And it shows you know a thing or two about your trade.
Heels, an online shoe store, nailed it with their "Shoe Education: Terminologies and Meanings" post – all terms you need to start shopping confidently.
In-depth product introductions
This might work miracles for cosmetics or online work-outs because they're the kind of things people need to know more about before buying – it's not as simple as deciding on a scarf.
The Private Spa Shop writes extensively on the benefits and use of new products – a good investment considering the premium price. This way they get extra exposure (product descriptions are not always enough) and customers can make informed choices. 
Tips your clients might not know they need
Be proactive and provide resources for your audience that might come in handy at the right moment.
Men usually don't search for styling tips, but when they do, Mezoura has them lined up and ready – how to wear a shirt and a sweater, how long the shirt over the pants should be and so on. It feels good to get answers to such "silly" questions you didn't think of before, but somebody else did – for you. Oh, wait, what are these shirts here?
Hip categories on the blog
Make it a living, breathing thing with an exciting life of its own. Barney Cools, men's clothing store, actually called their blog Life and collected different aspects of the life of their target audience into categories like Threads/ Our homies/ Tunes/ Five to froth on. They sound closer to their customers, which is a brand image boost right there.
Educate about your niche
Content marketing allows you to talk more about your products and related things than it'd be ok on the product pages. If done right, it should build credibility and become a go-to place for information.
Heavenly Pure, a natural cosmetics store, features an ingredient of the month. It's a topic their customers are interested in and establishes them as experts in the field. Also, over time, entries pile up to a comprehensive guide to natural ingredients, which helps SEO.
Quizzes
Everybody finds guilty pleasure in talking about themselves. A fun, technically well-done quiz might get you tons of traffic. iHeartDogs.com (the name says it all) even keep a few quizzes pinned to the top of its blog page, you know, just in case you're a serial clicker.
Another thing is quizzes are surrounded by other super-enticing content like puppy videos that never let you leave the page. Careful with cute content, though, puppies are not the cure for all.
Tips on maintenance the products
BAERENWOLLE, selling hand-dyed yarns, offers advice on how to take care of hand-knit clothes just as winter is coming (no pun intended). It's an easy-to-prepare piece of content, yet very useful and will definitely drive more traffic to their site.
Fashion magazine
It's top-of-mind when you sell clothes. Zuvaa, an African fashion marketplace, explores boldly that e-commerce content format.
Yes, they feature designers and special looks, but it's all selective and curated for their narrow niche so it extends the brand image and caters to the special target group's tastes.
Color charts
Content can be anything that is not placed on the regular sales pages (product pages, cart, checkout). Sometimes, it's a resource that helps people choose easily – and you hope it's going to be from your products.
For home goods and clothes, color/ size/ cut charts work well. Paint manufacturer Annie Sloan (mentioned above) makes it easy to combine colors by these simple graph, which displays complementing colors opposite from each other:
Why are these good examples of eCommerce content marketing?
They don't hard-push their products on the reader/ viewer/ user.
The pieces of content provide information, feed curiosity, inspire, educate, entertain and so on – all created around the target group's interest and motivations.
They attract attention and strive to be well worth of people's time. Good content marketing is enjoyable on its own, even if the visitors know it's affiliated with a brand.
In conclusion
Got inspired? We hope so.
Just think about the content you consume "from the other side". Probably some of it is connected to a product or service, but you still read it.
If that's some of your regular reads, I bet you understand how it works trust and affection for the brand in your mind. It's not a bad thing, no. But it's powerful.
Added bonus: content makes it easy to get across your views, brand values, lifestyle positioning, mission and so on. Home ground to build your ecommerce brand on.
Of course, there are many more examples. This is just a scoop of awesomeness, created by small eCommerce owners like you. If you're proud of your eCommerce content marketing strategy and the results it brings, drop us a line – we're always ready to chat.