Ecommerce growth hacking is still something many don't believe in. Growth hacking is one of those terms that everybody's using and nobody can really define.
So we decided to put together some examples of what it means for eCommerce – and, hopefully, give you ideas how you can growth hack your own online store.
Sean Ellis came up with the phrase "growth hacker" in 2010 when he needed to better explain what he was doing for startups. In early stage, startups, e-commerce included, don't need traditional marketing – they need to grow (in customer base) and grow fast.
That's why growth hacking employs less obvious and often unorthodox methods to achieve fast scaling. They are not limited to marketing efforts but include product development/engineering, UX, sales, HR and even finance.
In essence, growth hacking is focusing on the single objective of exponential growth. It's the overall strategy set to sustainably bring you more and more customers.
Why is growth hacking important for online stores?
There are over 12 million eCommerce sites on the Internet. However, only 5% of them make over $1,000 in sales per year.
You want to be in that 5%, right? And how can you get there? Selling more.
How can you sell more? Grow your customer base. Sounds silly, but it's the basis for everything else like retention, reactivation, loyalty, increased average order value.
Why Facebook ads and magic words in copy (although both increase conversions) are not growth hacks, you ask?
Growth hacking eCommerce requires a wholesome strategy – your product, distribution channels, sales process, customer service and so on should revolve around the idea for long-term and repeatable growth. It's not just a bag of marketing tricks.
How? All aspects of the store should be designed with growth in mind.
The eCommerce growth hack framework
These are strategy bits that are valid for both physical and virtual products. We extracted them as general rules from the 3 cases that follow. That's how we got a framework of 8 principles that can be applied across product types and used in different combinations.
Growth hacking principles for ecommerce businesses:
Make/ Sell products people love. You can fool a few people, but not a million.
Give your target customers more than one way to learn about and test your product. They might've never even searched for anything like it online – don't expect them to.
Make it shareable and social.
Or make it a bargain – "I don't want an extra scoop of ice cream," said nobody ever.
Build excitement and anticipation for your product.
Build an infrastructure able to keep up with fast growth.
Keep your promises and keep on being cool.
Repeat.
Think of them as ideas to get you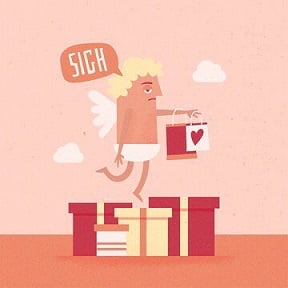 thinking what might work for your online store. You don't even have to apply all of them – just find the right one that hits your target customer right in the heart like a little Cupid.
The points may sound a little unclear, but explanations are below. The grant idea behind any growth hacking tactic is creating a sustainable system for acquiring customers that works over time and helps you achieve exponential growth. Some experts call it "sustainable viral loop".
Ecommerce growth hacking illustrated: 3 Case studies
Ecommerce is a special industry – and very different from SaaS, for example. Mostly B2C, it's plagued by customer disloyalty and price wars. How to break through and not only stay afloat but catapult to success?
We've selected eCommerce examples to explore specific growth hacking techniques they used to increase customer base aggressively.
Etsy

Whether you are a fan of the marketplace or not, with an IPO and 54 million users, there's no doubt Etsy is successful and has hacked its way to a household name.
Did you know, though, that its early 2000's success was due to:
Timely leveraging of the feminist crafter movement
Creating more favorable conditions for sellers frustrated with eBay's institutionalism.
Providing a great platform to actually live up to expectations.
Relying on genuine word-of-mouth and taking part in the specific community it was serving – alternative craftspeople.
Hоw is this growth hacking? Well, let's look at it with the framework provided above in mind.
A specific group of people needed an alternative to traditional online marketplaces with better conditions. Check.
These craftsmen told their friends about Etsy. It was also present at offline craft fairs – the best place to meet high-quality sellers at the time. The products offered, in turn, attracted loyal customers to the platform who spread the word, too.
It's easy to promote an Etsy store. Plus, the core target group is very active on niche blogs, forums and so on.
Why is it a bargain? For sellers, Etsy takes only about 8.3-10.1% of Gross Merchandise Sales (compared to other marketplaces that take 20-30%). For end customers, it's the place with best prices and widest choice of handmade goods.
They were able to get the alternative community excited about the new market opportunity and thus get them on board.
Their engineering team expands all the time and is focused on productivity and optimization. This is how you support 54 million users.
From the beginning, Etsy claimed to be a counterpart to large corporations that exhaust resources and advocate consumerism. It's still true to its mission.
Are they still doing it? Yes, and all processes are aligned with these values.
We're not going to discuss more recent decisions made by Etsy – only its upward trajectory from the super-niche "bad boy"to a multi-million top-of-mind marketplace. So far, all of the strategic moves mentioned are in line with a growth mindset – and replicable over time.
Bonobos
Andy Dunn, the founder of one of the most successful digital native men's clothing retailers to date, said in an interview for AdAge, "If word-of-mouth isn't there, it's hard to get to those first 10,000 customers."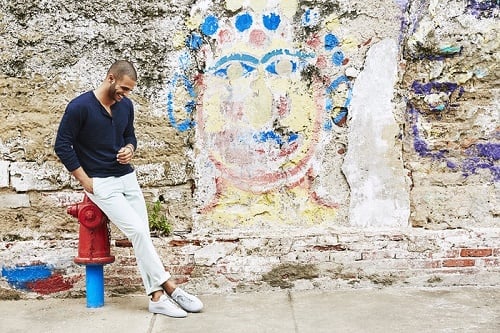 Bonobos got $1.6 million in sales in their first year. What's so special about the pants they sell? We'll go back to the seven growth hacking points to break down Bonobos's success.
They started out because Andy Dunn got fed up with not finding well-fitting pants. Was he alone? 30,000 pairs sold in the first year alone prove not.
Although they cater to the modern man who enjoys the convenience of online shopping, Bonobos opened up brick-and-mortar Guideshops to help more cautious customers pick the right cut and size. Then, customer service representatives email all the information and just leave the last step – checkout –  to be completed when customers get to their computer and they get the purchase delivered so they don't have to walk back to the office after lunch with a bag of pants. The mix works wonders for conversions: the uncertainty of online shopping for clothes is eliminated and average orders through theGuideshops are twice the value of the ones placed directly on the site.
Bonobos's customers gave a 74 Net Promoter Score – that's pretty awesome score because it means they're very likely to recommend the brand to their friends. In 2012, they partnered with Nordstrom to reach customers who don't shop elsewhere but at department stores.
They adopted a referral link incentive where their customers share a link with friends and get $50 credit. Referral links are not something but that's about half off a new pair! Sure they'll share!
When the very first chinos were tested at trunk shows, the adoption rate was 95%. The market was ready.
The company is heavily investing freshly secured capital into opening new Guideshops as figures show they are the factor in the mix that makes the difference.
To this day, the company is focused on customer service – each appointment at the Guideshops is 1 hour long. Their return policy is still very liberal. And they expand their product range with the same values in mind: fit and experience.
The company has been experimenting with women's lines as well.
Diamond Candles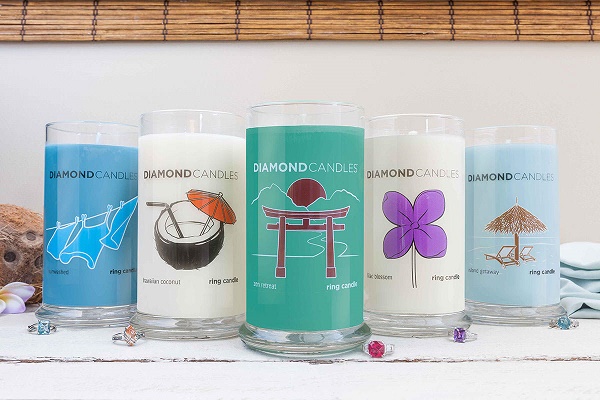 Who knew candles could be such an innovative product? Diamond Candles added a twist to their handmade candles that changed the game – they put rings to be discovered in the candle as it melts.
They are the perfect example of building the whole business around the idea of growth hacking, differentiating from the other probably thousands of online candle sellers.
Here's how they did it:
Candles and rings are two items the target group (women, 18-36-year old) loves and uses regularly. Putting them together, it's no longer just lighting a scented candle, it's a treasure hunt. And women always love a new trinket to add to their collection.
Rings as pieces of jewelry are great conversation-starters among women. So are candles when given as a gifts or lit at the dinner table for guests. (MarketingSherpa)
DC are super active on engaging their community on visual social media -Instagram, Pinterest, Facebook. Customers are encouraged to share their findings and tag the company -and they happily do since rings are a vanity item women love to show off. Product pages on the website feature user-generated photos. Sweepstakes are held regularly to draw attention and new people to try the product.
Not only customers get a $10 ring in every candle, but they also get a code to enter a drawing for a more expensive one (worth up to $5000). The additional incentive works wonders for repeat purchases – and wild sharing of the prizes. Customers even include the estimated price and karats of the rings – the more, the better! With candles priced at about $25, no surprise people come back for more in search of the $5000 treasure.
Each candle holds a new ring and an entry code for a new drawing – and customers turn it into a ritual of discovery. "I am looking forward to when the ring appears," is the most common comment on the product pages. Also, they announce every new scent on social media and customers flock to buy every time, Director of Social Marketing & Community Josh Beaty says. That's loyalty to get jealous for.
To be able to manage rapid growth, DC implemented software to manage inventory, shipping and eCommerce infrastructure. They also admit using marketing automation to keep track of all social engagement they're getting. Both moves allowed them to scale their core efforts in product development and branding.
After 1,200,000 rings discovered, they are still fun, approachable and authentic on social media.
Is the DC model sustainable over time? In their 5th year of business, there's no sign of slowing down – revenue is over $20 mln. And their social channels are bursting with activity.
What growth hacks would you take home?
Of course, these three companies are just examples of what can be done in eCommerce. You don't have to do all of the tactics outlined. We just wanted to show how things stuck up and form every side of the business in a way that's set to grow.
As we said in the beginning, the 8 points we used are not a theoretical framework for growth hacking, but they sum up commonly found features in growth hacking strategies. That's why we used them as guidelines.
There cannot be such thing as a an ultimate guide to growth hacking because it is a creative and individual process for every business that cannot be replicated at 100%. In fact, the idea is to make it so unique that it works for you and you only – that's what catapults your eCommerce to starry skies.
If everybody could copycat "growth hacking" tricks, all businesses would be thriving in exponential growth. For good or bad, that's not possible.
So we wish you to find the right strategy for your business.