Online coffee shops are an extraordinary corner of ecommerce. We say it not only as coffee junkies but as marketers too.
It's an incredibly hard product to market – it looks generic to the average consumer, and at the same time it's hard to showcase online because its most distinctive features are taste and smell.
That's why we're so deeply interested in the strategies online direct-to-consumer coffee brands use to sell. Here are the best practices we uncovered and advice from seasoned coffee entrepreneurs.
How to sell coffee online
Here are the best tactics we see working to drive online coffee sales.
Product pages that stimulate the senses
The only disadvantage of selling coffee online vs offline is the sensory appeal a coffee shop has. So your coffee product pages should make people imagine the aroma and flavor profile of your coffee to convert them.
Create detailed product descriptions including all aroma descriptors and taste descriptors to excite a sensory response even without a physical way of trying it. As a coffee expert you might think they're too complex to use on the general shopper but they will stimulate their imagination and trigger salivation :).
And while you're at it…
Educate to make people feel at ease buying specialty coffee
The last obstacle to converting people to buy coffee online is their resistance to the hip side of it. How do you convince them specialty coffee is worth it?
Include explanations of industry terms like types of roast. This will make the process more enjoyable instead of scary because people feel intimidated by things they don't understand. The more people learn about the product, the more they'll appreciate it, turning into loyal customers and connoisseurs.
Other content ideas:
Various methods of preparing coffee
The coffee flavor wheel
Coffee drink recipes
Even a taste quiz to help them choose a blend
Related: More content ideas for ecommerce brands
Create the best converting product bundles
Product bundles directly increase your order value – customers buy more than they came for.
Bundles fit very well with the coffee niche because there all the different methods of making coffee and the supplies for it, the mugs and the accessories that you can add to your main products.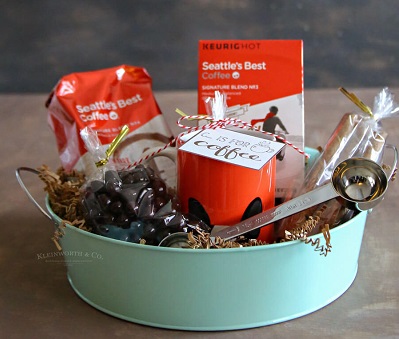 To create the most successful bundles, listen to your customers.
What products do your customers often buy together? Base your cross-sells and bundles on that.
What products your customers end up buying instead of your slow-moving items (SMIs)? Bundle up the two to clear the SMIs out.
Where to find this data? Ecommerce analytics like Metrilo will readily tell you what goes with what.
Personalized offers by taste
Selling coffee online is a lot like selling it offline – you as the expert can offer a product that people will like. Fortunately, it's easy after you have a history of one or two orders by an individual customer.
What products did they buy? Did they order the same again or switched to something else?
If it makes sense for your ecommerce store, what product category did they shop from?
What does it all say about their taste?
Tag people in your ecommerce CRM based on your findings and tailor your next email offer to their preferences. You can even highlight that this is your recommendation for them specifically.
Barrington Coffee Co. tailors the coupons they send to customers based on their site browsing behavior (they use Metrilo to see that). This way the offer is very tempting – just what they wanted, but limited to this particular customer and their products of interest. Much better than a blanket promotion.
Read the hole case study on Barrington
Coffee is the perfect product for reorder emails
Being a commodity product that people need every day, sometimes more than once a day, coffee is great for recurring orders and customer retention.
To make people order more frequently, send reorder reminders when people should be running out of coffee. Segment buyers by the bag size they got and adjust the time of the email accordingly – should it last a week or a month? A simple email automation that will win you loyal customers.
Related: Triggered emails driving sales on autopilot
It might sound irrelevant when selling coffee online but coffee brands using our ecommerce analytics found out stronger seasonal changes in consumption and even opportunities.
For example, even though they didn't have any St. Valentine's Day promotions, people would buy coffee as a gift. Since discovering that, the brands started running offers and got an even better outcome.
Optimize traffic sources
In order to optimize marketing spend, you should look at the conversion you get from different marketing channels and invest only in the ones that work well for you.
For example, one client brand, analyzing their sales with Metrilo, discovered that their top channels were review sites and doubled down on their efforts there.
Our own research shows that the best converting traffic channels for conversions are organic and branded search. This makes SEO essential and a knowledge base can help for ranking higher.
Offer bags in different sizes
To convert as many people as possible, you can use the old coffee shop trick for selling coffee online: offer different sizes of coffee for every taste. Some people will want to stock up for the month so they know their mornings are sorted and others will want the freshest grind so smaller bags will suit them better.
This will also let you display price ranges so any blend will look more affordable at the small bag price. You can even offer better prices for bigger quantities for your VIP customers.
Coffee samples
Samples are probably the best way to get people to try more of your products and keep them buying repeatedly.
If you don't use them already, start including small bags of coffee beans or grounds in packages to tempt customers for the next order. A package insert saying more about the sample blend can also be helpful.
Another approach is to sell a bundle of sample-sized bags for first-time buyers so they can test your product range and find their favorite.
Partner up with complimentary product brands
Enhancing the customer experience and expanding your respective audiences – it's a win-win for both parties. You can use a partnership tool to find like-minded brands or you can just contact some you share a market and target audience with.
Some ideas for potential partners:
Breakfast cereals
Fresh juices and smoothies
Teas
Supplements
Gift baskets (hampers)
Sweets
Bedding
Kitchen goods
Handmade mugs
Worried about the competition coming from Amazon? Don't be. Amazon has its weak spots and brands like yours are at an advantage.
Marketing benchmarks for online coffee shops
We surveyed ecommerce coffee businesses using our platform and here are the ecommerce benchmarks we found for the coffee niche.

Coffee brands enjoy a healthy retention rate of 38% – more than the food industry average of 31%.
If your time between orders is less than 143 days, you're doing better than most in the coffee niche.
The average customer lifetime value online roasteries get is $203 out of 2.6 orders per customer.
Cart abandonment rate of 55% is lower than the overall food average (61%).
An average conversion rate of 10% is quite high – most customers visit online coffee shops with the strong intention to buy.
See the full report on DTC food brands.
One successful online-only coffee business
We talked to Andrew Aamot, the President of Sträva Craft Coffee, about what it takes to build a successful online coffee business. The coffee brand's story is a crash course on differentiation, brand building, competitive advantage and being there for your customers.
All feedback at launch was positive but orders stalled. The problem was coffee is an incredibly popular product to be sold online and competition is off the charts. A beautiful website and great coffee was not enough.
Differentiating a coffee brand
Differentiation is a must in a niche where the average consumer doesn't see much difference from one supplier to another. Telling the brand story of traveling to east Africa to meet farmers and learn about coffee production and its impact on the environment and rural communities was a good starting point. But not enough. It is a commodity, after all.
They knew that most of the great coffee roasters differentiated themselves primarily through local presence with a brick-and-mortar shop. By operating cafes, they could present their brand and interact with customers – with roasting operations in clear view customers could connect with the products and the people who made them.
As a cafe wasn't part of their business plan, though, they focused instead on differentiating Sträva through the products alone, and that meant getting creative, innovating.
Most other brands tell the story behind the cup – the origin, the farmers, etc. Sträva chose to tell the story in front of the cup, the story of the person who drinks their coffee. That was a story about ambition and drive, of hard work and of perseverance, and many of the people who wrote such stories began each day with a great cup of coffee.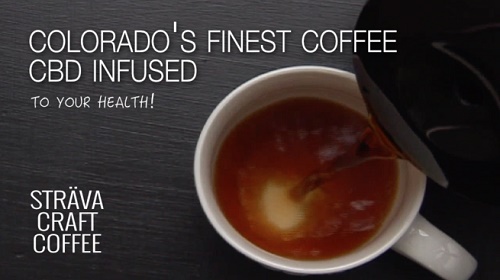 So they asked themselves, "how can we make a great cup of coffee that works harder for our customers?"
Operating out of Denver, Colorado, the guys were inspired by the growing acceptance of cannabis for medicinal and therapeutic consumption. Cannabidiol or CBD is the non-psychoactive component of cannabis that offers the therapeutic properties without the negative effects, making it friendlier and not controversial. It can be derived from industrial hemp and is not a controlled substance.
Related: Selling CBD online – benchmark report
So the two founders experimented with it and created CBD-infused coffee. The result was a different cup of coffee that helped consumers to live better lives – balanced, without caffeine jitters, helped reduce anxiety, and offered a myriad of near and long-term wellness benefits, you can get the same by checking this CBDDY: pure cbd oil price blog post.

Sträva's Peace & Wellness line of CBD-infused specialty coffees was born. The angle shifted: the coffee worked for the customer, for driving their story.
Another coffee entrepreneur Jodi Geren from FourBarrel Coffee approached differentiation definitely:
"I guess my advice to new businesses is to be as authentic as you can. Don't try and copy what's out there hoping that it will work for you too. Let your ethics guide your business.

There's a lot of imitation and a lot of bullshit in the coffee business nowadays. So every time we see someone who does their own thing and follows their own way, it's like a breath of fresh air.

I think it's hard to do that sometimes. For instance, we create our website and content in-house. This means that everything people see on the website is our vision, our voice and it just truly shows who we are."
Getting to know your customers
With the innovative product came new customers outside the initial target group and the Sträva team needed to know more about them to continue the relationship.
Their platform Shopify measures the metrics, but doesn't give the full picture to truly understand a customer. The guys needed to see the full customer journey in order to optimize it.
Related: How to engage different customer segments
"The truth about an online business is that you can never know enough about your customers," Aamot says. "The best you can do is put tools in place to understand their behavior, to engage in proactive communication, and to make the best-informed business decisions you can. Embrace the tools that help you do this and you'll be more successful."
One of the team's first tasks was to estimate the lifetime value of a customer so that they could control their acquisition costs. Which social media channels, referral partners and influencers help you drive your brand forward?
Related: Measuring influencer results
They also wanted to connect with customers on a regular basis and in a meaningful way, and that required a proactive approach. Emails at the right time are at the heart of being helpful and providing value to your customers.
Measure when they're ready for a new order and proactively send an offer. In between, engage them with content so they remember you.
Finally, earn and establish trust – customers buy from people they like, and from companies and brands they trust. For online businesses, that means being genuine, delivering on commitments, exceeding expectations, and addressing issues promptly should they arise.
Related: Using feedback to your advantage
Advice for new online coffee businesses
Make your product stand out.
Keep and eye on acquisition channels – you might be surprised where sales come from.
Monitor customer behavior, try to understand it and tailor your marketing to it.
Put in the effort to retain customers.