Canceled orders are a pain for any ecommerce business because it all – acquisition and conversion – just worked out, only to get canceled minutes later. It's even worse than returned orders because at least there the customer tried the product before deciding.
But there's hope. You can try and turn things around. Maybe it won't recover all canceled orders, but any saved sale is a small win. Sometimes people need a little bit of reassurance.
Why do customers cancel orders?
"I changed my mind" is the top reason for cancelling an order, according to Statista. High shipping costs and long delivery time are other popular reasons. Customers cancel orders because they feel buyer's remorse, usually immediately after they hit "buy".
They decide it's not worth the wait or the cost is too high after all. Or maybe they see an ad about a similar product at a discount from a competitor.
1. Catch canceled orders
The chance of a customer cancelling and going to the competition is very high. That's why you need to act fast.
So set up an automation to react to order cancellations. A simple email saying, "We're sorry seeing you go. Is there anything we can do?" is enough.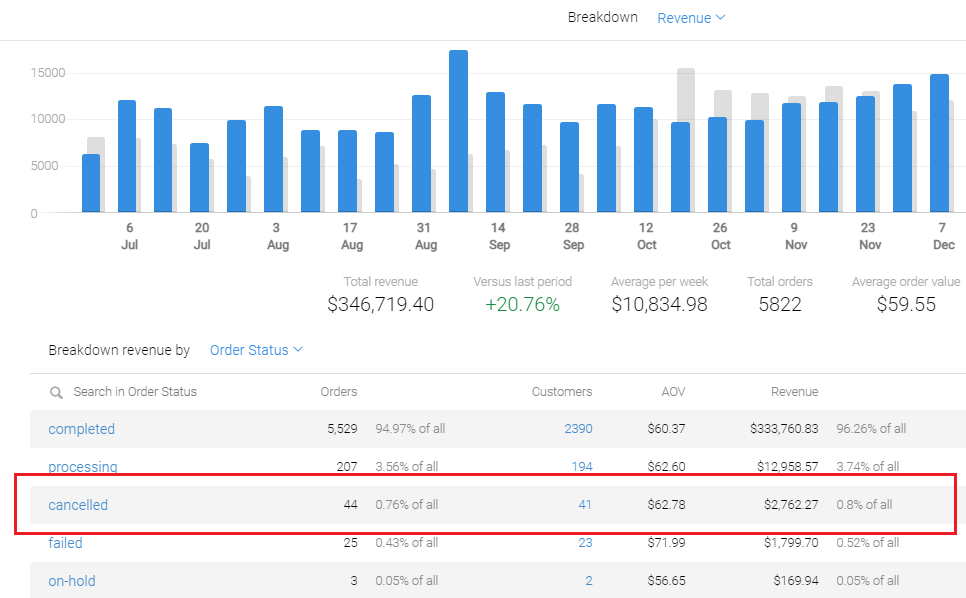 Make sure people can answer this email or list other ways of contacting your team so feedback reaches you. Alternatively, you can use a feedback score like this one to measure satisfaction. Sure, the rate will go down by those cancellations but it's an easy way to get feedback.
Related: Gathering feedback with Metrilo
2. Saving canceled orders
Hopefully, people will reply and you'll know why they're canceling. Now, your team will have to work on each individual case, but it's worth it because you'll be retaining customers and old ones at that.

Can you fix the issue? A friendly email from customer service with a specific offer tailored to the feedback is all you need to do. Here's what you can do about all of the most common reasons you'll hear.
"Changed my mind"
This one's very tricky and needs clarifications. You can so a combination of the following:
Send informative content about the specific product to try and change their mind again.
List similar products in case they want to change.
Offer a discount coupon for the originally picked product.
Offer to change the size, color, etc. of the item. Link any choosing guides you have or offer a live connection with an assistant who can confirm that's the right choice or help pick another.
If it turns out that they found a better offer, it's up to you to decide whether to price match or walk away and save your branding.
Related: How not to engage in price wars
High shipping costs and service charges
Waive shipping and handling fees regardless of order value. You might be worried that people would misuse that but you can always make your costs more visible before the checkout process to avoid unpleasant surprises.
Long delivery time
Promise priority shipping at no extra cost. State the latest time they can reconfirm their order to get it by your earliest possible delivery time.
Yes, this would put a strain on your deliveries, but it won't happen all the time and it's worth it if a customer stays with you. Also, you can work on speeding up your deliveries in general to avoid such problems in the future.
Bad returns policy
Things must be really problematic there if customers prefer not to buy at all than to deal with your returns. This might be a bigger sales drain, losing many others on the way to checkout so you'd better fix it.
Related: Minimizing returns for fashion brands
A clear and mutually beneficial returns policy works wonders. It's ecommerce after all, no need to run from the fact that returns are normal when people can't see and touch the product before buying.
But if they're confident their money won't just get lost, they'll be far more willing to shop from you. (Plus, don't forget that in some places like the EU customers have the legal right to return an item within 14 days.)
Payment options
This one may be surprising, but 10% of respondents in the survey are not to be overlooked. Maybe just as such customers finished the order, they realized they needed the money in that credit card for something else that was to be charged soon. So in order not to get down to insufficient funds, they decided to cancel.
To save this order, you can offer other ways of payment – buy now, pay later or cash on delivery, for example, if you offer them. This will make people feel more at ease about spending money.
Account required
If you force customers to register to buy, someone will always feel like you're asking too much information. They won't see why you need their birthday and a complex password. So enable guest checkout with just an address and an email.
It's all a good ecommerce CRM like Metilo needs to create a comprehensive customer profile, track behavior on site and enable you to tailor offers accordingly.
Whatever the feedback, thank the customer for getting back to you. The insights are very useful even if you don't manage to save their particular order.
If you want to be extra nice, offer a next order discount in an attempt to win them back in the future. One canceled order still doesn't mean they're never shopping from you again so you still can work for customer retention.
Avoiding order cancellation in the future
If you have those things in place, maybe you won't need to go and save canceled orders any more.
Transparent and friendly returns policy
All handling fees and other charges that may apply stated upfront before checkout
Shipping fees explained by region, weight, or whatever criteria applies in a dedicated section on the site, visible before checkout so customers can make an informed decision.
Clearly listing all available payment methods upfront (and any surcharges that may apply)
Being honest about delivery times and providing order tracking information
Providing choosing guides, size charts, real color pictures, etc. as well as chat assistance in case the customer is not sure which option to choose.
Do you get many canceled orders? In Metrilo, you can easily see all about the customers who canceled, the products they bought and the feedback they've provided, and automate emails to save the orders.