The coronavirus crisis is forcing many food businesses to focus on – or start – their online channel. Deliveries are the only way for restaurants to survive in many countries now. This trend is likely to stay as people expect to be able to order anything online now.
Our mission at Metrilo is to help entrepreneurs grow and thrive. As the food business is going online, we want to show you how you can grow your business and make it through the crisis.
Related: Best practices for online food stores
1. Watch you ecommerce metrics
There are essential ecommerce metrics that measure how your business is doing in terms of sales and marketing. The best thing about selling online is that you see what's happening at the moment and can act in response.
Metrilo lets you monitor the following metrics in real time. The numbers are updated as soon as an order status changes in your store's backend:
Revenue by location, payment method, campaign, device, etc.
New vs old customers
Orders by status
Conversion rate by device, country, campaign, source, etc.
Best selling products, most viewed products
Cart abandonment rate
Customer retention rate, share of returning customers, time between orders, orders per customers, customer lifetime value, time between orders
More about Metrilo's Metrics Dashboard here.
2. Measure your marketing channels
Update: As countries reopen, here are restaurant marketing ideas to get you back in the game.
Your marketing channels are where people come from to order. It can be social media, an ad, a referral website (like a blog), or simply a search engine. If you follow closely how each channel is doing, you can optimize your marketing efforts and spending: focus only where you see results.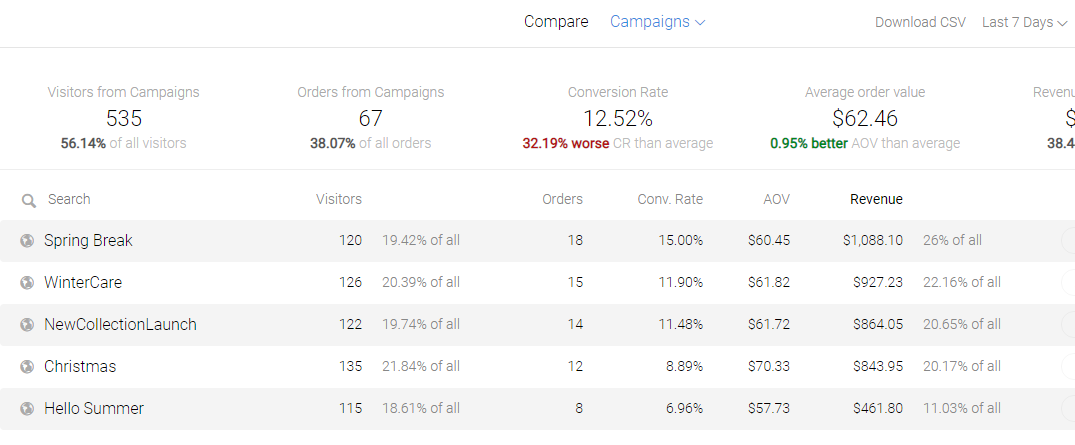 Metrilo lets you monitor all your marketing channels and compare conversions and revenue coming from them. Maybe you'll find some drive lots of traffic but no conversions – or just the opposite.
How Metrilo's marketing performance tracking helps you:
Monitor organic and paid acquisition channels and adjust spending.
Monitor how referrals, content channels, social media, email drive sales and adjust strategy.
Go deeper, tracking each campaign, coupon, and affiliate link.
Track influencer marketing with unique tracking links from within Metrilo.
Associate a list of individual coupons to a campaign to track them as a whole.
Check the report daily to evaluate progress and optimize if needed.
Measure brand awareness by the branded searches you get that result in a sale.
More about Metrilo's Marketing Performance Analysis here.
3. Increase the average order value
Just like you want your customers to order more at each visit to the restaurant or the shop, you'd benefit from a bigger basket size online. This would mean more profit at the same handling and acquisition costs.
If you increase your average order value, you will be able to offer free delivery, which is a big plus to shoppers. Also, you will be able to run promotions based on order value without losing profit margin.
Here are a few ideas:
Offer an add-on like a drink to orders above a certain value
Offer full 3- or 5-course meals or day options, covering lunch and dinner
Offer mix-and-match meals for couples, families, groups of people
For groceries, run multipack offers and set your minimum order quantities a bit higher (e.g. a pound of meat)
4. Create great combo meals or grocery baskets
Metrilo's product report shows you the best selling products, the ones that get a lot of views but no orders and the products frequently bought together.
You can use this data to bundle up the right products together that your customers love. This is great for food delivery businesses but even more so for grocery stores. You can even introduce these bundles into your regular product range as ready weekly boxes. Give them names for people to identify with like the Edgy Veggie Weekly Box or the Keto Meal Prep. Some customers would love the convenience.
5. Drive repeat orders
Metrilo is focused on customer retention and gives you insights about what exactly stimulates the repeat purchase rate of your client base. You see how people behave by cohorts:
First product ordered
Campaign
The month of the first order
Coupon code
Traffic source
You'll find out which products drive loyalty; which coupons bring only one-time buyers; and which traffic sources bring quality leads. We recommend doubling down on the well-performing campaigns, products, etc. to bring in more quality customers. They are more likely to become loyal.
Related: How to use cohort analysis for customer retention
Reactivating customers
The other retention metrics Metrilo provides are useful for timing your email marketing campaigns. One of them is time between orders. If people usually buy every 35 days, schedule a reactivating email for a few days before that to speed up the process. Don't forget Metrilo offers email marketing from the same platform. You can use all your data for relevant email campaigns.
Related: Emails that drive customer lifetime value up
6. Tailor your messaging by customer's taste
Food is very different to each person so tailoring based on the data you have for their tastes and preferences is a smart move. This way you can cater to meat-eaters, vegans, vegetarians, keto dieters, and all other types of eaters without pushing anyone away. They only get offers for what they eat and you enjoy the revenue.
How to do it in Metrilo?
If you have a small product range, filtering by product viewed or bought might be enough. If not, filter by category bought – great if you have a Meat Lover category on your website that makes things easier. The most time-consuming option is to go through each individual profile to see for yourself what products people have bought and make a judgment on your own. Then, tag them to be able to easily pull up the segment to use afterward.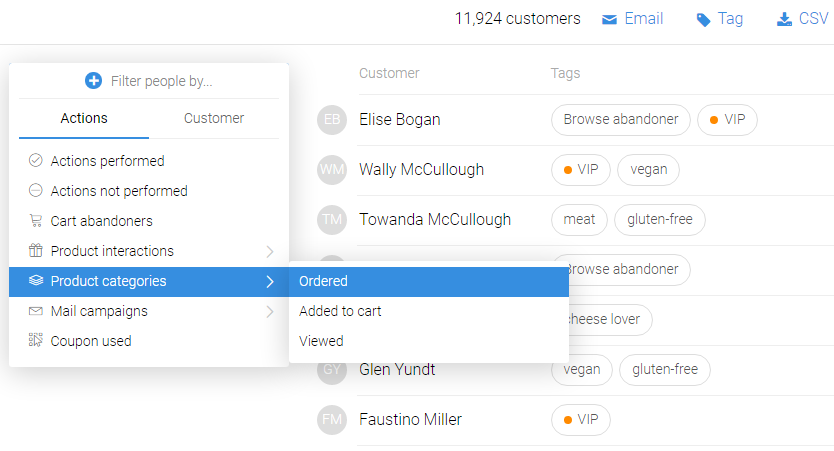 Related: Starting with Retention Marketing
7. Measure how your coupons work
Coupons are a double-edged sword. They do bring in more sales but chip away a bit of your margin. So using them sparingly is best. We recommend monitoring coupon performance in the Revenue breakdown by coupon to see which ones drive sales. Also, check the Retention cohorts by coupon to see the users of which coupon code come back.
Some examples of things you might find:
Maybe free delivery coupons are the most used
Maybe new customer discounts don't work so well
Maybe a meal-specific coupon did very well (maybe this product is your hidden superstar)
8. Treat return customers with special care
With Metrilo, you'll know your VIP customers – who has ordered more than the average number of times, who has spent more than the average customer lifetime value, etc. You can give them special treatment with tailored emails and offers. A few content marketing ideas for customer retention:
Recipes based on the products ordered
Additional information about the meals, the people who cook them and the ingredients
Drink suggestions that pair well with the cheeses chosen
Tips for using up food craps
Kid-friendly recipes
Related: Customer segments to use in ecommerce
In the Customer Database, you can easily do any segmentation you want to use for marketing, for example:
Frequent shoppers
Cart abandoners/ browse abandoners
People who bought a specific product
People who used a specific coupon
People in a specific location
Inactive customers
People who have bought during a certain period of time, etc.
More resources for food brands and businesses:
Modern food packaging as marketing
Metrilo report: Food business ecommerce benchmarks
How the coronavirus is changing consumer tastes