Ecommerce is strongly impacted by the current COVID-19 outbreak. Consumer trends 2020 are enhanced by the extraordinary situation. But it is early to say if it's in a good or in a bad way. Yes, many businesses had to close down. But many others have found new customers, sold out, or grown exponentially.
Of course, the crisis is bad but it's also a catalyst for change. People are rethinking their everyday consumer behaviors and readjusting to a more sustainable way of life. I don't mean environmentally-friendly, although eco-awareness is on the rise as well, but a way of life they can keep up if another calamity strikes again.
This is triggering changes in customer preferences and shopping behavior that are big and very likely to stay beyond the current crisis. Here are some consumer trends COVID-19 is fueling that we think will stick.
What brands people like due to the coronavirus
Some brands do well in the current situation because of their nature (lucky to sell products that are still relevant under quarantine) and attitude, a.k.a. brand values. Because you can't change the first one so fast, let's see what's the right attitude to adopt.
Brands that give back to society
As supply chains get disrupted, supplying the right products to those who need them most is essential. The brands that manage to do public good now win the hearts of consumers for the long term. These brands make gestures to doctors (Allbirds give out shoes and Willow – breast pumps to doctors and they are by no means the only ones), to people in need in their communities (40+ edutech startups in Europe have made their platforms free for parents to use during school lockdowns) or completely switch their production to make hand sanitizer and soap for hospitals (LVMH, Henkel, and L'Oreal). Here are running lists of the overwhelming support businesses are providing for their communities, countries, and beyond – Europe and the US.
Before we dismiss it all as a PR trick, let's agree that the faster this crisis is over and the more people are saved from it, the better for the economy. Surely, it's not easy for smaller brands to readjust so fast and even afford such gestures, but every little thing helps. Think of what you can do – tomorrow you will have safe and happy customers to serve again.
Brands that treat their employees right
People are now very sensitive to the employer's response to the COVID-19 crisis. Despite labor laws being very different from place to place, there are some basic human expectations that businesses will do as much as they can to keep employees. Everlane drew sharp criticism after laying off staff amid store closure and many saw its famous "radical transparency" as inauthentic. Meanwhile, Patagonia paused all operations without cutting employee payments. Guess which brand is winning customers for life.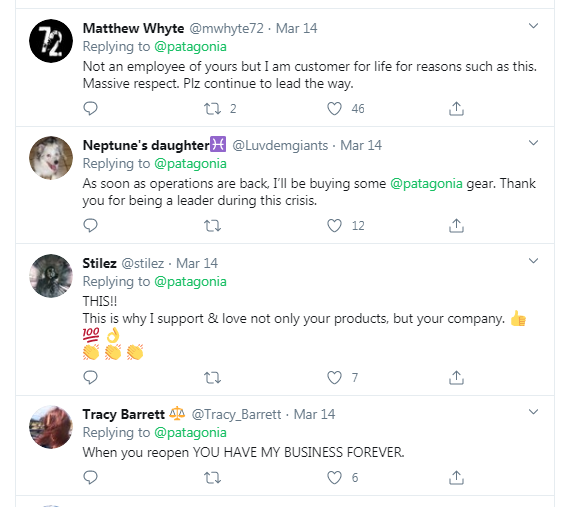 Brands that adapt to the situation with grace
People now would not respond to the usual marketing messaging because they cannot use the products in the same way.
Wedding guest outfits? Vacation collection? People don't need a reminder that they're missing on all those experiences. Tone-deaf marketing in times of coronavirus is a huge repeller. One survey among Americans found that 71% of people would never shop again from a brand that puts profit over people during this crisis. Consumer sentiment lies with those brands that find a way to adjust their messaging to stay-at-home realities.

Many fashion brands switched to promoting their loungewear ranges under "stay comfy" and "work from home outfits" taglines. Zalando is only one example of a brand that was quick to put up a whole new #WeStayAtHome category on its website, covering #staycozy and #stayactive.
Unfortunately, products that cannot be useful under lockdown will suffer in sales. Consumer spending is down and luxuries will suffer. If you cannot adjust your messaging and repurpose your products to be relevant, all you can do is wait and not alienate your customers.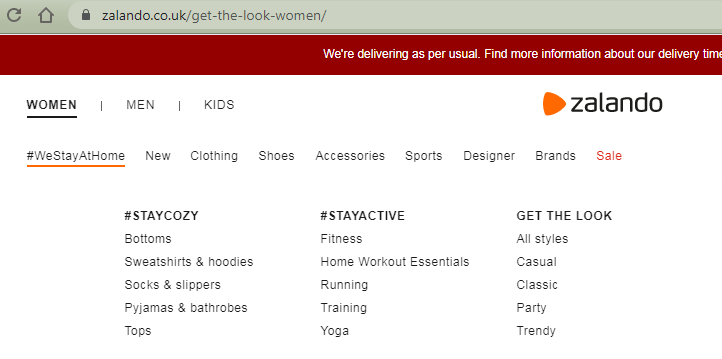 Related: How to convert shoppers in hard times with installment pay apps
What kinds of products will see more demand after COVID-19
People are reevaluating their shopping habits now that they're forced to make some changes whether due to lack of income, product unavailability, fear for their health or simply being stuck in an uncomfortable house. Consumer behaviors are changing out of necessity.
Here are some of the visible shifts in consumer preferences that will influence purchasing decisions long after quarantine is lifted. If you're looking for new product ideas to develop, maybe these will help.
Healthy food and wellness products. People will take better care of their bodies and mind from now on, as they realize that chronic disease and bad physical shape are risk factors for catching coronavirus.
Online grocery shopping will grow with more competitors in the space. More people recognize the convenience now and are likely to continue saving time for other activities.
Read more: Best practices for selling food online
Cooking classes and hardware. Many people started cooking at home only now and they are likely to continue because it has positive results on the body and budget. They will need to learn how to cook and to equip their kitchens with proper tools.
Home goods, gardening items, home office. Stuck at home, people see what they're missing for maximum comfort, getting work done, homeschooling kids, etc. They want to be prepared if there's a next round of lockdown. Making the home as comfortable as possible, organized, and optimized in terms of space will be in focus.
Solo hobbies. Bored and fidgeting, more and more people are taking up new hobbies. Knitting, sewing, baking, and gardening are the most popular, but not the only ones. Can you connect your product to a DIY hobby? Can you offer tutorials? Think of how to extend into that space to capture new customers.
Training equipment and online workouts. We are all exercising at home now and the trend is likely to go on because we've invested in some equipment already. I have my yoga mat, a yoga block is a logical next purchase. Many people will prefer to keep on working out alone because we now see how risky public spaces are for contracting the disease.
Outdoor gear. Wherever it's possible, people are fleeing quarantine cities for the wilderness. Those who cannot do it, are counting the minutes until they can. There's a renewed passion for the outdoors that's free of viruses and you can breathe easily. We expect more and more people to go out exploring as soon as they can and hiking, camping, and other outdoor activities will be a hit.
Travel products. Also as soon as possible, travel will resume and people will be eager to make up for the time lost. Travel clothes, swimwear, luggage items and the like will see a great increase in sales as travel bans lift up.
Loungewear. It will stay and even grow as more people discovered it now and consumer attitudes towards it have changed. More people will continue working from home as societies try to prolong anti-epidemic measures and this means more of us are sick of their "home wear" and need to feel dressed for work without actually dressing up.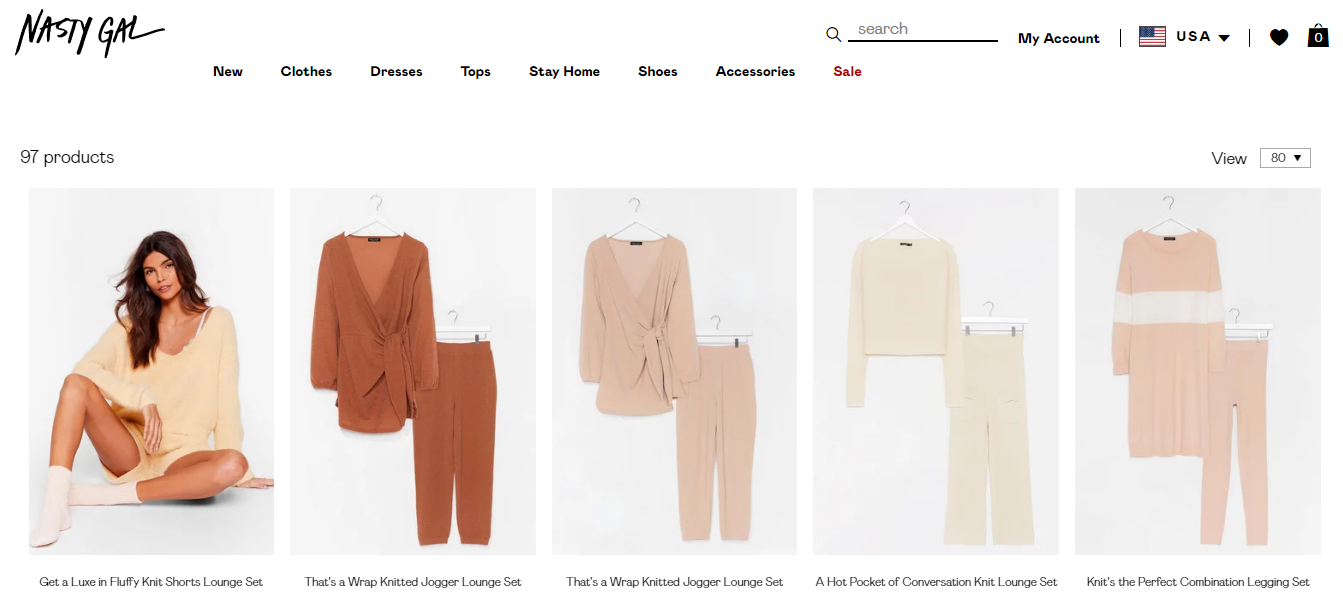 Classic fashion styles. Those of us who live in 4-season climates are missing out on a whole season at the moment. Fashion-forward people complain jokingly that they had prepared all those new outfits for spring but will never get to wear them. The quarantine has a sobering effect and people are realizing buying trendy clothes all the time is not worth it. So there will be a shift towards more classic styles that will last beyond one season.
Read more: How to reduce returns for ecommerce clothing brands
Sustainable products. The coronavirus made it clear that humans are much more vulnerable to nature than we liked to believe. Our collective actions cause damage to the planet that comes back to bite us. That's why sustainable products will be more and more sought after – the consumer's way of doing good for the planet while not giving up on a comfortable lifestyle.
Less non-essential, poor quality items. People are watching their spending more carefully now, cutting on status symbol items (because why buy it if you can't show it off). Also, they are more aware of the impact on the environment their shopping habits have: shipping a single phone case all the way from China, flying avocados across continents, etc.
As a whole, people will fill in with whatever comforts they are missing now. They will try to be more autonomous if a similar crisis strikes again, and more continuous about what's worth having in the long term.
It's the perfect time for ecommerce businesses to reassess their place in the customer's lifestyle and reposition themselves if possible. This crisis has taken a toll on all of us and consumer confidence is dipping. To bring it back up, brands should work to help their audiences overcome the challenge and be positive about the future.