Emails that drive repeat sales are the best emails. Forget about basic email marketing that teaches you to send promotions every week or touch base with customers more often, e.g. every day.
To see a real return on marketing, you need to use email to its full potential – it's a (nearly) free marketing channel that you own and have complete control over. No pay to play like ads. Emails for customer retention are the best way to drive revenue without extra spending.
Customer lifetime value is the best indicator for a healthy business.
Customer loyalty is usually based on a strong connection with the brand and a positive experience. Emails that drive customer loyalty keep this relationship going through useful, timely and relevant content and offers.
To keep customers coming back, your emails should 1) not be too spammy and 2) give value. This will make customers open them and buy again.
Emails that drive customer lifetime value up:
Relevant information for the use of the product bought
Coupon for next order discount
Retarget browse abandonment with an offer
Reorder reminders
News about new variants and product versions
VIP treatment for long-term customers
Content engagement between orders
Tailor offers to taste
Respond to feedback
Ask for input
Let's look at a few ideas for emails driving repeat sales.
1. Use and maintenance guide for the product bought
In order to make a customer shop repeatedly, we need to make them enjoy their purchases. Content-rich emails are great for driving loyalty because you can easily tailor them by product bought and deliver valuable information.
Post-purchase email engagement lets you expand on a product's purposes, explain how it should be used and how to keep it in shape. This last one is important to make sure the item brings satisfaction in the long run and doesn't make your brand look bad if it breaks down.
When the customer sees more opportunities in their purchased item, they'd use it more often and keep your brand top of mind for future orders.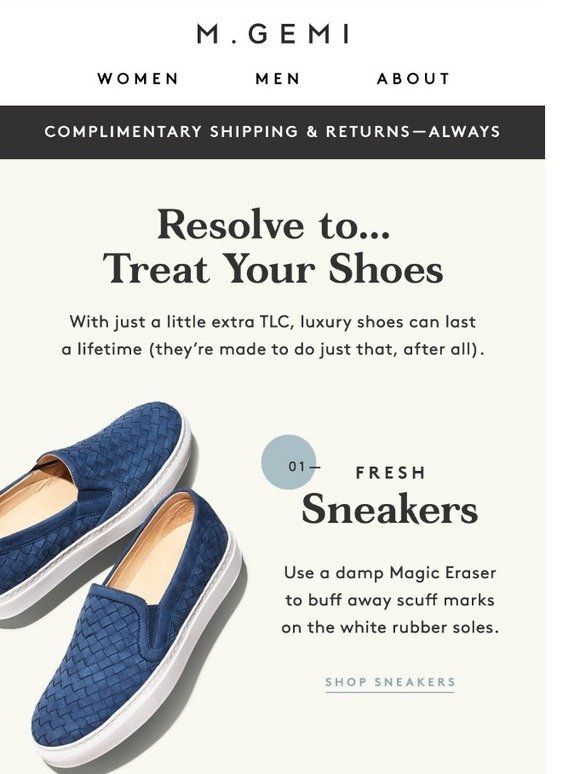 2. A better way to upsell
Upsells are proven emails to drive customer lifetime value. Offering specific items in an upsell email can get very inaccurate and presumptuous, though.
Instead, give customers a coupon for their next order with the call-to-action to add an accessory to the clothing item they just bought, for example.
You can make the coupon category-specific if you want to emphasize the connection between the products. It's also a good way of pushing a category that doesn't get enough attention on its own.
Related: How to sell underperforming products
3. Browse abandonment with an offer
With Metrilo, you can fight browse abandonment – this is when people browse your site but don't buy anything. You can reach out to them via an email and give them an incentive to go through with an order.
The beauty of this win-back email is that the viewed product(s) would be included in the email so the customer remembers easily.
Also, you can go deeper into the customer's behavior and select to send a special offer only to those who have looked at the products and left a few times to weed out casual browsers.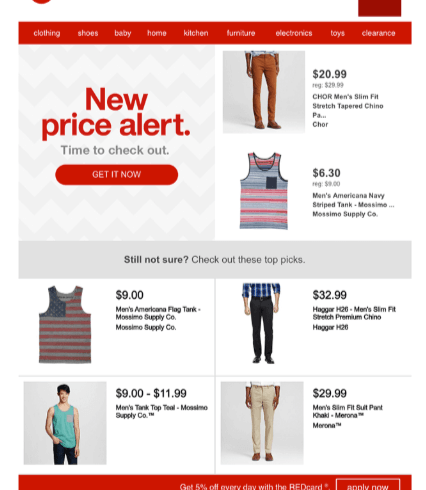 4. Reorder reminder for complimentary products
Replenishment reminders are among the best emails driving repeat sales.
If you sell the supplies needed for a product to work properly along with the product itself, you have a golden opportunity to use emails to keep customers coming back.
Shoe cleaning products
Coffee/ Water bottle/ tea bottle filters
Spice mixes
Cleaning tablets
Plant care products
You probably have these items' length of use estimated. Now, check your reorder rate by product to see how often customers reorder them in reality. Adjust the period – this is the perfect time after an order to send a reorder reminder.
Of course, this tip can be extended to any kind of product that needs to be replenished like food, pet food, supplements, cosmetics, cleaning supplies.
5. Updated product version
Maybe your product changes from season to season or you keep adding functionality or coming up with new add-ons such as:
New bag inserts
Summer running gear line (aimed at winter gear owners)
A new waterproof book jacket
Or maybe you simplu run limited editions. It's important to keep your customers up-to-date about it with emails that stimulate reorders.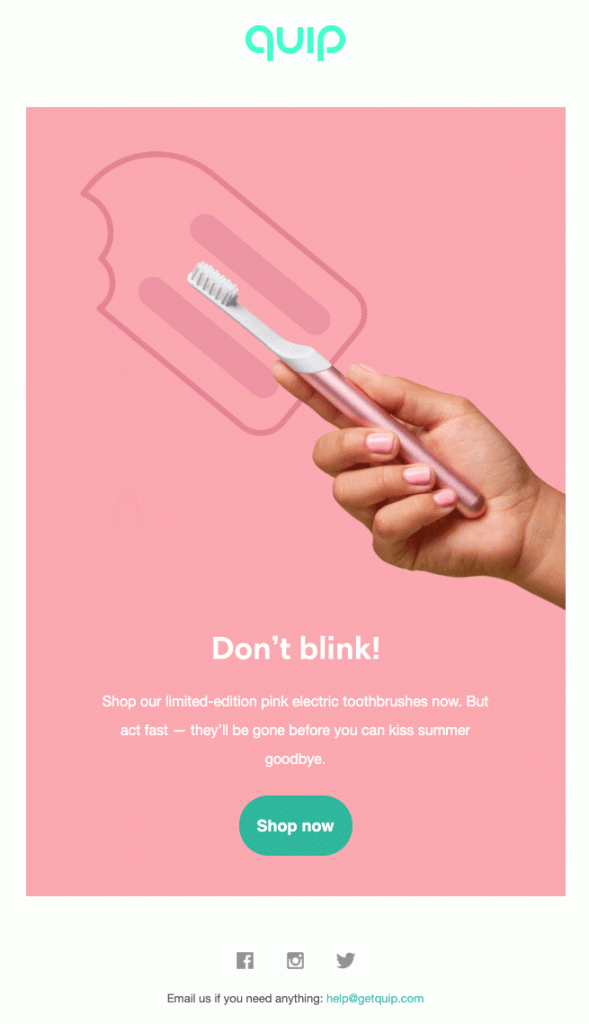 6. VIP treatment of long-term customers
Great customer experience stimulates repeat orders. It's a no-brainer to treat your long-standing customers better than the first timers. Your retention emails can give them better offers every time so they see the benefit of sticking to your brand. This would make every order exciting and gratifying.
For example:
When they abandon browse because their size is out of stock (you know what size they usually shop), find it for them at the back of your warehouse and email them.
Provide tiered discounts, growing alongside their customer lifetime value.
Reversely, progressively reduce the free shipping threshold with each order.
7. The same type of promotion they converted to before
Drive customer lifetime value with a proven campaign – the same type of offer that got people to convert in the first place. Some customers buy because of "-70% off" and others because of "NEW IN". Give each their own.
Related: Find out your retention rate by campaign
Simply segment your customers by a particular email campaign they converted from and send them another one like it. Or, if you want to reverse a negative trend, choose a cohort that's performing badly and send them a campaign that has achieved a very good retention rate when first sent.
8. Content engagement in the meantime
Your customers might get weary of too many promotional emails so some of them should be pure content without any sales calls. Use those content emails to enhance the brand image and connect over shared values with your customers.
Share any company updates that might be interesting like working on a new material or starting a new partnership. Those emails can almost completely substitute your Facebook organic presence (whose reach is not good at all, as we all know) in terms of providing information freely.
Those relationship-building efforts are actually emails that stimulate reorders because your brand stay top-of-mind.
For more ideas: Content marketing for DTC brands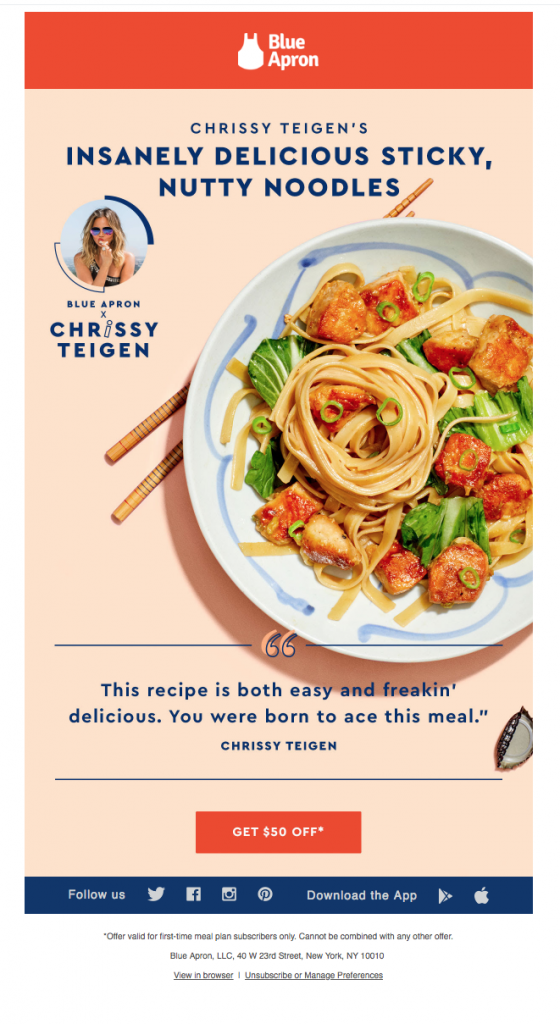 9. Respond to feedback
It's important to show appreciation to your customers if you rely on their long-term business.
If they've spent time giving you feedback, you should acknowledge it. A simple email thanking them for their time and engagement with the brand is enough if the feedback you received is positive.
If it is negative, you should demonstrate you take it seriously so update them on how resolving the issue is going. A negative experience might be their reason to churn, but an email that shows understanding and willingness to improve might actually make them stay.
Related: How to use negative feedback to your advantage
10. Save the churners
You might see a customer cohort ready to churn. To avoid it, look at your other cohorts that are performing well in terms of repurchase rate. What products did they buy? This is part of the reason why they're happy and buying again and again.
We call this the Superstar technique. It consists of giving more visibility to products with a proven track record of stimulating repeat orders. They might not be your bestsellers so look at a cohort analysis by first product bought to find it out.
Then, send the cohort that's about to churn this loyalty-inducing product to get them hooked.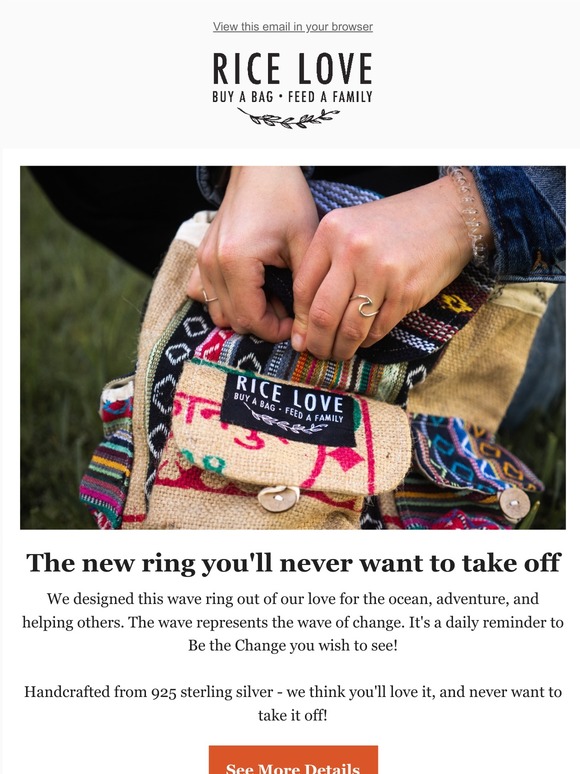 11. Tailor offers to taste
If you have a wide range of products, it's a good idea to tailor promotions by product preferences. This would mean you look at what people buy, tag them accordingly and send them emails with relevant products only.
Even better if you use a test people fill in on your site so you get more information about them: their body shape, fashion style, type of hair or skin, etc. – whatever is relevant to your products.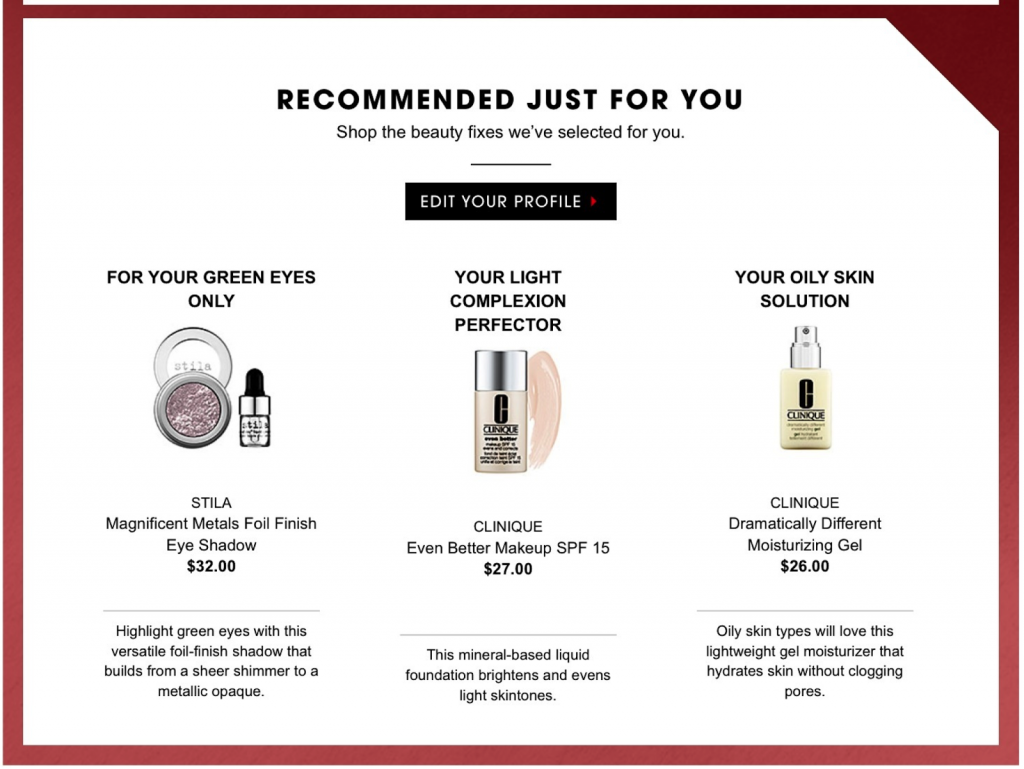 Such emails will keep customers loyal because people feel your brand gets them and all offers are right on spot.
For example, people who buy wooden toys would see more of them and not plastic toys. People who buy books in Italian can be spared books in French. People shopping your petite section will be happy to get a curated selection in their email instead of plus-size items.
Related: Best practices for customer retention
12. Ask for customer input
The more involved with something people are, the more loyal they are to it. You can involve your brand's following in the product creation process so they see as their own – and shop it more.
Ask your customers what new variants and colors they want to see. Ask them for new product ideas, even. A poll in an email is all it takes, but the bond will get stronger. Emails that don't sell directly are the best at driving long-term loyalty.
13. Timely push
If you don't want your emails to be left unread or worse, marked as spam, you can reevaluate how often you email existing customers.
It's one thing to use email automation that triggers on specific customer actions and another to just blast emails every Monday because "this is the best day for emails".
The best day for emails is when your customers are ready to shop again. It is closely tied to the type of product and its lifecycle, so take a look at your customer retention matrix to find out your average reorder time (average time between orders).
This is how much time you should leave between pushy sales emails (you can have some non-intrusive ones in-between – like content) for optimal customer experience. People need a breather and your thoughtfulness will be appreciated. Emails that drive repurchase rate actually hit the inbox at the right time customers are ready to shop again.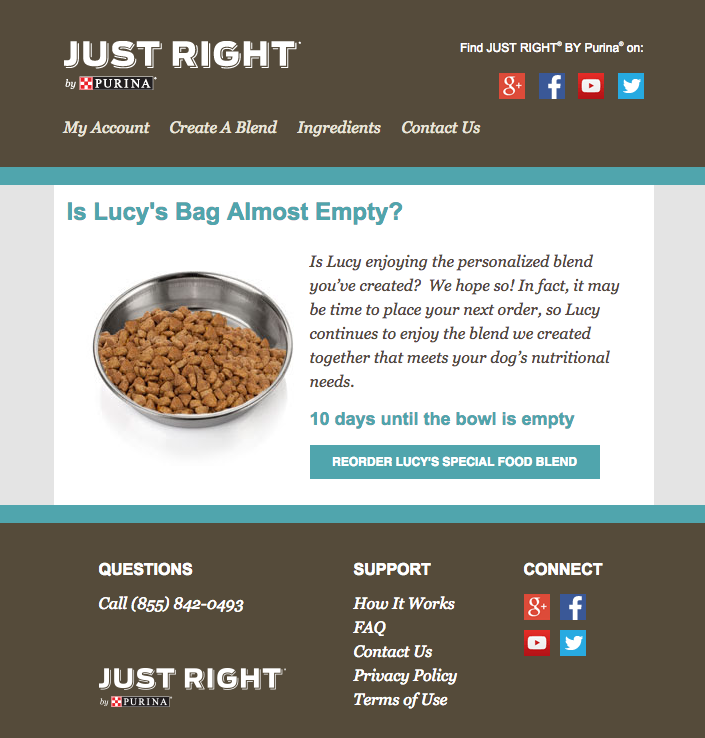 Retention email marketing offers so many opportunities! Whatever your customers do, there's a way to make them come back. Just make sure you have customer loyalty strategies in place.