The ecommerce industry is finally turning to retention as acquisition is no longer cheap enough to make money on single orders.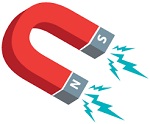 You probably see conversion rates and reach falling, CAC going up, losing money on the first order is the norm now…
What can you do to keep afloat and earn money?
Make up for those CACs to the fullest. Get returns on the money you spent already! Once you paid to play, make the most out of it.
Retain your customers and make profit. Here's how.
Customer retention best practices:
Treat loyal customers better than one-timers
Listen to negative feedback & improve
Listen to positive feedback & use it for marketing
Adapt marketing to product use and buying cycles
Tag by taste/ behavior and tailor communication
Offer great support
Build a community
Create a shopping experience worth repeating
Now, let's look into those customer retention tactics closer.
1. Treat loyal customers better than one-timers
It baffles me how some online stores do business: they concentrate on the first-time visitors and completely ignore the returning ones.
They need to be paying lots and lots to acquire new customers all the time because return purchase rate is not a focus.
Related: Why is it so important to have returning customers?
The right thing to do here is to make a good first impression and improve it every time those customers come back. This is one of the most basic customer retention strategies.
The first time people shop from you is like a test – is it easy, is the service ok, is it what you promise. To pass that test, you just need to be normal and adequate. Don't f**k up.
If those people come again, it means you passed and now's the time to shine.
Make the process even more pleasant, delight them, exceed their expectations, be memorable.
We all know shops – both offline and online – that show no appreciation at all for returning customers.
This drugstore chain keeps bugging me because they have no loyalty/ member cards for frequent shoppers like me. I like their private label but it's beginning to get to me and I'm on the verge of ditching them.
Related: Customer retention tricks for beauty brands
Customers need a good reason to keep coming and you should give them a new one every time:
Discounts growing with customer lifetime value
Special attention (even personal offers for VIP clients) and priority customer service
Insider opinion polls on new products.
Early-bird sales for loyal customers
Extra perks like supplying an out-of-stock size
It sounds like a lot of work, but it makes so much sense: you'll be going out of your way for the customers that really matter, not for the ones that probably will never come back again. It's not a waste of time.
2. Listen to negative feedback & improve
There's no better way to fix your problems than taking advice from the people you do it all for – your customer base.
When they take the time to leave you a comment, take it seriously and look into it. I'm not saying haters are not going to hate, but most often trolls are easy to spot.
It's really valuable to hear first-hand what's wrong with the shopping experience. Sometimes it's even things you couldn't imagine.
And actually taking action on customer feedback increases customer satisfaction – people see you care and that strengthens your relationship.
You can even email them back personally when the problem is fixed and thank them for their help. They'll love you for sure!
3. Listen to positive feedback & use it for marketing
It's great when you get raving reviews, right?
Don't let the moment pass! Use that authentic love customers feel and turn it to your advantage.
How?
Use the positive reviews of the customer experience as social proof on your site and in emails (with permission, of course!!). Ask those people to write the same on Facebook or to post a picture to Instagram saying the same.
See how we ourselves use customer feedback to point out what our users love about Metrilo: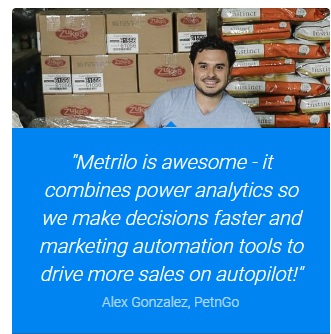 Highlight what people love about your products – just like with negative feedback, you might've never even thought about it. Fast customer support? Size is as described not like that other shop? Packaging is sturdy and reusable?
Chances are it'll catch others' attention too.
How does it help customer retention?
Simple – people love being important. It boosts the ego when we're the ones that discovered something cool to share with friends. It's great to be the star on social media, even for a day. Your customers will appreciate being in the spotlight.
4. Adapt to product use and buying cycles
You probably want your customers to come back for a pair of jeans every month, but the product just doesn't work that way.
The best approach to keep customers coming back is to stay top-of-mind without being too pushy. This is done with engaging content and well-timed emails.
Content will keep them interested in your brand between orders. Share tips and inspiration, write about the interests you share with your audience, communicate new trends and developments in your industry and company.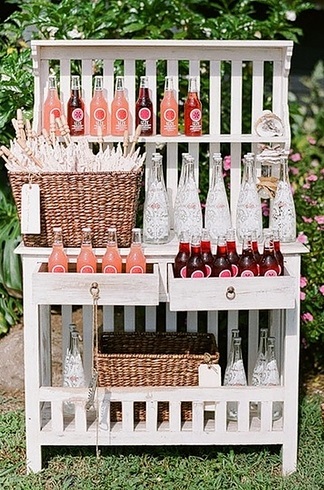 Read more about Content Marketing for ecommerce
Well-timed emails means they're sent only when the customer is ready to buy again, not before, which is annoying. Too much sales offers push people away.
That's why win-back emails should be sent at about the average time between orders (TBO). This will get you increased customer retention rate with minimum efforts and unsubscribes.
Related: Automated win-back emails
Plus, following the buying cycle of your products will make your customer engagement more natural and helpful.
People will read your emails more willingly when they know you're not always just selling. Help them, give them something interesting and they'll stay close.
5. Tag and tailor
How can you personalize your marketing communication for all customers when you're growing, you ask. How is it possible to send customized offers to every customer every day?
With a good, ecommerce-oriented CRM system, you should be able to segment your customers by their behavior and characteristics and tag them appropriately.
For example:
People who buy only jeans and never trousers -> Jeans tag
People who buy on sale only ->Thrifty Shoppers tag
People who always buy from the new collection -> Trendy tag
You get the point.
Related: More ideas for customer segmentation
Then, you can easily filter by these tags to get a narrow segment of customers who'd like a specific offer. You'll have all Thrifty Shoppers in one place for a sale offer and all Trendy shoppers in another for a "new in" email.
Once you start using such a system (and adding tags as you learn more about each customer), you'll be able to tailor the communication even more and make it feel personal.
Some CRM tools can even apply tags automatically to save you extra time.
6. Offer great support
One of the top factors for customer loyalty is great support.
When people know you're there for them, they're more willing to give you money. On the other hand, if you're not easy to contact and customer support is inadequate, you'll be losing customers.
So, make it easy for people to contact you. You don't need to be on everywhere, but choose the channels you want to use and cover them well. And engage customers at every suitable occasion with a pop-up message, announcements, and so on.
On site
chat is great for shopping assistance
email is a must for order tracking, returns, etc.
Social media
It makes sense for some brands to use Twitter for fast responding
Make sure you respond to all inquiries coming in private messages, in comments below posts and ads, reviews and mentions on Facebook
Never lose your temper and manage negative comments wisely, answering the questions humbly and turning them to your advantage as much as possible.
Customers will trust you more when they see you're active, engaged and open to your audience.
Even if they don't have an issue, just the fact that you're not afraid to talk about your products and take criticism in public makes you look good. And that will bring them in to shop more.
And this brings me to the next point…
7. Engage on social media
Social media shouldn't be just a channel for posting offers. It's tempting with the shopping options of the most popular social platforms, but there's more you can do.
Present your brand.
Show the lifestyle it fits.
Talk about your partners, values and processes.
Related: Your brand story matters more than you think
Create a community of people who share your values and communicate with them. Not sell – talk.
Use the free channel (note I'm not saying ads) to show you brand as you want it to be perceived.
Just look at that awesome cover video by REI.
8. Create a shopping experience that's worth repeating
Last but not least, if you want returning customers, they should enjoy spending money in your store.
For about 99% of all products, there are other sellers and better prices out there. So you have to be different to keep your existing customers.
Product is not enough. You sell the whole experience and it has to be so good people will gladly pay again for it.
One example I like to give is Diamond Candles.
They managed to differentiate their candles by putting a trinket ring in each one, adding an element of discovery and pleasant surprise every time, as well as hooking people thanks to a lottery for a real diamond ring.
And you bet customers try their luck again and again!
A memorable unpacking experience makes subscription boxes so successful – the customer looks forward to discovering what's inside.
Even smaller gestures can make the difference without completely changing your business:
freebies in the packages
a card with useful tips how to tie that new scarf
a list of florists in their area to call since they're getting wedding guest attire
a reusable box or bag they love to keep (like we all do with the Victoria's Secret or Tiffany's bags)
All brands that add a cool element to the mundane process of the transaction of goods for money win customer love and loyalty.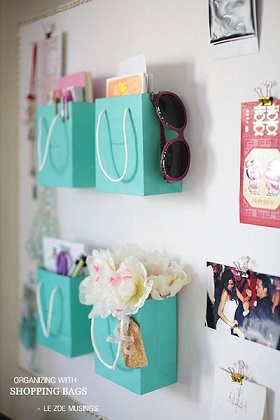 See, customer retention is about making people enjoy shopping at your store. It's about treating them well every time and giving them value.
The best practices for customer retention out there are to treat your customers as your friends and they will keep hanging out with you.