This report looks at the current state of DTC food brands in terms of marketing and sales performance, customer retention and lifecycle.
It is not representative of direct to consumer food brands globally. But it can serve as an essential ecommerce metrics benchmark for ecommerce companies starting out in the field.
Participants: Direct-to-consumer (DTC) food brands we work with that agreed to be part of the survey.
The sub-categories identified are: coffee, tea, chocolate, wine, meat and meat products, fresh juices, ready meal delivery businesses and miscellaneous foods and beverages.
Methodology: The DTC metrics are aggregated through the Metrilo accounts of consenting companies.
Launching an online food brand? Check out our resources on:
Best marketing practices when selling food online
Food packaging for the modern brand
Launch PR tactics for DTC brands
Partnership ideas to extend your reach
Overall DTC food brands metrics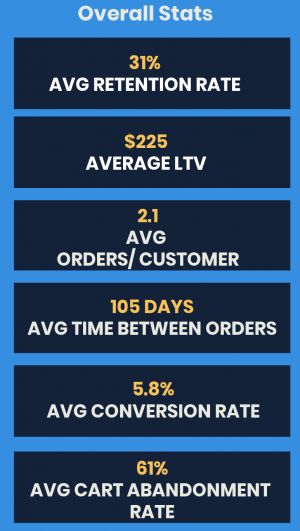 Retention rate for DTC food brands
Overall, about 1/3 of customers shop the same brand repeatedly. Tea brands don't manage to keep a lot of customers, about 18%, while wine sellers see as much as 48% return customers.

Lifetime value (LTV)
Wine and meal delivery businesses score the highest LTV – $737 and $233 respectively. This may be expected for an expensive product like wine. Ready-made meals, however, benefit from high retention rate and one of the highest numbers of orders in the survey, 2.8.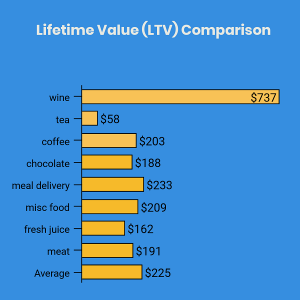 Number of orders per customer
It turns out chocolate and tea struggle to get repeat orders (1.4 on average), while coffee (2.6), meal deliveries (2.8) and wine (3.3) are top performers again. Of course, reasons can vary:
Chocolate is often bought as a gift, which does not gain many repeat sales.
Wine is a luxury category. Once people find a shop that caters to their needs, they likely stick around.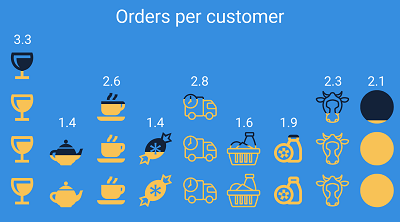 Time between orders
The winner in this category are meat delivery brands with only 74 days between orders. This and a retention rate of about 35% makes these brands quite successful in winning customer loyalty. Fresh juice and coffee brands seem to not be doing so well with TBO of 129 and 143 days respectively.
While some of the DTC food brands surveyed do offer subscriptions, not all do. Аutomating monthly reorders will improve sales greatly. Chocolate has the highest TBO logically as a nonessential product that probably gets mostly bought as a gift.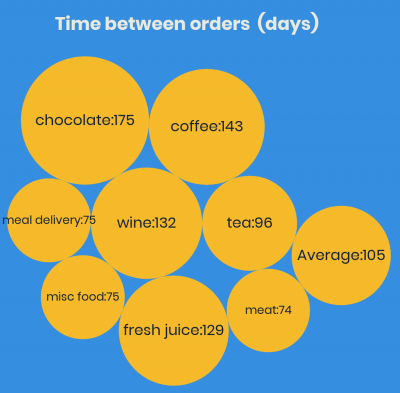 Cart abandonment rate
Meat and meal deliveries, groceries and fresh juice brands all need to improve the checkout experience as cart abandonment rates are very bad, over the average 61%.
Wine (34%), tea (54%) and coffee (55%) brands have relatively better results. This shows they manage to convince the visitor and there are less barriers to purchase. Extra fees or inconvenient shipping times would affect meal deliveries, for example.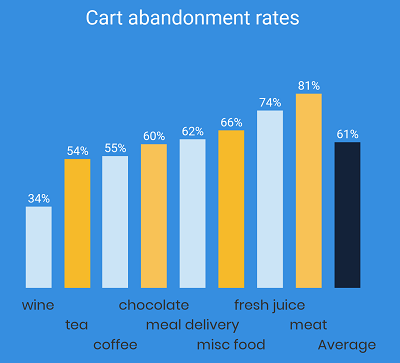 Conversion rate
Being specialty goods, often shopped for occasion, wine and chocolate stores apparently get traffic with very high intent. Their conversion rates are in the double digits (13% and 10%). All other subcategories are more everyday items and conversion rate hoovers around 5%.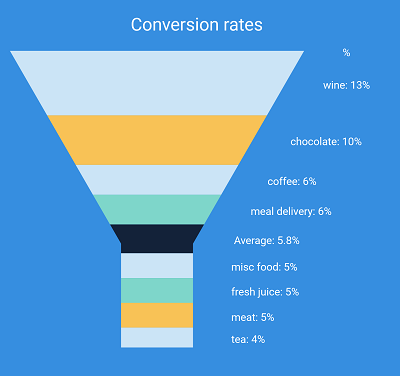 Marketing channels
Surprisingly, social traffic does not convert as much as expected – search channels bring more sales overall. Here's a breakdown of acquisition sources: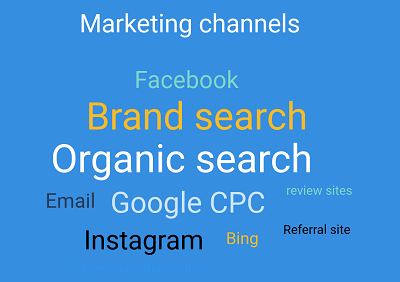 SEO, Brand search/ direct visit, Google CPC, Instagram and Facebook work well for DTC food brands. Email, bing, referral sites, price comparison sites, and review sites show potential but do not bring many sales for now.
Analysis of ecommerce stats by category
Chocolate
Chocolate is a luxury item and so it does not do very well in terms of customer retention and regular sales. But high intent (buyers getting it as a gift) results in great conversion rate (10%) and high LTV ($188).

Opportunities for brands in the chocolate category
Even better sales around holidays through email reactivation of old customers, social media retargeting, influencer campaigns, sponsored content in lifestyle media.
Since most conversions come from brand name searches/ direct visits, brand awareness plays a crucial role. Features in relevant outlets, partnerships with other products and people, and events will help get the brand name out there.
Prolific social media presence with tempting visuals will definitely gather a strong following. It's a product that can be presented in many creative ways.
Coffee
Coffee brands manage to keep a good portion, 38%, of customers coming back, which is good for a staple product. The average time between orders of 143 days seems a bit high – if yours is less, that's good, coffee is needed every day, after all!

Opportunities for brands in the chocolate category
Organic and brand name search convert best for coffee brands so we recommend bullet-proofing your SEO and working for brand awareness: content, referral mentions, events will help. Some brands see very good results from review sites, but it depends on the country you're in.
Conversion rate of 6% seems a bit low when people mostly buy through intentional Google search. Coffee brands can definitely improve the process from first visit to purchase because they lose too much of qualified traffic now.
Fresh juice
The fresh juice brands survey don't do great compared to other sub-categories. Customer retention, repeat orders and lifetime value are below the averages. The subscription options keep customers coming back to some extent (28%). But an LTV of $162 dollars is low for such a premium product, starting at about $20 a bottle.

Opportunities for fresh juice delivery brands
All brands surveyed have free shipping threshold that turns out to be too high (about $100). The shipping fee calculated at checkout causes the high cart abandonment rate. Lowering the threshold and explaining in detail how the juice is preserved to last 2 weeks will increase conversions.
The most converting channels are organic and brand name search. So investing in SEO and brand awareness will pay off. Other channels with potential are Instagram and other lifestyle content. Juice is an easy to position and feature product.
We recommend those brands to use timely email reminders to stimulate reorders when customers finish the pack. Timing is easy because the packs are created for a certain number of days.
Meal delivery businesses
Meal delivery brands do better than the average food brand online. A retention rate of 39% and 2.8 orders per customer on average is awesome. Those companies are on the right track. Comparing the brands in the category, we found that those that cater to specific diets (low carb, gluten free, etc.) score higher in LTV and retention. People on eating regimes are more motivated to stick to a verified provider.

Opportunities for meal delivery brands
Cart abandonment rate of 62% is about the industry average, but could be decreased further. Although those companies mainly rely on meal plan purchases (higher AOV, LTV), single meals should not be left behind. They are often bought more spontaneously so they'll contribute revenue and might win loyal customers for bigger orders in the future. So marketing campaigns promoting single meal orders should be ran too.
Most sales come through organic and brand search, which means good SEO and brand awareness are needed. Outliers in the survey get their sales through Facebook and referral sites. This can be an opportunity for some brands to break from SEO and capitalize on social media presence and lifestyle content.
Retention is good, but could be even better for a regularly bought product. People can be practically eating only from one company if they wish. Email newsletters with useful information should be used to drive regular engagement.
Meat and meat products
Meat companies thrive online. Of course, part of the reason is that all of them are modern farms or collectives that produce quality meat, which shoppers online prefer over industrial incumbents. With over one-third of customers coming back and 2.3 orders per customer on average, those brands have things under control.

Opportunities for meat brands
Cart abandonment rate is the highest among subgroups – 81% due to the high shipping rates applied. Food safety is extremely important for meat. But shipping is not cheap ($8 – $25) and companies place very high free shipping thresholds ($120 and above). One workaround would be to offer more bundles, e.g. all meat for a grill party, to bump up the order value and get to free shipping easily.
LTV is below average, which is strange for relatively expensive products. One way to fix it is using content marketing to give more details about the products and convince people it is safe to buy that beef jerky or sausage.
Most sales come through direct brand search so brand awareness, content and referrals are a must. Cool packaging with recipes may help word-of-mouth while partnerships and social media micro-influencers will increase exposure.
Теа
This is the toughest category we surveyed: bad retention rate, low conversion rate and very small LTV. The brands that manage to score better are positioned as premium tea. Dietary aid or slimming product have a retention rate about 30%, LTV is double the category average, and conversion rate is 7%.

Opportunities for improvement for tea brands
Current positioning as a health and diet product brings seasonal and disloyal customers (looking to lose weight for summer). Repositioning may stimulate year-round sales.
Differentiation is also not big enough, which make conversions difficult. Maybe marketing can focus more on scientifically proven benefits for the body. Lifestyle marketing is getting overused and hard to relate to tea as a product.
Sales come from a variety of channels depending on the country: Facebook, Instagram, CPC and organic search. It's safe to assume ads still work for the category, but SEO is also needed on a local level. Referrals are also a potential revenue generating channels.
Wine
It seems wine is a great product to sell online! This is the best-performing category we surveyed. A whooping retention rate of 48%, amazing 3.3 orders per customer and a $737 average LTV. These brands literally live on regular customers. The unbelievably low 34% cart abandonment rate and the conversion rate of 13% show traffic is highly qualified and with high intention to buy.

Opportunities for wine brands online
Most traffic comes through brand name searches so marketing efforts should be on brand awareness, content and referrals. Other channels with potential are email and bing.
Offline events and partnerships will help in getting your name out there, too.
Email can also help bring down time between orders (132 days now) a little bit. You can use content to cover suitable occasions for serving wine – anniversaries, graduations, birthdays. Some ideas include serving suggestions, entertaining advice and celebration planning. And be active around the holidays with bundle and gift options.
Takeaways for DTC food brands:
Measure the ROI on marketing channels. No big investments in ads seem to be needed as "free" channels as organic search work the best.
Since most traffic comes from organic search with high purchase intent, more and better site content can help decrease cart abandonment rate and increase conversion rate respectively.
Relatively good LTV and low acquisition costs (ads are not a driving force behind sales) mean food brands can afford to use content and partnerships for creating brand awareness.
The post-purchase experience can be improved to stimulate repeat orders, given that food is an everyday necessity. Feedback from customers will help you identify areas for improvement.
Orders per customer can definitely be increased and time between orders – optimized through well-timed reminder emails.
Note: In the Misc food category fall various product brands in product categories such as baked goods and mixes, cereal, nuts, and packaged soups, which we put together because they are general groceries and we didn't have a statistically significant sample size if we break them into smaller sub-groups.
Note 2: Online groceries are not included because they don't count as DTC food brands.
Note 3: Money values have all been converted to US dollars for comparison.