There's no mistake. Direct-to-consumer (D2C or digitally native or online or vertical or niche) brands are taking over the ecommerce scene.
Born-online brands disrupt with not only their products but with their attitude as well and this is what sets them apart from giants like Amazon.
Content marketing is more important than ever. The D2C brands communicate directly with their customers, actively engaging on topics like supply chain transparency and ingredients that old-fashioned brands tend to avoid.
Content is evolving as the main medium of brand identity and value sharing.
Through content, the brands of the future are able to tell their stories and exchange ideas with the audience, educate, inspire and move the consumption away from brands that don't do the same.
In this article, we look at creative use of content marketing for D2C brands.
REI: An awesome YouTube channel for nature lovers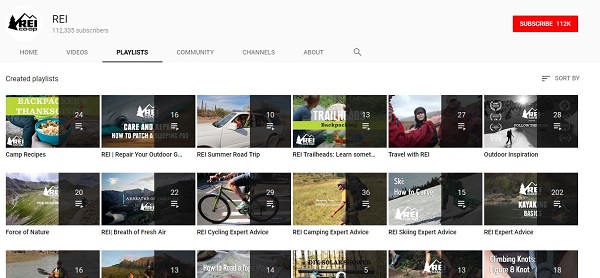 REI, the outdoor gear company, is a perfect example of content made to give value to the target audience.
Their YouTube channel with over 500 ultra-focused and practical videos answers the questions of their 112,305 subscribers about any aspect of an outdoor adventure.
There are series about all of their target sports and travel activities, destinations, camp recipes, how-tos, repairs and so on.
It is a place for the community to find inspiration and info for their next adventure. And most importantly, the brand values are all over the videos.
The special short films REI Presents get over a million of views each, spreading the stories of inspiring people, environmental stewardship and the outdoor lifestyle.
Steal:
Videos don't have to be long, only to give the information needed.
Cut the sales talk and focus on teaching skills and adding value.
Talk about everything in your niche to get frequent viewers and subscribers.
Glossier: From blog to business
Cosmetics direct-to-consumer brand Glossier started out as a blog challenging the beauty industry. From the talks with many women on there, the founder Emily Weiss was able to create a new beauty brand that does things differently.
As a successful brand now, they still have the blog running with unconventional beauty insights as well as strong presence on other social media as expected from a beauty brand. The brand philosophy of "Skin first. Makeup – second." is demonstrated everywhere in visual and written content.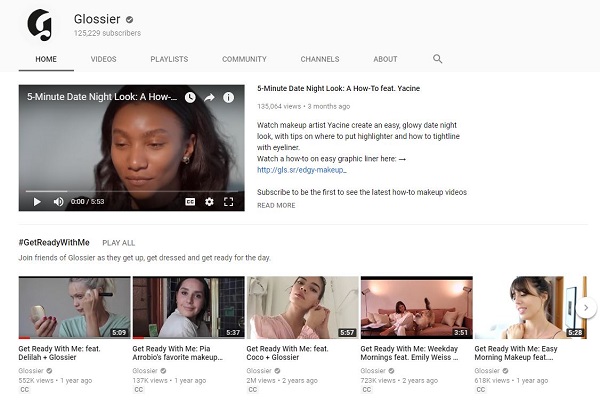 What stands out, though, is their #GetReadyWithMe influencer collaboration on YouTube. All forward-thinking cosmetics brands work with youtubers because it's the best way to show the products in use.
But Glossier's series is good since it shows everyday looks for ordinary people, which is completely in line with their slogan "beauty products for real life". Most brands will go for looks that are way too fancy for the normal working woman, but Glossier stays close to their target market.
Steal:
Don't just copy the competition. Create content for your people in the larger audience.
Through content, keep the spark that got you building the brand in the first place.
Tip: Use a funnel report to measure the impact of content on conversions on your site. Your Ecommerce reporting should have that report set-up ready.
By all means, monitor how your audience interacts with content pages and use this first-hand data to tailor your communication further.
Away: A niche magazine for niche buyers
Luggage brand Away has its own self-standing magazine much like the magazines in the seat pockets in front of you on a plane.
First, it's a logical choice of content form when you're in the travel industry. People read about the topic a lot.
But what's really interesting is their targeting of the modern, hip, sophisticated audience with intelligently humorous pieces like this The packing list of famous writers that got us chuckling like schoolgirls in the office.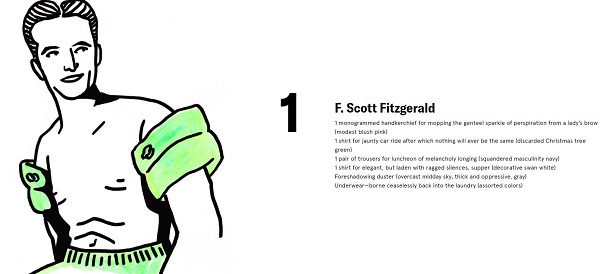 Steal:
Don't be afraid to show brand voice and identity. The right people will appreciate it.
A content medium separate from your shop platform might be a good idea for engagement.
MVMT watches: Creating style influencers
MVMT Watches is a digitally native brand by millennials for millennials. Since they compete with huge and lux companies that can afford celebrity endorsements, they need a big differentiator to bring people in.
Probably that's why MVMT set out to create influencers, including the team. On their blog they have the Disruptors & Dreamers series about normal but inspiring people with unique style.

The images that go with the short interviews elegantly feature the brand's products but without the salesly clutter of influencers on Instagram.
Steal:
Everybody that represents your target audience can be a brand ambassador.
The team's passion for the products is essential and it's great to show it.
Narrow-niche brands: You're in even better position to target your special audience only. Inclusive underwear brand
TomboyX
tells the stories of rights activists, body positive models, LGBTQ people, young artists. The brand's core values is to represent those who don't see themselves in traditional underwear brands – and life.
Bonus 1 Casper: How to fake you had a blast last night
Casper is given as an example of a D2C brand in any aspect but their site Late Night Snap Hacks is just genius.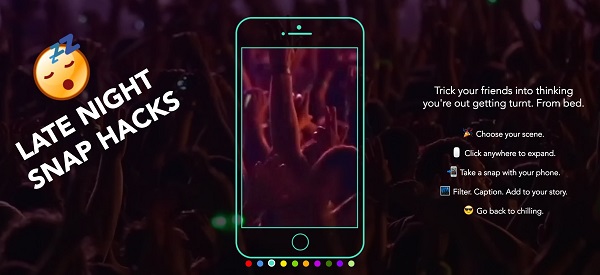 If you're not a party animal but still feel pressured to show an active social life on Snapchat (and troll your friends), this micro site lets you choose a setting where you supposedly had a blast, crop it creatively and post a story about it on Snapchat.
Obviously, the message is staying in on Casper is better than going out but it's so funny and surely makes us sleepyheads feel good about ourselves.
Bonus 2 Warby Parker: The book recommendations
Sorry for bringing the most mentioned D2C brand ever, but we had to.
We just love their To Read blog section for all the geeky reasons. It's been long since reading – and wearing glasses – was associated with intelligence and people with glasses often get bullied for it.
The brand is making reading cool again, which is a great example how (content) marketing can make a positive change in society.