Some subscription-based brands have exploded to stardom: Harry's, Dollar Shave Club, BirchBox, ipsy, Trunk Club, BarkBox, etc. not to mention Amazon Subscribe and Save.
You probably also want to reap the goodness of customer love as they do, but cannot offer subscriptions for some reason. We get it! Not all products and brands can immediately get thousands people on board paying monthly. Or because your customers buy at very different time intervals (you can monitor time between orders with Metrilo's retention analysis).

The benefits of subscriptions:
Predictable revenue
Customer loyalty
Referrals
So how can you get these going for your brand without actually running a subscription?
Predictable revenue
A steady AOV and CLV make accurate cash flow estimates and keep you safe when running promotions and paying for inventory. So here's how to imitate subscription businesses to increase your CLV and stabilize AOV.
CLV
"Binge ordering". Why is Netflix so addictive? It plays the next episode automatically. To get this effect for your store, you have to offer the next purchase with the least friction possible. You can automate emails to send out every month and offer "what's next" (e.g. complementary items to the ones bought) or create monthly editions of your products if that makes sense.
More about repeat purchase rate
Replenishment reminders. Subscription or not, you can pull this one off. If you know your product lifecycle (hint: Metrilo's retention report shows when people buy again and you can create different segments by use and frequency of purchase), it's easy to send an email reminding them to fill up again.
This works for seasonal changes, too, if you sell socks or clothing, for example: "New season, new weather, new socks". Your timing might even be better here than that of a box shipped at a fixed time without regard to customer's needs.
Read more about how a retention analysis will help you get more sales
AOV
Subscriptions make it easy to estimate future sales and track CACs. To get the same for your store, work for a common AOV that most customers gravitate around without much fluctuations (this mimics the subscription price). How? Free shipping and gifts thresholds, (meaningful) upselling, packages conveniently priced at level of target AOV (e.g. "a month's supply").
Customer loyalty
Probably the best thing about subscriptions is the customer stickiness, how people tend to stay with the brand longer and next orders are automated. Here are a few tips on how to do that for your non-subscription brand.
Make it easy for men
This may sound discriminatory, but men are more willing to automate shopping, according to a survey by McKinsey. They are not as keen on shopping as women so the easier it is, the better they feel.
That's an insight you can use to your advantage. With a smart CRM that lets you select the people who shopped from the men's category on your site, you can segment your customers and tailor your communication with them – more reminders and products readily picked out for men.
Give the same incentives to stay
The same survey found that the driving motivation for subscribing for replenishable goods is financial. People get a better deal out of subscriptions – because of the time saved and convenience, or the better cost of goods companies are able to get when ordering predictable quantities.
One way you can do the same for your customers is give returning ones better prices than one-timers get. A simple way to do it is to send them a coupon code for the next order and repeat it every time, with increasingly good deals. Another way is to tag your VIPs in your customer database and regularly remind them to use their insider promo code at checkout.
People are curious
"Curation subscriptions" are the most popular type because they are an easy way to try something new – food, beauty products and even clothes. BirchBox, Graze and Trunk Club are such.
To achieve the same level of excitement – and repeat orders – among your customers, they should be able to find something new and surprising every time they check out your website. Offer limited editions, new variants, even a variety of goods by partners (maybe arrange temporary partnerships to feature complementary goods) so there's always something people haven't tried.
Personalization is the key
Personalization is the number one reason for continuing a subscription. People want to be able to tweak the package to their taste and quantity needs and do cancel subscriptions if they get more than they can use up.
This is where you can shine as a non-subscription brand! Custom orders is what you actually do all the time. Particularly about quantities ordered, look at how much and how often people usually buy to understand the rate of use of the product. Then, make a system of segmenting your customers, tagging them by shopping behavior and using that to tailor communication.
Keep people engaged with your brand
The ongoing relationship with customers that comes with subscriptions may be replicated through continuous engagement, keeping at the back of their mind until it's time to shop again. Such relationship may give them lots of value for free in the form of content without being pushy.
User-generated content (UGC), competitions, feedback loops, involvement in new product development are all forms of engagement that win customer loyalty.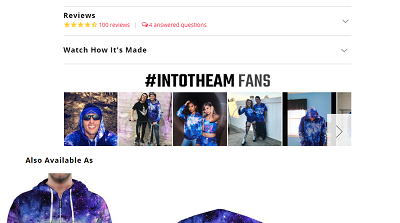 Referrals
Cool brands often benefit from word-of-mouth referrals and subscriptions, with their exciting element, are definitely a great conversation starter. Here are some ways to steal some of the goodness.
Reward referrals
"Access subscriptions" (which unlock special discounts and deals for members) are driven by WOM since people are eager to let their friends in on the exclusivity. You can mimic this by providing special deals for referrers and referred customers.
The unboxing experience
The special experience of unboxing the monthly package is signature for many subscriptions. They use unboxing videos from influencers for promotion and you can do the same, inspiring people to post about it on social media. Your packages can be just as exciting as something paid for on a recurring basis. 🙂 Package inserts, freebies, styling guides and samples are all loved by customers and add value to any order.
In conclusion
Good products have loyal customers even without subscriptions. There's no reason you can't win customer's love and repeat business, too.
A recent survey on customer retention discovered that some items enjoy above-average rates of loyalty and repeat purchase rate:
wine (48)
coffee (38%)
CBD products (36.2%)
specialized sports gear (33%)
pet products (31.5%)
Read the whole Customer Retention report here
Read our food brands stats report