So you want to grow your online store to the next level. The two basic ways are getting more customers and getting them to spend more. This article is dedicated to winning new customers the smart way – with referral marketing strategies.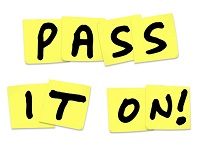 The ultimate proof that you provide awesome customer experience is that people go out and tell friends and family about you.
Even if they like your brand and product, they have so many reasons not to tell anybody: they forget, they don't know if the others are looking to buy such thing at all, it hasn't come up as a topic…
Let's overcome all those objections with minimum changes and spend on your part.
Because, you know, there are many successful referral programs out there, but you don't need to set up an official (and often costly) referral program to grow your store.
We suggest a simpler way without new apps, referral links, special discounts, new landing pages and so on.
Go back to the original idea behind structured referral programs – getting people to spread word of mouth about you.
If you focus on giving them more reasons to talk about you and more convenient ways to show your products to others, you don't even have to pay for a referral program. It'll take off on its own, unofficially. 🙂
Now, let's dive into how awesome word-of-mouth is and what referral tactics that work because stimulate it.
How even the simplest referral marketing helps your online store
That's how you acquire new qualified leads/ customers. One reason why referral marketing works so well is people usually surround themselves with like-minded others who have similar tastes and habits. So chances are those referrals will be well-targeted and interested in your products.
One study suggests referred customers also have higher LTV and AOV. It is because they start off their interaction with a brand more positively due to the personal recommendation by a person they know. If their friend says the fabrics are really good, they easily order your shirts.
Why people refer a friend to products and brands
We're social creatures and exchanging information is a form of collaboration we enjoy. In a friendly circle, we always like to have something interesting to share. Better yet, we like being the trend-setters, the influencers, the pioneers who the others follow.
That's why we try to crack the best jokes, book a table at the coolest place in town, and learn about that hip new brand before anybody else. That's how vain we are.
And when our friends do follow and try something we recommended, we go smugly, "I knew you'd like it."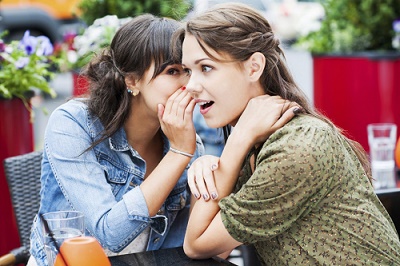 On the other hand, we have a strong need to be accepted and to belong to a group to feel safe. We subconsciously adapt our tastes and behavior to the group we associate with in attempt to be never left alone.
That's why "social currency" works so well on all of us. We do it to feel better about ourselves and our place among the others.
How to get a referral marketing strategy in place
You are probably thinking about the official referral programs as we know them from Dropbox, The Dollar Shave Club and the other juggernauts. It's possible to achieve that level, but we're talking bootstrapping tactics here – the simplest things you can do today.
The ecommerce marketing strategy we suggest is simpler, small-scale and inexpensive.
How to stimulate referrals
Great customer experience extends over every step in the customer lifecycle. This means even the referral process itself has to provide value for the referrer and stretch the feeling of delight.

It doesn't work like, "Ok, you bought from us, now tell your friends because we're cool. End of story."
Show them you intend to deliver the same wow experience over and over – it wasn't a one-time thing.
There has to be something in it for them, the little nudge that says, "You're valuable to us. Here's our thanks, please feel free to share with friends if you think we can be of use."
So, let's assume you already have a great product and provide magnificent customer experience.
With a smart referral strategy in place, you should be able to get people to talk about your brand. To get there, provide incentives for people to recommend you. How do you find out what motivates them to share? Meet your customers first.
Segmenting customers
We've talked about customer segmentation as the magic ingredient that gives direction to all your efforts.  Of course, segments are very case-specific, but we suggest the following as the absolute minimum:
Free features to use before converting to a customer
We've talked about engaging visitor without pushing them to buy right away. Don't remember. Remind me.
Your referral engine can work even before people convert to customers. You need to provide free resources or features for visitors to enjoy and forward to their friends.
People love talking about themselves. Offer them a fun short personality quiz with customized styling/ exercise/ diet/ reading/ listening/ etc. recommendations (whatever makes sense for your product).
They'll have a good time and ask friends to fill it out too to see what they get – it's not a passive referral, they have to actively engage with the page to satisfy their own curiosity.
If that experience is nicely done and leads on to your own products in a discreet way, you have a powerful activation process weaved into the referral strategy. So sleek!
They obviously like your products. Ask them for a recommendation by giving them a discount on their next 2-month supply. It's great because now they feel they struck a deal on an expense they were going to make anyway. Plus, they surely have nice things to say about your store.
Customers, loyal to a particular product
That's the hard-core bunch. They have strong reasons for sticking to that product and they're probably better than any advertising message you can come up with. Leave it to them to present the product to their friends and give away samples to try and, of course, a fat supply to the referrer.
These customers are probably more affluent and discounts may not be as appealing to them as to other segments. To impress them, you need to show them special appreciation in a non-needy manner. Surprise gestures and gifts (even without an order) should do good.
Using their history with you, choose exclusive, stylish and exceptionally high-quality items/ experiences. Those people might even be aware how valuable they are to your business so give them something to talk about to their circle.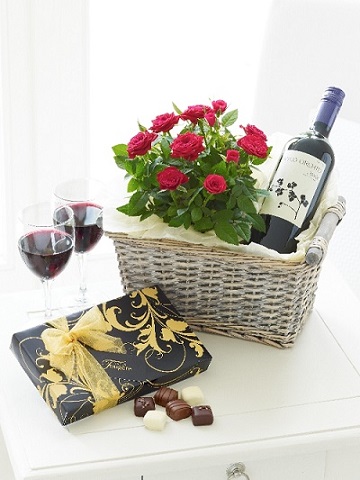 While each segment has specific turn-ons, there are universally applicable tactics that enjoy great success.
Additional referral marketing ideas
As mentioned, people like to be influencers (meant in a good way). Why don't you put the very active on social media ones (acquired through SM maybe?) in the limelight so they want to share with their circle.
That's exactly what Ulatea (and many other brands in the trendy healthy niche) does.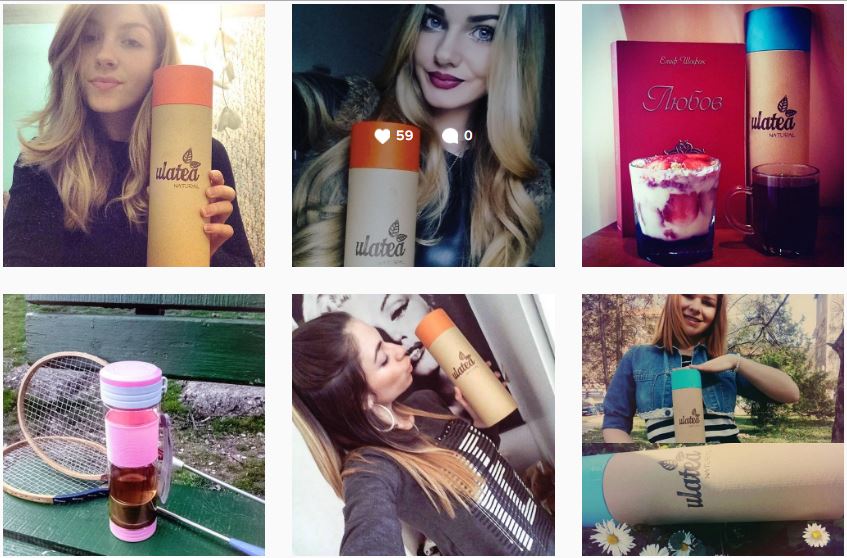 They ask for customer photos with the product and get beautiful results. The best part is those customers are not shy and promote themselves well and therefore extend the brand's reach.
Win-win. Happy customers continue to set the trend and gain attention, and the same goes to the brand.
Imagine you sell handmade shampoo and have a segment of brunettes. To reach out to their friends without risking giving away bonus quantity of the product they already buy and love, send them a sample of your blondes shampoo with the next delivery with a little note asking to help share the love (or whatever else is in line with your brand).
What will happen? They'll give it to a blond friend and swear they love the dark one so the light one should be just as good.
Another example would be adding a little greetings card to their order as a freebie to use on occasion. This way, you save them time later on (good impression) and make yourself seen by a relevant audience.
See what all these referral tactics have in common?
They create awesome conversation starters. "I saw your photo of that new detox tea. Does it work?" or "Thank you for inviting us for dinner. I brought some healthy crackers. I buy the gluten-free version, but these should be really good as well."
The trick is to give people the extra bit they are willing to share. Often, they don't see a product as a gift material to buy on purpose or it's something that needs to be tried out first. It's your task to make it easier for them to show the experience.
What's unique about it? What benefit are they giving to their friends, referring them to you?
Still,
what about traditional referral programs?
Yes, the most widely used weapon in the ecommerce marketing strategy.
Richard Lazazzera lists some good referral apps to use here.
Although these "official" referral programs have a very appealing cash or percentage-off rewards for customers, be careful.
The overuse of discounts as means of acquisition and only incentive for referrals can seriously undermine your profit so calculate them into the acquisition cost. Also, heavy discounting marketing strategy reflects badly on your brand image.
On the other hand, you should offer a good-looking percent off compared to your average product price. $10 off a $500 coat is not much of a deal.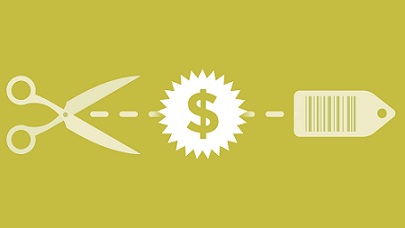 Also, take into account the average time between orders for your products. A $20 off sounds cool, but when am I ordering again? This can be a bit tricky for online stores with fewer products (a wider range is easier to get repeating customers).
And lastly, don't set conditions so hard to meet that the referral program doesn't make sense anymore. Limits on products to choose from or imposing a minimum first order value would be examples.
Word-of-mouth is powerful
See, you shouldn't limit your understanding of referrals to pop-up forms and coupon codes. It's any form of customers driving traffic back to you.
It's yet another part of your overall brand image that helps create the desired customer experience. Wait, what? We said incredible customer experience leads to people wanting to share it. Yes, but the bonus for them – tangible or not – add up to the positive feeling customers build towards your brand over time.
It's a continuous loop of wow-ing and getting wow-ed by customers' appreciation and return business. That's how you grow sustainably in the world of eCommerce where customers have evened out negotiation powers with the sellers.