Do you wonder what creative campaign to run every time you launch a new product? Do you find your regular marketing efforts not enough for promoting a new product? We know you want to make a splash. You want to create buzz around your newest release. Here are our ideas how to promote your new product to attract old and new customers.
Related: PR tactics when launching your brand
1. Pep talk in your community group before launch
Having your community of loyal customers is a great asset to any brand. It is a safe place where discussions happen and you get direct feedback and insights from your fans. And you keep people engaged with the brand. When launching new products, it can be the first place to announce it.
Ask for name or color ideas to get those people hyped about your new launch. Get them talking and lining up for pre-orders. They already like your brand if they're there so they're the perfect early adopters.
Read more: Why modifying your product on customer feedback is worth it
Take Instant Pot, for example. Apart from their huge social media reach – recipes using the device are everywhere, they have a dedicated group with what could be only the biggest fans. This is the perfect place to introduce what's new from the brand.
2. Send product to loyal customers
If you have a customer community, the next step is to send some free samples of the new product to people. Choose some of the most active community members who you know will create a word-of-mouth buzz. They don't need to be influencers for a more natural user-generated content. As influencers are losing ground these days, you want to stay authentic and close to your core audience.
When sending samples of a new product to customers, make sure you explain the product and its uses. This will make the try out more beneficial. Take any feedback seriously as well. And share all their posts about the product – people love being reposted by brands they like, it makes them feel as trailblazers. Just like anthropologie does, regraming customer's posts.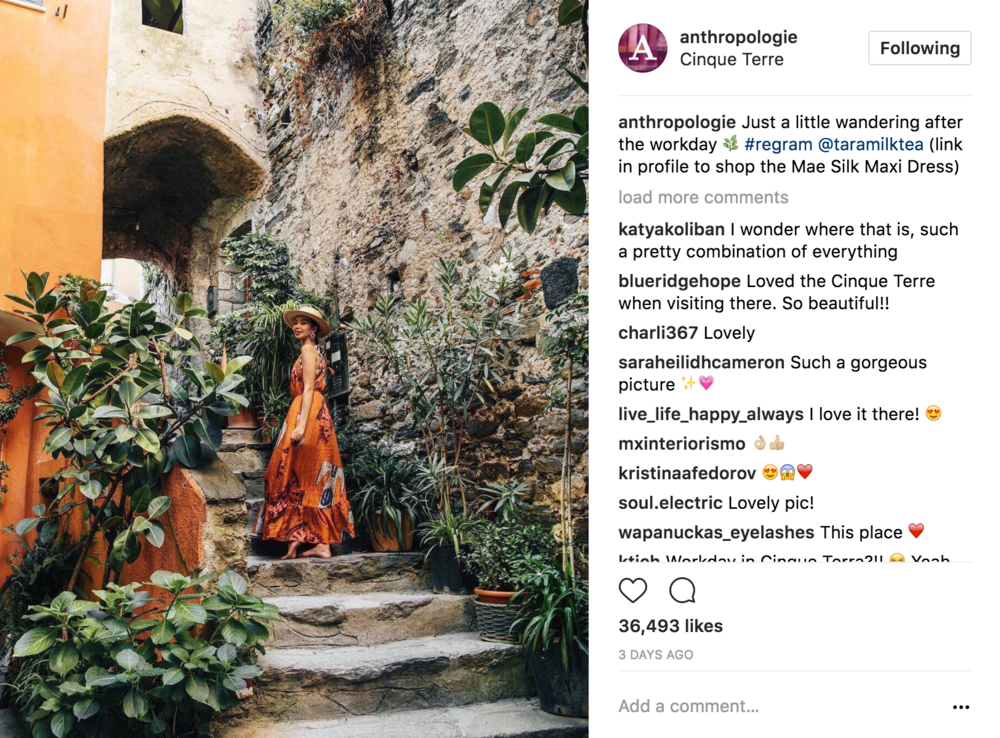 3. Email customers who bought the old version
Probably the easiest way to reach your customers who are most likely to buy the new product is a targeted email. Filter those customers who have bought the previous version or the closest product you had before. That's it, that's all you need for your first round of promotional emails.
This tactic is very useful if you have a large product range, attracting a wide audience. There's no need to send offers to customers who are not interested in this type of product. For example, if you sell maternity clothing along with other apparel, you should be very careful in your targeting. People are very sensitive about their privacy when shopping. As you know, Facebook even has a "too personal" as a reason for hiding an ad in the feed. Chances are some will get annoyed and others even offended if you send them an email promoting products they're not interested in. Even ignoring your offer is bad because this will make them open your emails less in the future, knowing you shoot in the dark.
So it's best to give to each their own – send people product promotions that they've shown interest in before. This should be done with careful customer segmentation.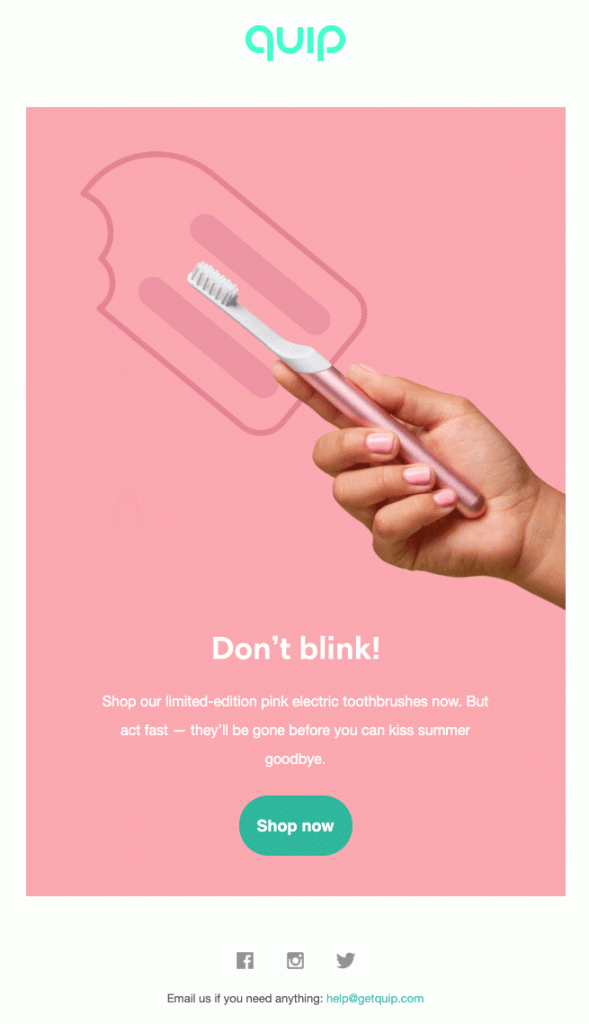 4. Add a "New" category on your site
This one doesn't even seem like a new product marketing tactic at all, but we have to say it. A dedicated tab for all new releases makes it fast and easy for regular customers to check out what's new without sifting through items they've already seen and bought.
What's even more convenient is checking who visits this tab yourself in your CRM. These are the people in your customer database who really like to be early birds on everything new you release. Send them special early promotions with the new product(s). Make them your VIP members – they will appreciate it.
Zara's whole home page acts as such a NEW tab.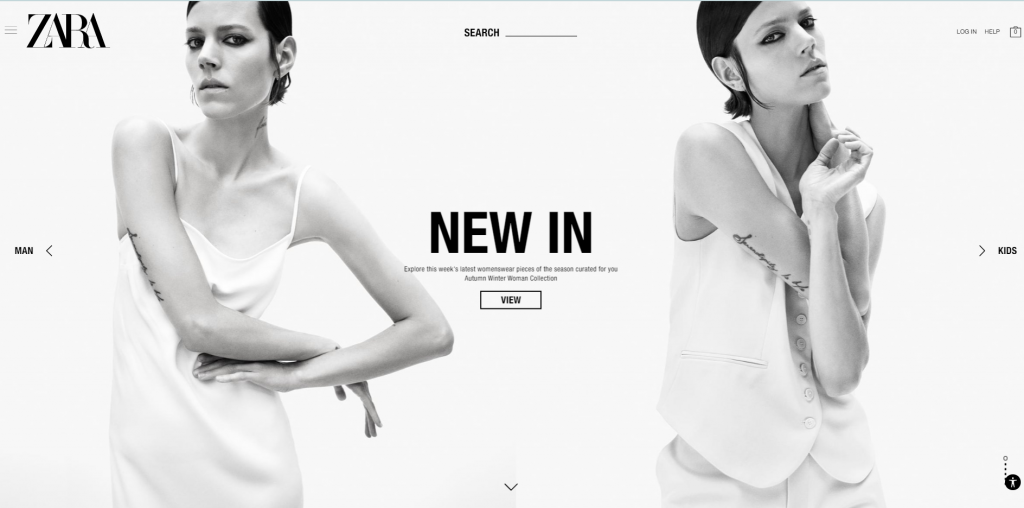 5. Have a "new" Instagram highlight tab and Pinterest board
Your social media accounts should also make it easy for people to see what's new. After all, they're on Instagram and Pinterest more than they are on your website.
One best practice is to always keep an Instagram highlight tab with the latest releases. A featured Pinterest board is as good. This will help customers distinguish between collections if this term applies to your products. It also makes it easy to find seasonal items – and sets them apart from sale ones. In addition, your Pinterest followers will get notified when you upload new pins – a great way to gently alert them about new products. Pinterest also shows your latest pins just below your featured boards on your profile so keeping up to date with your brand should be easy for fans.
Read more: Pinterest ecommerce marketing
See how Sephora's first two tabs are the most relevant products at the time.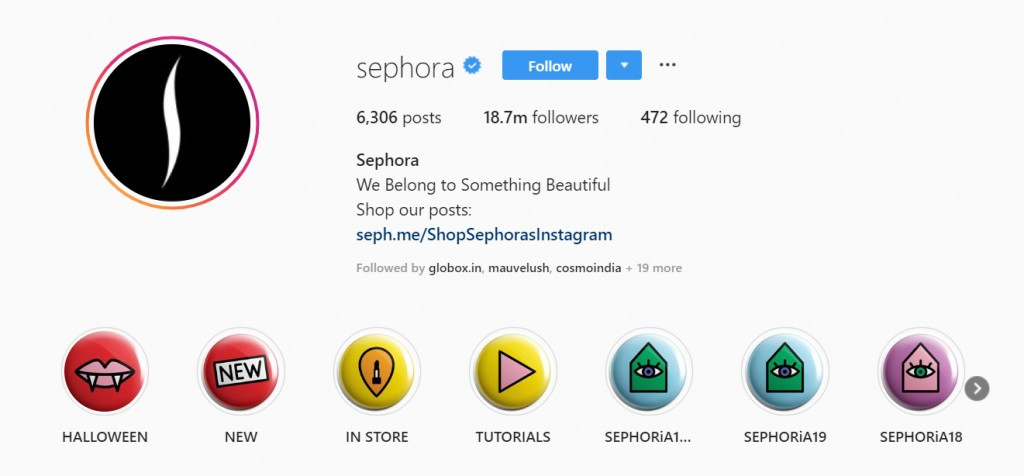 6. Add an upsell option at checkout
"Add this new thing to cart?"
A simple upsell offer just before checkout will at least draw people's attention to the new product. A pop-up product description might help get more conversions out of this little trick. Say that it's new and that the price is special for a limited time only.
If not, make it a freebie people can choose to add to cart. This also will stimulate their curiosity – it won't be just a gift they receive automatically. If they've missed the new product on all other channels, the shopping cart page will do because it gets read very carefully.
Harry's offers a new cosmetic product to add to cart at checkout.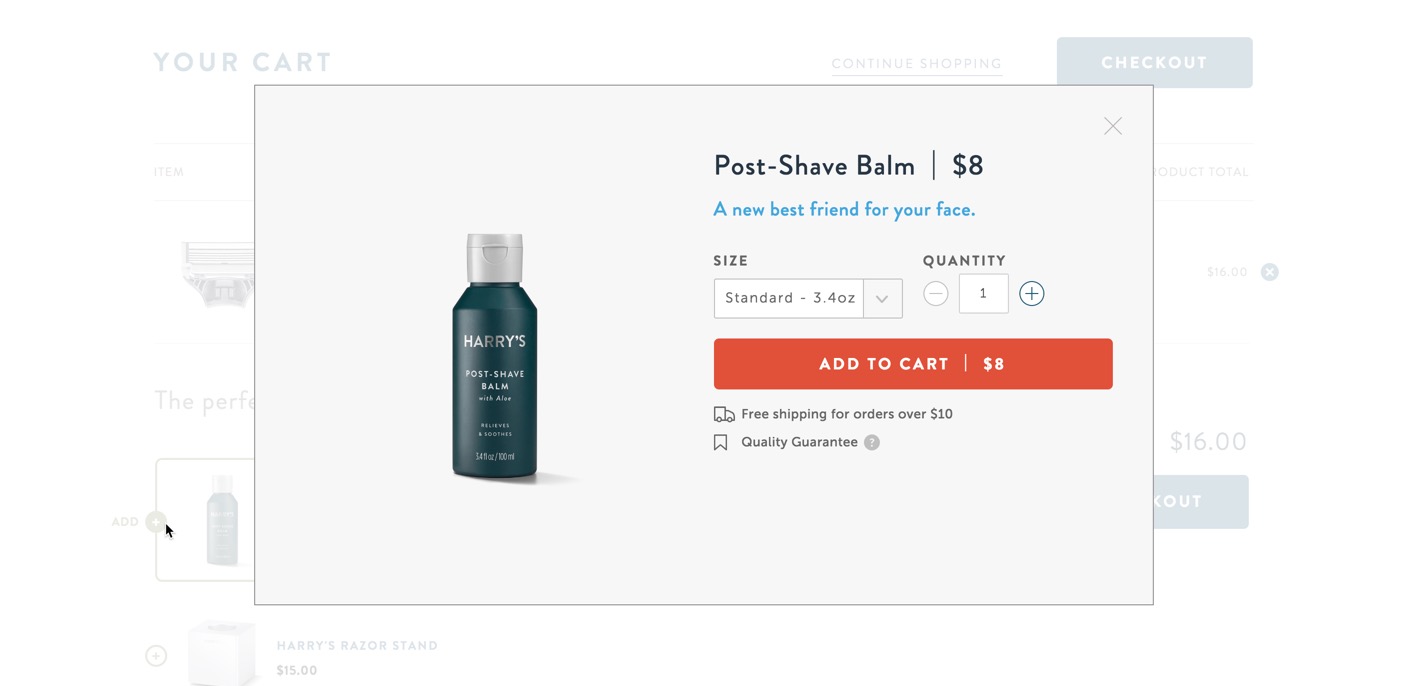 7. Bonus – Influencers to promote your new product
Of course, you can use influencers to hype a larger audience for your new product. Especially when it's something completely new for your brand, it can be beneficial to position it in a certain lifestyle so people can accept it easily.
However, launching a new product is a risk in itself. You don't know if it's going to take off or not. That's why we recommend not to risk marketing of the new product as well. Work only with influencers with a proven track record of bringing you good results. Better yet, work with those who bring you repeat customers. How can you know? Metrilo not just tracks the revenue brought by each influencer, code or referral – it also tracks how these cohorts of customers perform over time. You'll know who brings quality leads and who – only one-time buyers.