You know about ecommerce CRM software and maybe considered getting to use one. Ecommerce is an unique and booming industry, and software solutions are fighting for your attention. Customer relationship management is becoming the differentiation between brands that nail marketing and those that just resort to the blanket approach.
But what will it give you and how to choose it? Big and small software providers with general or niche solutions… Let us help you find the best CRM for ecommerce.

Why do you need a CRM for ecommerce?
Online stores lack the physical interaction with customers. You don't actually get to meet your patrons.
That's why seeing how people behave when they visit your store, staying in touch with them and building meaningful relationships is essential – and hard.
A CRM software that stores and sorts all customer data in a usable way and enables communication makes up for the missing face-to-face contact with customers on a daily basis. You may also look into an Entity extraction software to help you better manage and filter your customer and business data.
This way, you learn their shopping habits, their preferred products, and promotions, their way of interacting with your site. Then, you're able to act on this knowledge – improving the experience, making relevant offers and adapting your marketing to their taste.
This data is yours to use and the best "weapon" you have for improving your business performance. A CRM allows you to turn this knowledge of your customers into sales.
Isn't CRM software for big business only?
All this data thing is maybe making you feel uneasy like it's just for the big players and too much for you.
This is because CRM tools first hit the market as big-business sales solutions streamlining the traditional sales process: leads – prospect – quote – customer – support.
But nowadays any business (with any sales process) that generates customer data can benefit from organizing this data and making it actionable.
In fact, in any industry, to be able to compete with the big guys, you should fight with all resources available. No matter if it's 50 customer records or 50, 000, it makes sense for your business to draw insights from it.
Ecommerce CRM vs Sales (pipeline) CRM
Standard Sales (pipeline) CRM
The big players on the market provide comprehensive CRM tools for all kinds of businesses, including online stores. They're made to facilitate team collaboration and to track complex sales processes over time.
HubSpot, SalesForce, and Pipedrive are powerful solutions, but they do not quite fit the needs of an online store.
They are:
Overly complex, with enterprise-level features
Built to cover the needs of all kinds of businesses and industries, i. e. one-size-fits-all
Expensive
Why is that?
Mainly, because they were not all developed with Ecommerce in mind.
Ecommerce CRM software
Other players emerge as well. Ecommerce CRM software solutions are particularly focused on helping online stores with relevant features and suitable prices.
The main differences from the major CRMs are:
Ecommerce-focused features
Lightweight and friendlier to use
More affordable
The thing is you, as an ecommerce business, don't need most of the heavy things a $1000+ platform has to offer. Why pay for it then?
How is an Ecommerce CRM actually different?
An Ecommerce CRM is specially tailored to meet the needs of Ecommerce stores. This industry doesn't fit the standard CRM size.
You personally know online stores are rarely enterprise-level. Most have small teams or are even a one-man show.
Stores of that size need smart tools to achieve more with fewer resources. You don't need complex software that requires a new full-time person to be hired only to work with it.
And you certainly don't want to pay all this money for features you don't use.
This is what we at Metrilo are trying to tackle, too. We want our clients to be able to do everything they could with a standard sales & pipeline CRM, but also we want it to be easy-to- use and to help you work smart and save time.
The best ecommerce CRM would have:
Easy integration with online store and automatic data tracking
Easy to use: ready reports, readable tables, and charts, time-saving
No special statistics/ data management skills needed
Ecommerce-focused reports and KPIs
No unnecessary features to pay for
It's also no secret that focusing on retaining current customers, rather than always being on acquisition mode is much cheaper and profitable, and to retain your customers, you must get to know them.
In order to do either of these two (acquire or retain), online stores would need a ecommerce CRM software that stores all the data about their customers and provides detailed customer profiles. Knowing the people behind the orders can eliminate a big chunk of the guesswork behind all your email marketing campaigns.
What are the best ecommerce CRM features?
The process of choosing the right software can be quite confusing and time-consuming and we know very well that most Ecommerce businesses do not have much time to waste!
That's why we've listed the must-have features you need to be looking for.
Complete & Comprehensive Customer Profiles
Usually, platforms like WooCommerce, Shopify, and Magento do offer "customer profiles" in their admin panels, but the info is limited – name, contact and separate order values.
Good, but not good enough.
The most important thing an ecommerce CRM can do for you is to store and also organize all customer data you continuously generate. In an ideal world, you'll have all these:
Contact details
product / category interactions
Source of acquisition
Status – new or returning customer
Order history
Current orders with statuses
Buying behavior
Having all this info will allow you to look at a profile and get a feeling of the sort of a person is behind the profile, what kind of a shopper they are, what products/ categories interest them the most, etc.
This will help you find the best way to communicate with them; you won't have to just make wild guesses based on gut-feelings.
On-site behavior (sessions, interactions, etc.)
Running an eCommerce store is quite different from running a physical one. In a physical store, you see how people experience your store and your products, you get to see their "session" first-hand.
It would be only fair if you could do that online too, right?
When searching for an ecommerce CRM software, make sure it lets you look at visitor's sessions. In customer's profiles you must be able to see:
How many sessions does customer X have?
What actions did they take in each session?
When did each session happen?
How many sessions did it take for them to order?
Having this sort of information at your disposal can help you identify issues your visitors face or opportunities that you can capitalize on.
Only when you are able to observe the buying process, you can influence it!
Filters & Segmentation
So you have all these detailed individual customer profiles, which is very good, but being able to apply filters and thus segment your customer base takes you a step closer to running highly personalized marketing campaigns. Read this marketing software review before getting one for your business.
Filtering through your customer profiles gives you a narrow group of people that have something in common, which makes targeting much easier!
Segmentation based on customer actions is powerful because you can then communicate only stuff that people have already reacted well to or have expressed interest in. Also, it's always good to save segments such as:
High spenders
Deal hunters
New collection/products buyers
Coupon lovers
Frequent buyers
Bulk buyers
Tags & Notes
Tagging can be especially powerful as it lets you create a whole segment based on the tags you've assigned to customers.
For example, with a tag "Newsletter fans" labeling anyone who has opened your last 3 newsletters you have a ready segment to engage with proven tactic.
Notes are useful if you're a team working together and need to share specifics. Notes are a an addition to all pre-set fields you get for each profile.
Ability to reach out directly from the CRM
So you've filtered through your customer profiles, and have created segments, now it's time to start sending out your marketing materials, right?
You'll want it to happen as simply as possible. Nobody wants to go back and forth between tools, exporting and importing data.
This is why Ecommerce stores (and not only) need a CRM solution that lets them act upon their data on the spot. Metrilo has in-built email tool to cut out the hassle, making it the best CRM for ecommerce.
Painless integration
Easy integration with your Ecommerce platform saves lots of time. We promise you'll naturally like a tool that starts working straight away, a plug & play solution.
Most CRM for ecommerce providers are trying to develop powerful integrations with most Ecommerce platforms.
Metrilo integrates smoothly with WooCommerce, Shopify and Magento. The best Ecommerce CRM to manage your customers and do personalized marketing.
What's out there on the market?
It's fair to say, there's plenty of options to choose from, but it all comes down to choosing the right tool, with the right features, at the right price.
To be fair, we compared different ecommerce CRM softwares. We've included ourselves too, so you can see how Metrilo, an Ecommerce oriented CRM stacks up against the so called "big boys" that are usually the perfect fit for larger sales teams at large businesses.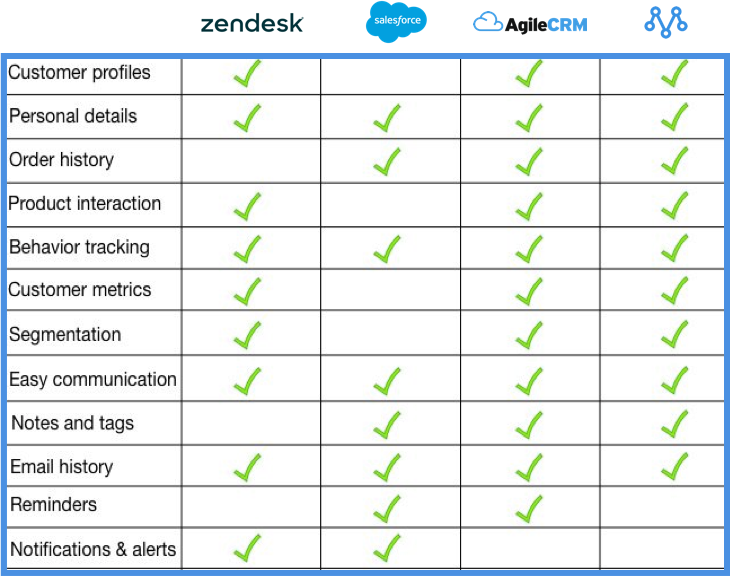 Hopefully, this comparison helps you get a better overview of what's out there as we've compared Metrilo – the best Ecommerce CRM to some of the most well-known CRMs out there.
So if you are running an Ecommerce store and are searching for a CRM solution, you can start your free 14-day trial with Metrilo.