Pinterest is a great place for marketing your ecommerce brand with its 367 million users worldwide. It's the fastest growing social network and one with a huge impact on ecommerce sales.
Still, it is underrated as a shopping channel even though most pinners go there to plan purchases. So this article goes over the marketing and sales opportunities for ecommerce brands on the platform AND the Pinterest marketing best practices to follow.
Ecommerce and Pinterest: stats
Purchase intent is huge – "shopping" is the second top activity for pinners on the platform (48%) after only "viewing photos" (57%). 85% of women use Pinterest for ideas and inspiration about home remodeling, planning a wedding/ a party/ a trip, updating their style or DIY crafts.
It is more of a search engine than a social network because the typical use is searching for a keyword, going through results, maybe visiting a website linked. Interactions under pins, following other accounts and so on social media features, are much less used.
97% of people search for specific yet general terms, not brands – a great opportunity to get discovered by the right audience!
95% of pinners claim they have tried Pinterest ideas
77% of users say they find new and interesting products every week.
80% of buying decisions in the US are made by women, the majority of Pinterest users.
58% say the platform helps them find interesting products and shop better.
Users add images they find on the web, generating more content on your behalf and linking back to your website.
Pinterest users have above-average disposable income.
This all makes Pinterest the most lucrative social commerce marketing channel for brands.
Pinterest for ecommerce marketing
Product pins (free) – your products with price, availability, product descriptions, linking to your product page.
Rich pins (free) – these are pins with extra information embedded that adds value for the viewer without having to click away from Pinterest. They're connected to your website and changes update the pin as well. The most popular rich pins are recipes, a great way to get saved by many people and viewed over and over again.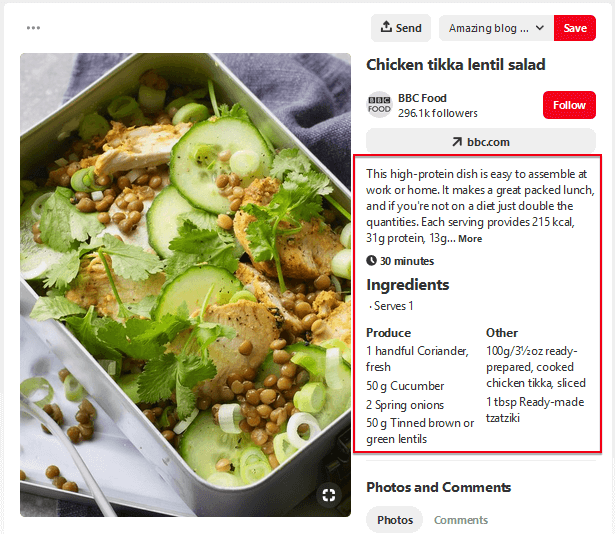 Shop the look pins (free) – these are pins featuring products in context, like a fully furnished room for example, so people can see the products in use and then click through to buy them from the brand's website. You can tag as many as 25 products in such a pin to showcase your range as best as you can. These pins can also be promoted.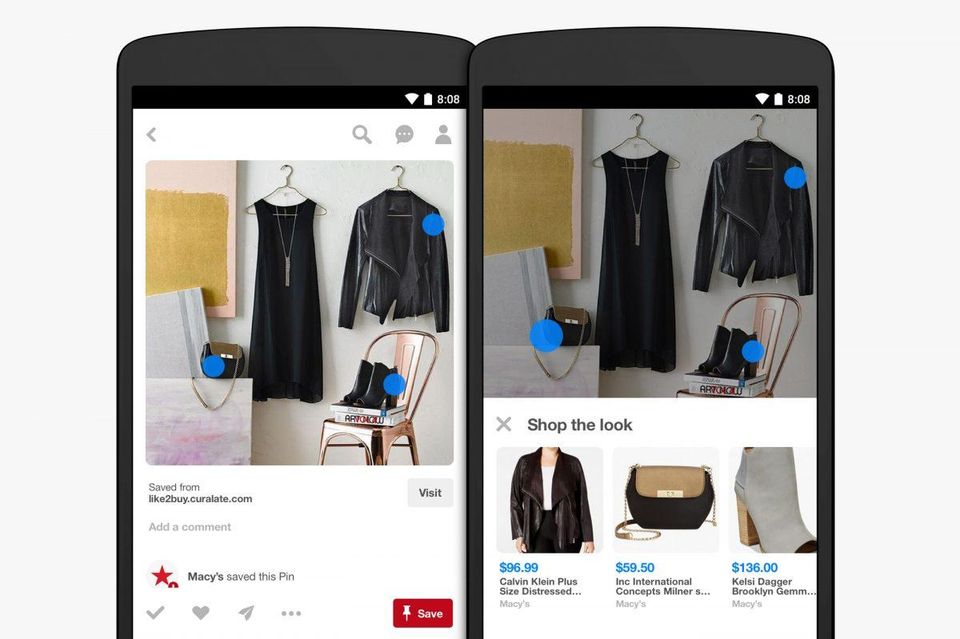 Shop tab (free) – acts as a product catalog of all product pins of the brand. Driving traffic to your website.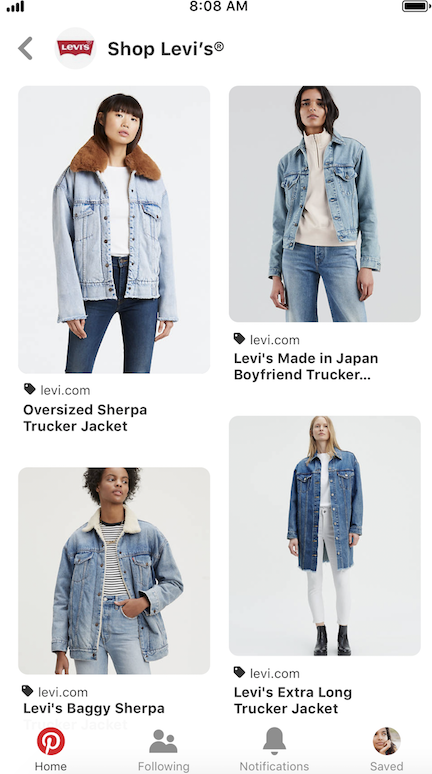 Buyable Pins (free) – Product Pins that can be purchased directly through Pinterest's checkout. The ecommerce business still has to process and ship the order.
Dynamic Retargeting (paid) lets brands re-engage people who have interacted with the brand before. Pinners will see the same or similar products from your brand again.
Shopping ads (paid) – promoting relevant products to pinners looking at similar ideas. It's easy because you don't have to do any targeting yourself.
Try-on (free) – Product pins that have added AR features to let users try on the products they see – makeup or clothes.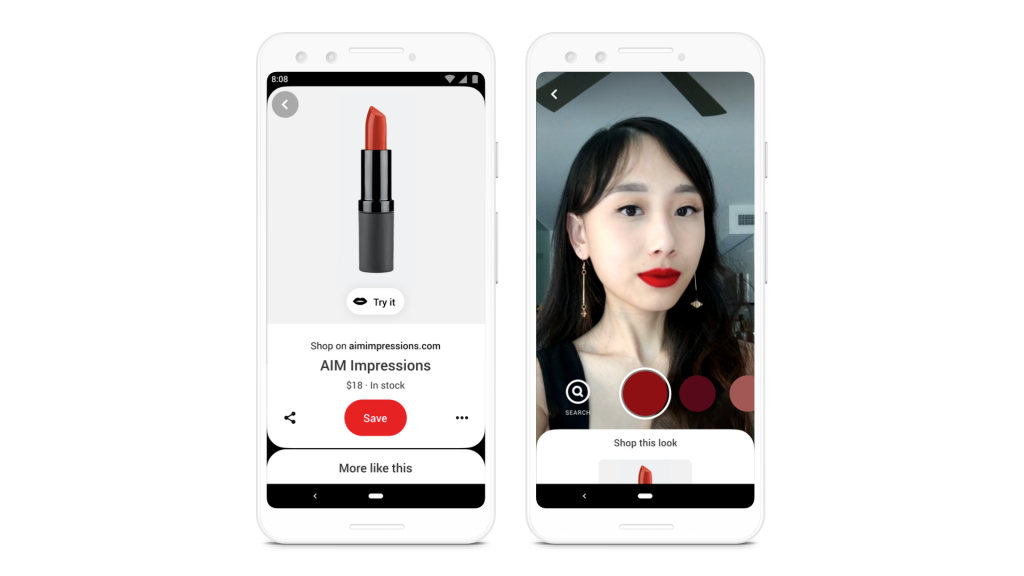 All special pins are available for the larger market size countries only so check carefully if it applies to your store's location.
Pinterest as a sales channel for ecommerce
Its unique positioning among other social media and its focus on helping businesses sell make Pinterest a great channel for growing your ecommerce brand. It's easy and cheap to get in front of its huge audience. And people there are looking for product ideas, not running away from them as often is the case on other social networks.
What you can do with Pinterest:
Build a stable organic presence and get millions of impressions.
Your branded content can get pinned and saved by millions of people and reviewed again.
Get direct links and traffic to your product pages.
Get sales both through and on Pinterest.
Retarget website visitors and pinners who have engaged with your brand in the past. Pinterest users say its algorithm serves the best related product suggestions that are truly relevant and helpful.
No matter how the sale happens, you get the customer's email for marketing, unlike other marketplaces.
See how consumer tastes are changing due to the coronavirus to adapt.
Platforms with plugins for Pinterest
Pinterest makes it easy for online shops to connect, feed content, and sell on the platform. Here are all the information and code snippets you need to claim your website and get a business account.
It is all pretty much about uploading your products or their URLs into the Pinterest business account – no complex integrations needed for the most popular ecommerce platforms.
Magento and Pinterest
There's no universal integration between Magento and Pinterest, but a few plugins cover a range of needs you might have:
Shopify and Pinterest
This is an interesting collaboration. Before, Pinterest was an integrated sales channel for Shopify, but early this year the plugin disappeared. The explanation came just a few days ago now, when the two companies announced a new partnership for marketing Shopify stores on Pinterest. It is available to merchants in the US and Canada, soon unrolling for Australia, France, Germany, Italy, Spain, and the UK (countries where Pinterest ads work).
The new plugin lets Shopify stores:
Upload their product catalogs to Pinterest
Get a "Shop" tab on their Pinterest profile so pinners can explore products easily
Turn pins into shoppable Product Pins that get automatically updated daily
Buy Pinterest ads directly – this is Promoted Pins
Track pin performance
Unfortunately, Buyable Pins are not available to Shopify stores.
Because of the new partnership, Pinterest is giving new advertisers a $100 credit to start advertising on it.
WooCommerce and Pinterest
There is WooCommerce extension that connects stores with Pinterest directly – Pinterest for WooCommerce. It does pretty much everything for you:
Automatic import and update of product pins
Adds "Pin it" button on your website product pages
Tracks conversions
Schedule pins
Makes keyword tagging easier and so on.
Only, keep in mind that this extension is brand-new and might have technical issues.
As all social media is overcrowded already and people are tired of shameless influencers and low-quality products being pushed at them, Pinterest is a great place to showcase your brand. It favors aesthetics, quality, and style so if you sell such things, pinners will love your content. We recommend it because it is fairly underused by businesses and its marketing options are quite affordable and easy to manage by small ecommerce teams. With good visuals, you are ready to compete with big brands equally.
For inspiration, check out those brands crushing it on Pinterest.
Pinterest marketing best practices
Here, we've gathered guidelines on how to make the most of your Pinterest marketing – the best practices are recommended by the platform itself and Pinterest experts.
Optimizing your Pinterest profile
Your name and logo should be up-to-date.
Description – 160 characters long. Use it for your tag line or a brief description of your brand. It should be consistent with your other social media profiles.
Verified merchant account – available to US merchants for now (no drop-shippers allowed).
Cover photo – you can choose one of your boards as your cover. Pinterest will stylize it to show off a consistent visual identity. It's also linked for people to go through it if they like the pins.
You can freely put your site's URL there.
Featured boards – 5 boards shown right below your cover, name, and description. Perfect to show off bestsellers, the newest collection, and some catchy branded content like a collaboration with an influencer.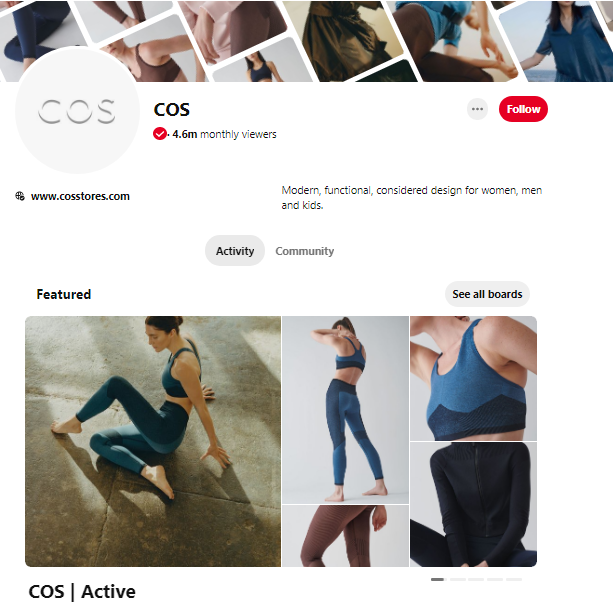 Making the most of your pins
Product images should be consistent: same background, same styling (either on a model or a simple product shot).
Brand product images with your logo so branding is not lost when pins are repinned.
Board covers should be consistent – if not the same, at least in the same style or color scheme. Much like Instagram feed, the overall image that your profile projects matters. You can either create special pins to use as a cover for each board or simply choose among the available pins in each board, keeping the color scheme.
Because Pinterest favors fresh content, you can double or triple the use of each new product instead of posting it again and again (Pinterest doesn't like duplicate content – the same visual and URL). In addition to the basic Product pins, create another take on the same products through lifestyle shots and maybe even a third way – arranged in flatlays (can be shoppable looks or not). And keep all those on separate boards.
Use video pins for how-to content to teach proper product use or alternative hacks. Remember that people watch them with the sound off so captions are a good idea.
Pinterest Keywords
Use generic tags – people search for "comfy loungewear", not specific terms or brands. So if your product names and descriptions use such common words like "cotton", "wide-leg" and "slouchy", good. Pinterest's algorithm will be able to show them to relevant searches. But if you're very creative and write stories instead of descriptions for products named "Meditteranean Lady of the House set", consider adding more generic tags to help Pinterest do its magic for you.
But be more specific than just saying "dinnerware": add telling keywords such as "vintage", "colorful", "Asian-inspiried", "ceramic", etc. to narrow down searches. Pinterest itself suggests some of the top searched keywords to add to a generic search.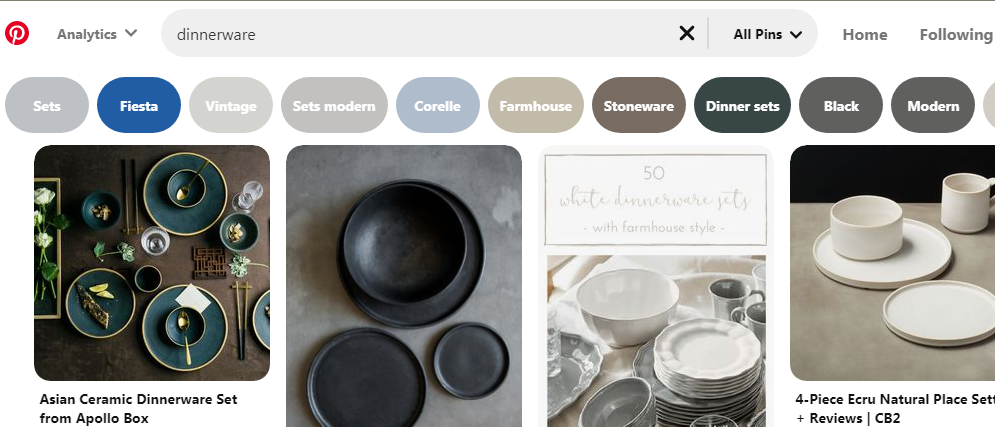 Gift ideas are a great way to recycle old products into fresh Pinterest content. Create fresh pins with new images and relevant keywords like "gifts for new parents" and "booklover gifts".
If you only operate locally or have different websites for different countries and languages, better create separate Pinterest pages for all of them. This way your pins will be optimized for the language you're targeting and therefore – easier to find by the right people. Plus, it's very frustrating for others who discover your brand only to get a "we don't ship to your country" message. Zalando's UK and German pages are completely independent, featuring different products (the German one has only one featured board – stay at home clothes), talk their customers' language, etc.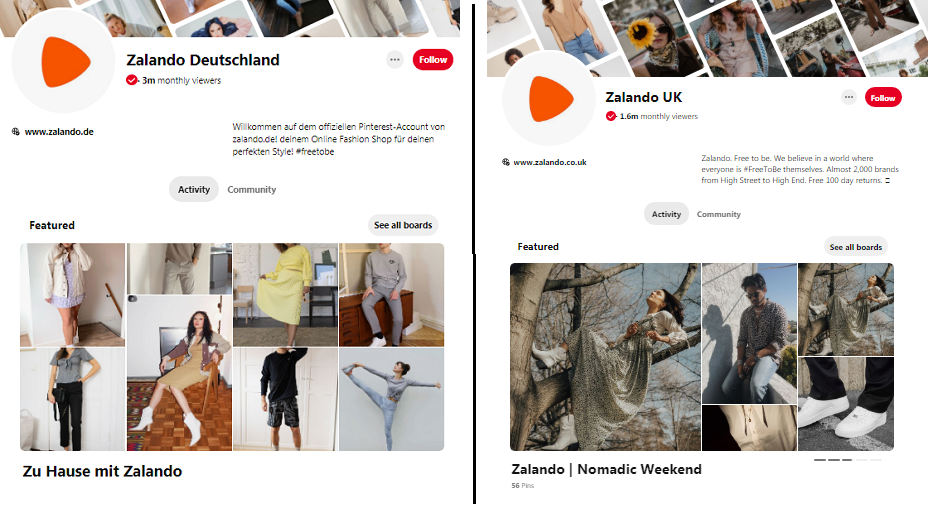 Boards also need to be "SEO" optimized in both titles and descriptions. You'd better scratch the fun names and wordplay and stick to keywords people will think of searching for.
Pinterest Content strategy
Product pins will get updated immediately when you add them on your website if you've connected your store properly. Your followers get a notification for new pins. Make sure they go to the correct board. Boden doesn't use conventional collection boards but keeps theme boards on shoes, denim, swimwear, etc.
Mix up product pins with style ideas, user-generated content and lifestyle visuals. If you have content marketing like blog articles, you can add it here for a more diverse engagement. Pinterest lets you retarget people who engaged with your brand both on there and on your site so the more opportunities, the better.
Shop the look pins are great for lifestyle visuals to show your products in context.
Where applicable, DIY guides/ recipes are a must – they are core Pinterest content.
Tips e.g. "Did you know…." are very repinnable
Shared boards (or group boards) can be used as a crowdsource place for UGC or a place for influencers to work with your products. Below, you can see Parachute using user-generated content from Instagram and Pinterest and incentivizing with a gift card.
Post seasonal content well in advance – 30-45 days earlier. Any holiday or seasonal topic (e.g. Halloween, winter, wedding season, back to school, etc.) can be used to create new content. The good thing is this content is evergreen and will get revived every year.
If using images with overlay text, have it made by a specialist to be on brand.
Promote your Pinterest page on your website – people who are not interested in buying now may follow you for a more laid back engagement and saving options on the platform. When they decide it's time to treat themselves to the goodies they saved in their wishlist boards (everyone has one), they'll come.
Longer how-to content, quizzes, and other interactive content should link to your site where it is shown in full. You can't leave your audience without value.
What not to do on Pinterest:
Don't forget Pinterest Analytics 
Upload visuals with totally unrelated copy and leading to unrelated pages – misleading pinners to click because of the image. This is not favored by Pinterest and besides, only brings you unqualified traffic.
Not distinguish clearly enough between your branded content and curated from others. This also tricks people into thinking that it's all yours but when they can't buy it all from you, they'll get disappointed.
Curate too much. Relevant content is a must, but too much of it so your products get lost is not good. Pinners should be able to find your product boards easily (even without the Shop tab).
Don't just throw all the relevant keywords in the pin description. It acts as a meta description for the page people will reach if they click through so it needs to be informative while containing the keywords.
If you don't use Pinterest for ecommerce yet, we hope this guide helps you nail your Pinterest strategy! It's a great channel for DTC brands with lots of great options to use and promote your brand.