Most people choose Magento for its ability to handle large shops – many products, lots of events being generated. It also means lots of customer data.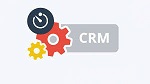 Actually, your customer data is what you should be working with every day. To do next-level marketing. To grow your ecommerce business.
Magento's great for supporting large stores, but it's not exactly marketing-oriented. For best results, we recommend you use a CRM tool to help you organize client data and use it to drive sales.