Sales tactics for beauty brands should inspire repeat orders. Our recent report on ecommerce metrics for beauty brands found that they enjoy around 23% retention rate on average. That's not awfully lot. We decided to look into another ecommerce product category with an average repeat purchase rate of 31% for successful tactics to steal.
Why can beauty brands learn from food ones?
Because food is a staple and it's the most shopped category of products. Plus, people are very attached to some brands out of habit or childhood nostalgia. As a beauty brand that wants to drive sales, achieving such a level of customer loyalty is the way to grow. If you manage to get people to shop your products the same way they fill their grocery cart with their favorite cereals, juice, coffee and cookies every week, you are golden.
We know it's harder in beauty and people shop around. That's why we took successful customer retention strategies from food brands and adapted them to beauty. These are the sales tactics beauty brands should take from food in order to sell more and more often.
More resources for beauty brands:
Creating killer cosmetic packaging for your beauty brand
How to get loyal customers when selling beauty products online
How to get repeat customers like you're selling ice cream?
Here are the main ecommerce metrics benchmarks by beauty category:

Now, let's see the sales tactics to use.
Create habits
To drive high order frequency, your brand needs to be a regular part of a customer's life. Just like they have coffee every morning or a glass of bubbly when they celebrate, your brand can be a part of their rituals. Create a beauty routine and package it as a complete beauty set for a specific purpose: strong hair, glowing skin, etc.
Pro tip: Different sizes
Offer travel-sized products as samples or as gifts for regulars to make sure they follow the routine even when traveling. This will reinforce the habit because otherwise they might churn after such breaks.
More: Ideas for package inserts
Ingredients and transparency matter
Food and cosmetics both influence health and wellness. That's why your ingredient list matters and people now know better the tough questions to ask brands. Just like clear labeling is the way to go in food, beauty should open up and be transparent.
Inform your potential buyers without the marketing talk. Make realistic claims that won't hurt your brand image in the long run. Also, answer the real questions. Anyone with a food allergy has the right to know if this soup has dairy in it, and your beauty customers should get answers to "Is it vegan?", "Does it dry out the skin?" and "How often do I need to reapply it?" Hiding the answers won't help you win people's loyalty.
Fight prejudices
Don't take this personally but many people still believe that cosmetic products stop working after a while because their skin or hair "gets used to the formula". To make them regular buyers, you need to fight this prejudice and deliver products that don't stop working. Formulating with care and expertise is essential. Which leads us to the next point.
Work with experts
The DIY craze is one thing but brands that aspire to grow for real need real scientists behind them. If you yourself are not one, get advisers who are. Their professionalism will make your brand stand out and your products – stick.
Otherwise, you'll look like any snake oil salesman. Food brands started to realize that people aren't so clueless about what's good for their bodies anymore and they work with nutritionists and doctors to back their claims. This will enhance your brand image and save you from criticism on social media. And only use trustworthy certifications to your name.
Related: Best practices when selling food online
Pro tip: Educate
Spell everything out to make sure people understand all you have to offer. For example, many people don't know that testing on animals is illegal in the EU so tell them and prove that you comply. Show off the best about your brand instead of following fads and buzzwords.
Partnerships with like-minded brands
You can reach new audiences if you partner with other brands targeting the same segments like you. Do you sell mother & baby products? Collaborate with nappies brands. Sell beauty products for mature women? Go to fashion labels they shop.
Appearing in each other newsletter or as samples in their delivery packages is a great and inexpensive way to get to new customers. Choosing which brands to work with ensures you are aiming at your ideal target group.
Make it easy to choose
Cosmetics are a tough product to choose – just like food, people cannot know if they'll like it until they try it. You can describe the effect, true, but there's a fine line between that and plain sales talk.
To convert better, make it easy for people to find the best product for their needs without the fluff. Quizzes are great – people love taking them. Tables and filters by needs are also good.
It's important that customers make an informed choice because this way they'll be much more satisfied with the product and order again. It's not just about one sale, right.
Pro tip I: Sales assistance
Waiters in restaurants help patrons choose. Your beauty experts can help people find the most suitable products, especially when your brand is more innovative and needs new customer understanding. This will boost your conversions. Plus, suitable products are much more likely to make customers happy so they come back. This assistance is an investment in client retention.
Pro tip II: Useful bundles
Luckily, it's easy to segment your customers by their needs – acne-prone or mature skin, dry or oily hair, etc. by looking at their past orders. Then, offer bundles of products for their respective hair or skin type. It's not just for the AOV, but also for establishing yourself more prominently in their beauty routine (see above).
Mini-communities
You know how food brands have communities for people to share recipes and encourage each other on a diet journey, for example. You can do that for your brand as well.
Again, the different groups of needs you cater to are an excellent base for mini communities. Bring people with the same beauty needs together and give them a safe space to discuss and learn from each other. Curly hair? Thin hair? Sensitive skin? Allergy to fragrances? You can learn a lot by simply observing the communication between people and what they share.
Below, you see just a few of the tens of mini communities Sephora hosts on their website – 10 groups for skin only and many more on hair, fragrance, makeup and so on.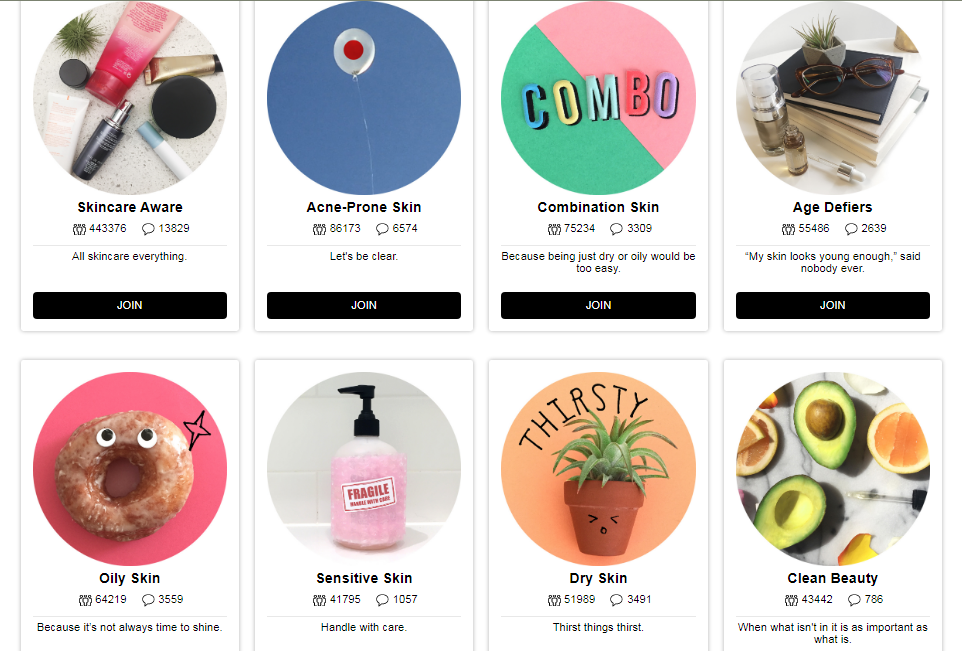 Related: How to engage VIP customers and keep them for longer
Tactics driving sales for any product category (we repeat those everywhere so more DTC brands start using them):
Of course, food and beauty are quite different categories, but we'd like to see beauty brands being as successful as Jenny's Splendid Ice Creams, a beloved brand. Those are sales tactics for beauty brands on how to make your cosmetic products more indispensable, a favorite part of customers' day – so you sell more and earn customer loyalty.