Social media is an inseparable part of any ecommerce marketing strategy. But Facebook, Instagram, and Pinterest are the bare minimum.
Every brand's there and it's not a competitive advantage. Reaching your ideal customers on niche social media platforms they love is way better – no matter if it's organic presence or paid. Learn more form this top Roofing Social Marketing agency which also uses the tools mentioned before.
We researched some niche social media that can be used for marketing your ecommerce business and even added ideas for each one specifically.
TikTok
TikTok is a 1-minute video social platform.
Who's on it?
Brands on TikTok
Crocs, Chipotle, Guess, Gymshark, elf Cosmetics, Sabra Hummus, Boohoo – basically, any lifestyle brand that caters to the younger generation.
#entertainment and #dance are the two most popular hashtags so if you can fit your products there, you're likely to reach target customers there. Working out, beauty, fashion, cooking, pets and home projects are other popular topics.
How to use TikTok and TikTok likes for marketing your ecommerce business?
Post original, platform-specific content – fun how-tos, memes, parody
Try going viral with a challenge
Brand takeovers
Work with influencers
Use shoppable ads and videos if you're on Shopify
More: Selling on TikTok
Quora
Quora is a crowdsourced question-and-answer platform. It ranks very well in SERPs and the content is evergreen, which is great for your SEO. People usually end up there when searching for specific long-tail queries. So a little effort can be driving you traffic for years and it's available in many languages so it expands your global reach.
Who's on it?
Ages 18-34, mostly male.
In the US, UK, India and Canada primarily.
65% of users have a college degree and further 28% have a graduate degree.
With a household income of over $100,000.
Relevant products to market there
The top topics on Quora are business, learning, entertainment, travel, marketing and technology. This sounds too B2B, but people ask a lot of crazy questions you can hook yourself to.
How to use Quora for ecom marketing?
Research relevant topics to your products and people's sentiment about issues in your industry so you can address them on your site, and create relevant content and copy.
Questions often reflect common misconceptions or considerations people have before making a (buying) decision. Try to do expectations management and answer their concerns because their interest shows high intent to purchase.
Educate your target audience on key aspects of your product category – manufacturing practices, certifications or the benefits of certain materials, for example. This will increase overall qualified leads you get in the long-term as more people will understand your category better when they come to your site.
But it should not be self-promotional – that's very bad taste. Business profiles are a great way to write under your brand name for extra brand awareness.
You can also link to your website for direct traffic, but it again has to be natural and helpful content first. The best answers show at the top of the page so it's worth providing value.
There are Quora ads and targeting based on location and topics of interest available.
Below is an example from an ecom company having its official profile and answering questions related tot its expertise.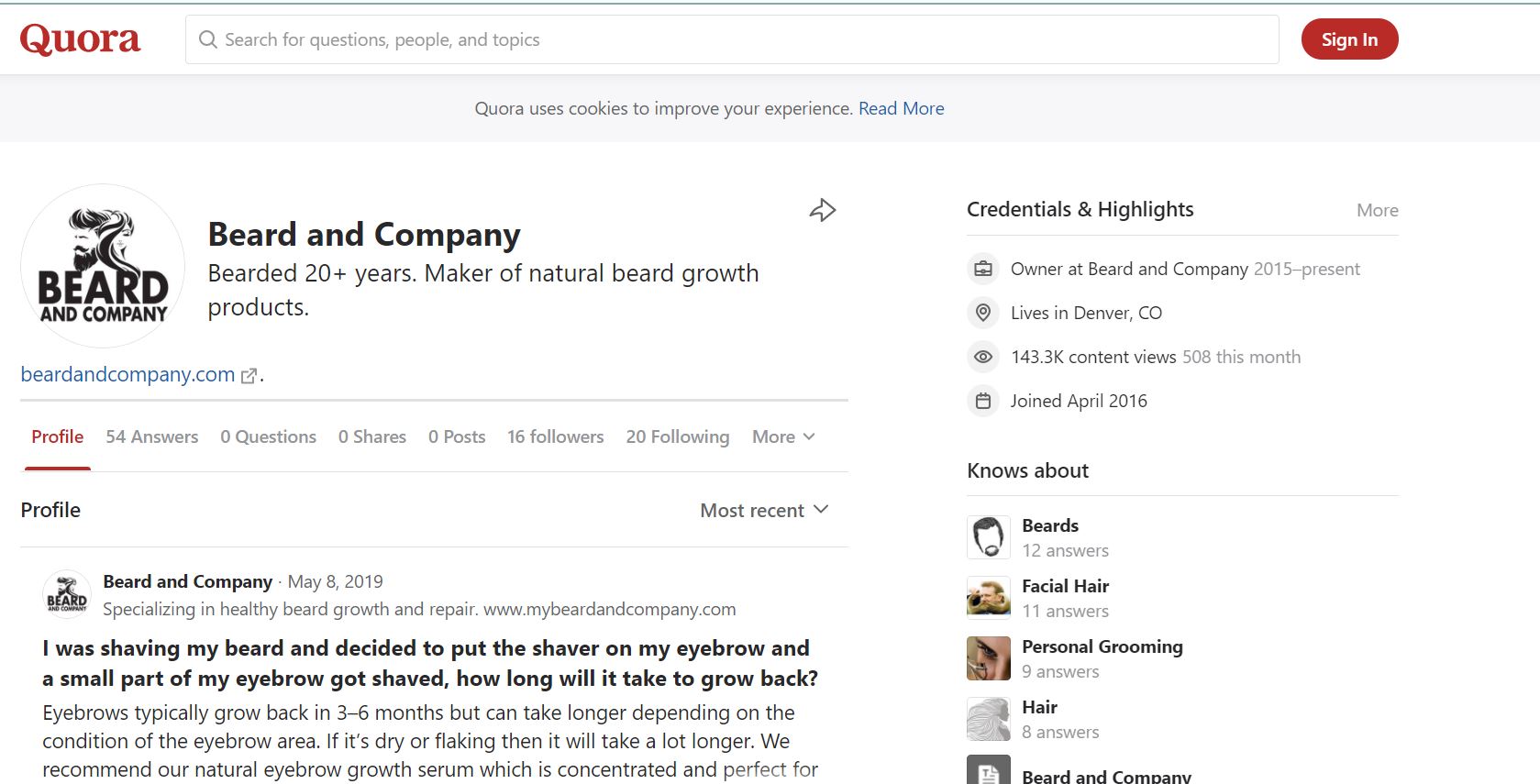 Reddit
Reddit is the biggest forum-like platform in the world, covering every topic imaginable. People go on it to ask questions and discuss anything of interest. It also shows up in results for long-term searches so the reach is beyond registered users.
Who's on Reddit?
Marketing ecommerce on Reddit
The thing with Reddit is that marketers are not welcome there. The community hates being pitched to. So all you can do there is join a relevant subreddit (a community discussing a particular topic) and engage genuinely. Here's Uniqlo's success story on Reddit marketing.
This means adding value, sharing what you know on the topic, posting new developments in the industry. Posting links to external resources is totally fine. Nordstrom even managed to create and keep up their own branded community subreddit where they engage freely with their audience.
You may ask questions for qualitative market research but with caution. If you go too salesy, you'll get kicked out. Of course, the easier way is the paid one.
Spotify
Spotify is a music streaming platform that lets you create playlists. The social aspect of it is that people can follow you and listen to your playlists.
Spotify's audience
In Europe, North America and Latin America
More than half of users are 18-34 years old and 56% male.
Brands on Spotify
H&M, Reebok, Pull&Bear, Nike, Gymshark, Glossier, Dollar Shave Club and many others.
How to use Spotify to market your ecommerce brand?
Music is a way to connect with your target audience on a deeper level; to show your brand identity and to become a part of their day.
Starbucks reinforces brand loyalty even away from their locations with music that recreates the atmosphere of its iconic coffee shops.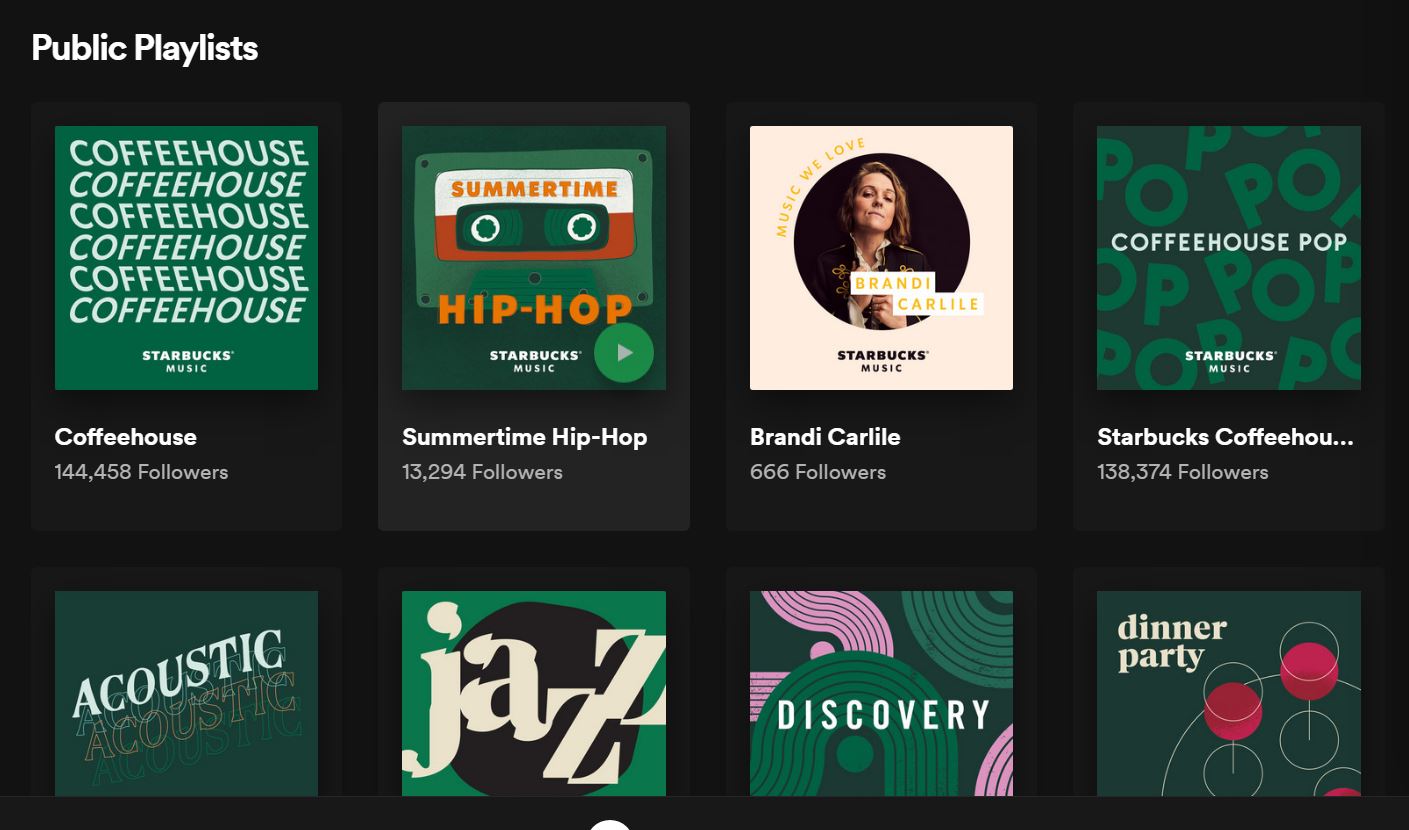 Barilla, the Italian pasta company, uses Spotify in a truly genius way – each of their playlists is named after a kind of pasta and lasts just as long as needed to boil this particular kind to perfect al dente.
All sportswear brands on it have work out/ running playlists.
Podcasts are also an option if you are willing to put in the consistent effort. Or you can sponsor other podcasts with a suitable audience.
Of course, there's always the option for advertising on Spotify.
Medium is a publication platform, an alternative to setting up your blog with the added benefit of a ready and wide audience to reach. And it ranks well in search so you widen your reach through content.
Who's on Medium?
Skewing male
In active working age
Holding a college degree and above average income
Interested in entrepreneurship, tech, marketing, business, health and lifestyle
Brands on Medium
Starbucks, Tesla, Ro, Prima (founder account), maude, Hello Fresh, sweetgreen
Glossier's publication Into the tech is a spin on its classic Into the gloss and focuses on the tech behind the brand, taking into account the audience of Medium. Dollar Shave Club does the same.
Using Medium for marketing
You can establish yourself as an expert, talking about the niche and the industry.
You can showcase your brand through content there, going into details of the process and values like you would on your website's blog.
It's possible to reach new potential customers who convert through non-conventional funnels.
A link to your shop in bio will help with targeted traffic of qualified leads.
A big plus is that you can get noticed by DTC VCs who love the platform.
Alternative social media for niche ecommerce marketing
Here are even more niche social media platforms where very specific customer segments connect. Depending on what products you sell, they might be suitable for you to find more prospects, increase brand awareness, conduct market research and drive traffic. Or even build a community.
Fark allows crowdsourced content so you can share your own content, social media posts or earned media for self-promotion. Topics include food, entertainment, sports, fandom and more.
Scoop.it lets you discover relevant content to curate for engagement on other social media, in newsletters and on your site.
Goodreads is the largest social media focused on reading books. If your brand somehow connects to that, you can leverage it by creating your branded reading lists there. The Today Show and Popsugar already have their reading groups there. Some ideas for you: Books with trains in the story (for model trains shop), Rainy day reading (for home decor shop), Books starting with [your brand's first letter], Beach vacation reading list (for beachwear shop), etc.
Alternative, especially for Europe and Italy: Anobii
So…
Opportunities to learn more about your ideal customers and engage them naturally abound online. There's hardly an ecom brand that can't find its niche and join the conversation. So no need to waste all your time on Twitter or Facebook if the results there are bad.