Instagram replaced its Activity tab with the new Shopping tab recently.
Shoppable posts and stories, more influencer partnership features and direct Instagram checkout. All these new shopping features show the platform's shift to ecommerce, making it a place for product discovery.
In this article, we'll explore these new ecommerce-focused features and how they can be useful to online brands. We'll also quickly explore how you can set up an Instagram shop and how to link Shopify or WooCommerce to Instagram.
New Instagram Shopping tab for product discovery
Instagram has become the default social channel for brands to showcase their products. Unlike crusty old Facebook, it's the main place for trendy and internet savvy consumers to connect with the brands they love. In fact, more than 75% of brands use Instagram for this purpose, a sharp increase from 53% in 2016.
So how exactly can Instagram users explore products in the new Shopping tab?
Opening the tab, they will find product recommendations and the Continue Shopping section with recently viewed products and a personal wishlist. Instagram shoppable posts from brands the user follows are next. These are generated by Instagram based on previous engagement with a brand. If somebody is an active follower of your brand or has engaged with you recently, they'll most likely see your shoppable posts here.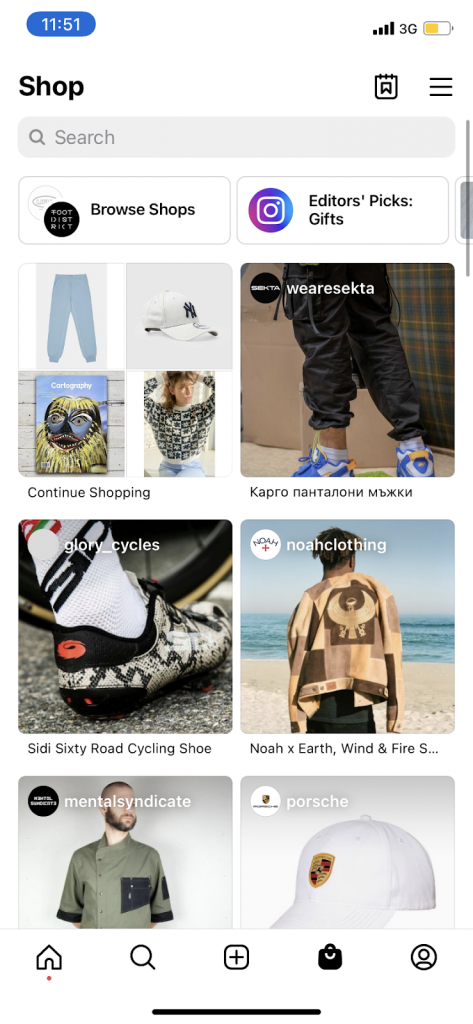 Right below the search bar are several tabs where users can discover more products. Let's go through some of them.
Browse Shops is a list of all brands a user follows that have an Instagram shop as well as some suggested shops to follow. Editors' Picks are collections of products curated by Instagram. Shop Collections includes product collections prepared by recommended online brands.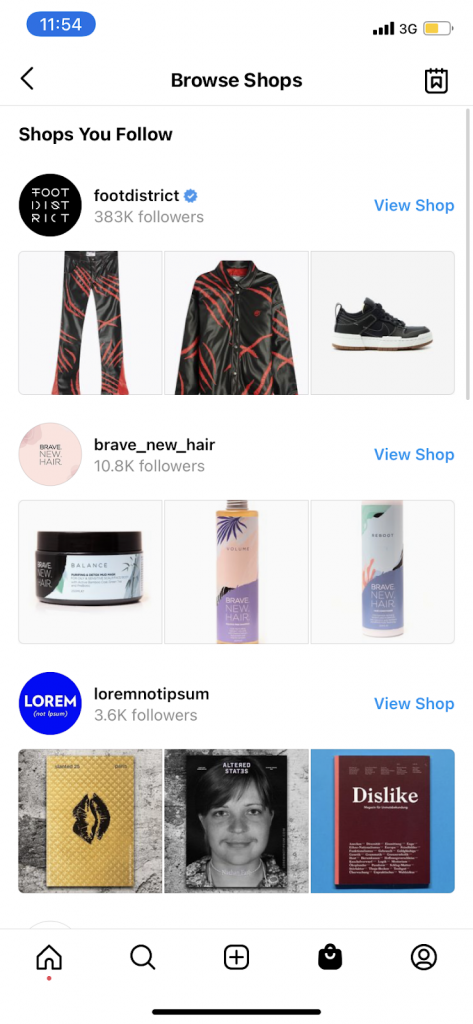 Once you have Instagram Shopping for your brand, you can create your own collection in the Facebook Commerce Manager. Some collection ideas can be "Winter essentials", "Men's products", etc.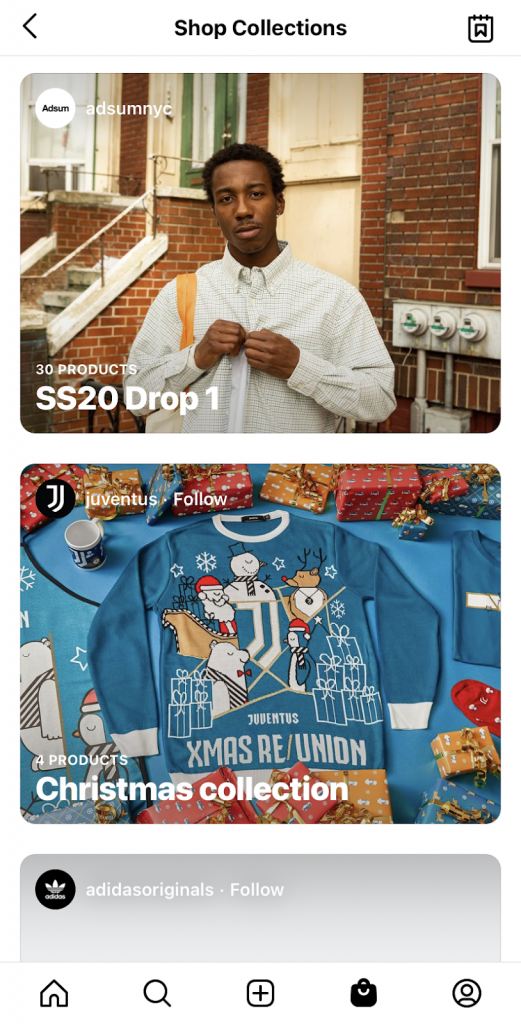 All these new features can help consumers find shopping inspiration on Instagram, making it easier to save their personal wishlist items or buy directly via Instagram checkout.
How to set up Instagram Shopping
Before you set up Instagram Shopping for your Shopify or WooCommerce store, you need to:
Have an approved business profile on Instagram
Have a Facebook business page
Be in a supported country
Be selling physical products
The first step is to have a Facebook page with a Facebook Shop or Catalog connected to your Instagram account. This is where Instagram fetches your inventory from, not directly from your ecommerce platform.
The Catalog functions as a container for your products which can later be displayed on Facebook, Instagram or in your ads. There are several ways to set one up – by manually adding your product info or connecting to an ecommerce platform. You then use this product catalog to create a Facebook Shop. This allows you to display products in a dedicated tab and use checkout on Facebook and Instagram.
Let's go over the process.
First, we create a Facebook catalog. We start by choosing the catalog type. In our case this is Ecommerce.
The next step is to choose how to import your product information – I suggest you choose your ecommerce platform and follow the next steps as listed.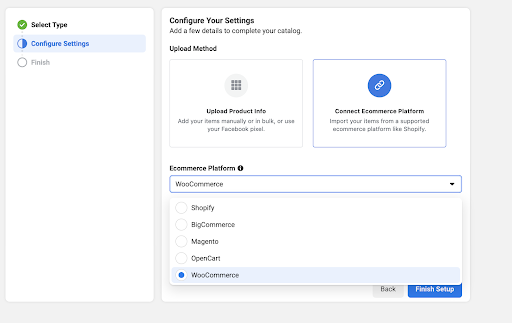 Connecting Shopify to Instagram
It's best to connect your store to Facebook before creating the catalog. It's simple, just set up the Facebook sales channel from your Shopify admin panel. Connecting Shopify to Instagram then happens automatically.
Connecting WooCommerce to Instagram
Connecting your WooCommerce store and Instagram is a bit more complicated –  Facebook for WooCommerce plugin needs to be installed on your site. It can be downloaded from Facebook when creating your Catalog. Or you can find it in the WordPress marketplace.
After you have your products in a catalog, you can create your Facebook Shop. This is where you choose how customers can checkout – through your website or via Instagram/ Facebook Checkout. Also, you can choose your sales channels (Instagram Shop, Facebook Shop) and choose the catalog.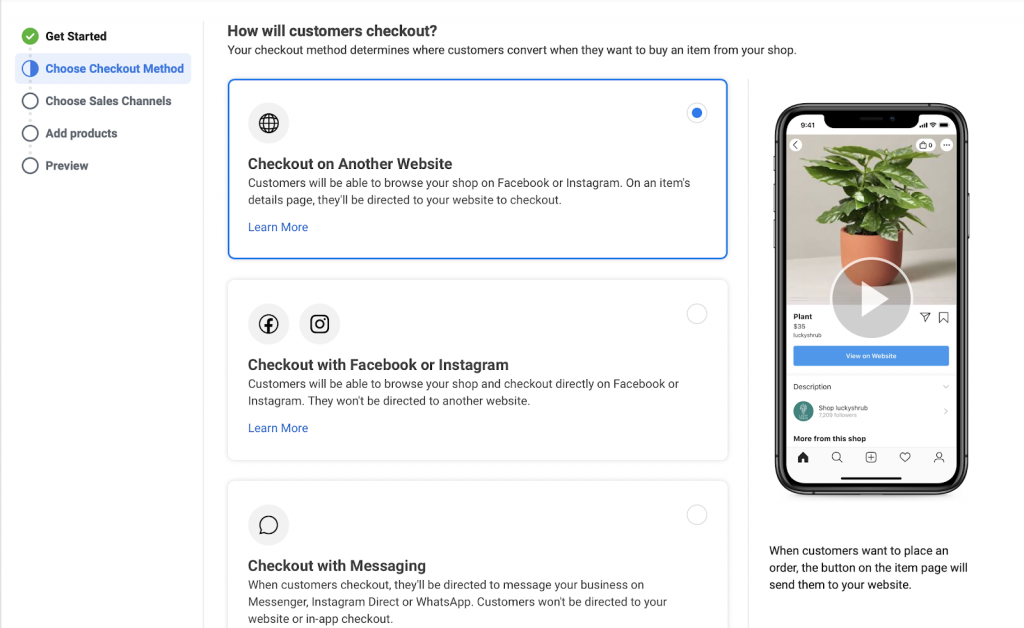 After you have everything sorted out between your online store and Facebook, it's time to activate product tagging in your Instagram account. You should receive a push notification, that navigates you to the Shopping menu in your account, or you can navigate there yourself. Under Products you can choose the catalog to use. Click Done and you should be ready to create your shoppable posts on Instagram.
Instagram product tagging and checkout
How to set up shoppable Instagram posts
Shoppable posts on Instagram are those that contain tagged products so users can easily find out more about them and buy.
Tagging products in your Instagram posts creates a streamlined shopping experience for your followers. They can directly interact with tagged products, seeing a small "product page" with all the important product details such as price, description and a link to the real product page on your website.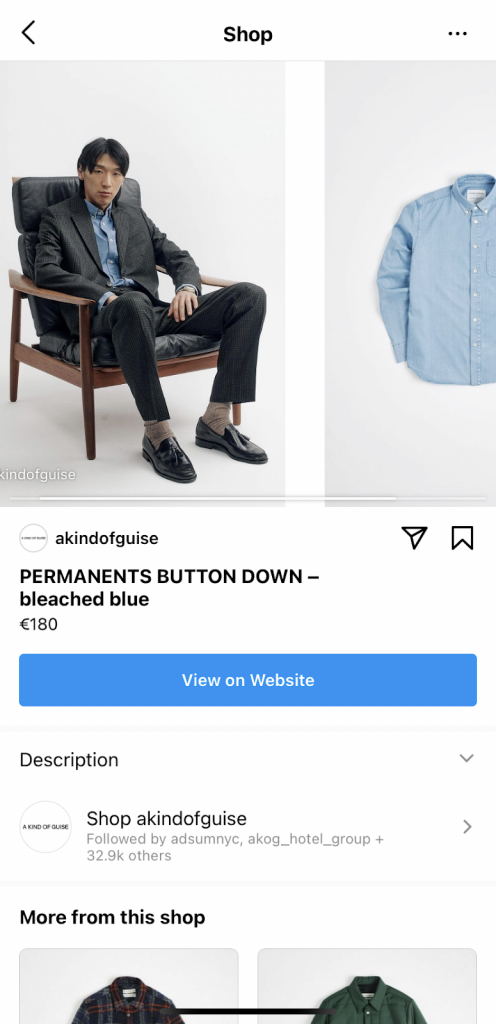 In some cases, followers can buy the product right there on Instagram, which we'll cover later in Instagram Checkout.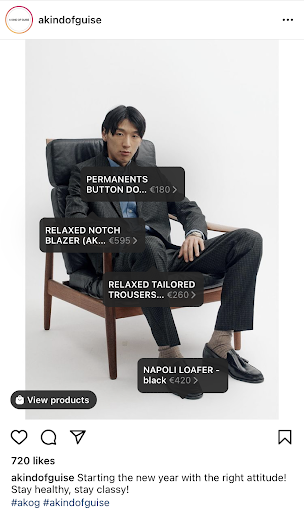 Brands are also not limited to tagging products only in their own posts. Instagram Shopping for creators lets influencers/ content creators with a professional profile tag products from brands they work with. This makes influencer partnerships easier and enables brands to track the performance insights of the partnership post.
How to tag products in Instagram posts
Tagging products in an Instagram post is no more difficult than tagging people. Here is the whole process:
Using Instagram on your phone, start adding a new post, choose the picture, add the caption, etc. In case you need better connectivity, try these mobile plans.
You'll see a new button Tag products. Clicking that will show you all the products in your catalog to choose from.
You can search for products by entering their names. Select the products to tag.
Choose where to place the product tag on your image. Click there and press Done. Tags can be dragged to be moved and deleted through a tap.
Finish posting as usual.
You can tag up to 5 products on a regular Instagram post. On a carousel that number goes up to 20 tagged products.
Tagging products on Instagram stories
Instagram Stories are likely the most used feature on the social media platform these days. The product tagging stickers can be placed on both image and video stories to show the product information when tapped.
Related: Instagram Story Templates
To tag a product in an Instagram story, tap the stickers button when adding a story and select the new "product" stickers. Then choose the right product from the list. Not more difficult than a regular story, and there are several sticker designs to boot.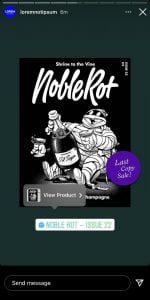 Besides the general product tagging features, there are also food delivery & gift card stickers and Live Shopping which make it possible for users to shop during Live videos in real time.
Your brand's Shop tab
Each shoppable post you create also appears in your own dedicated shopping tab in your Instagram account. Once you have enough shoppable posts, users can tap the Shopping bag icon on your profile to see all of your tagged products, making it easier for them to shop. This is essentially your Instagram storefront.
Related: Instagram Shop Templates
To have your shoppable posts listed in a "Shop" tab on your Instagram account, you need to have at least 9 posts with tagged products.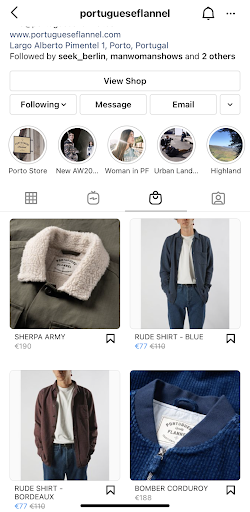 Instagram Checkout
Probably the most exciting new feature is Instagram Checkout, which lets your customers checkout directly from Instagram.
This turns your Instagram account into an additional sales channel and helps you accurately track the ROI from Instagram efforts. Sadly, for now Instagram Checkout is only limited to eligible businesses in the U.S.
According to Facebook's Business Help Center, the fees for selling products through Instagram Checkout are 5% per shipment or a flat fee of $0.40 for shipments of $8.00 or less. However, as of writing this article Facebook has temporarily waived these fees, probably related to the COVID-19 pandemic.
Related: Selling on Pinterest