Disclaimer: Unfortunately, the ecommerce sector is a really tough competitive market, so I could only write this case study by replacing the name of the company, product and numbers with something similar.
The Hiking Backpack ecommerce business (if a company with that name does exist, apologies, I am not thinking of them, this is just a fictional example) began to analyze their data. They were curious about:
Who is the best target audience for them?
What kind of product to offer to whom and when?
Having answered these two questions, how can they reach the highest Revenue and higher Visitor-to-PremiumCustomer % in the long term?
The first thing they saw was that the sales performance changes throughout the year across customer cohorts.
This can be for a number of reasons, of course, but knowing the circumstances we first thought that this is due to the nature of the product.
To validate our suspicions, we looked at the 2013 vs. 2014 Revenue Chart on a monthly breakdown. The two years show a similar trend (we only see a small growth). We see the same for 2012 and 2011 as well.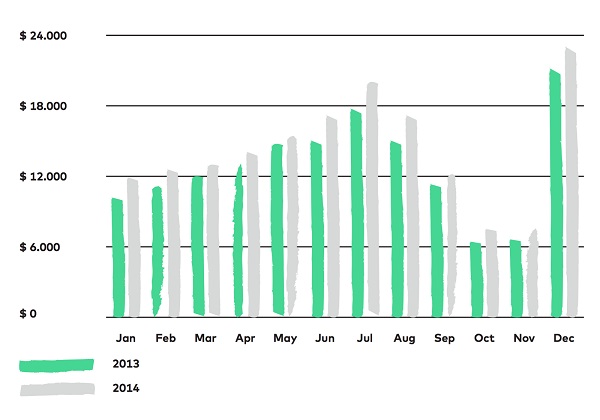 As can be expected, we did a number of user interviews and Usability tests, and checked some obvious analysis based on different hypotheses. Most of these didn't give us any exciting results — but one of the segmentations had an interesting outcome. If your business needs to produce some ad hoc reports then have a look at that web site, as they offer brilliant reporting.
We segmented the Revenue on the below chart based on Payment types. We can see that there was a constant change in 2014 on whether the "simple" First Payments (so the first purchases of the customers) or the Repeat Purchase (when a previous customer purchased again) brought in more Revenue.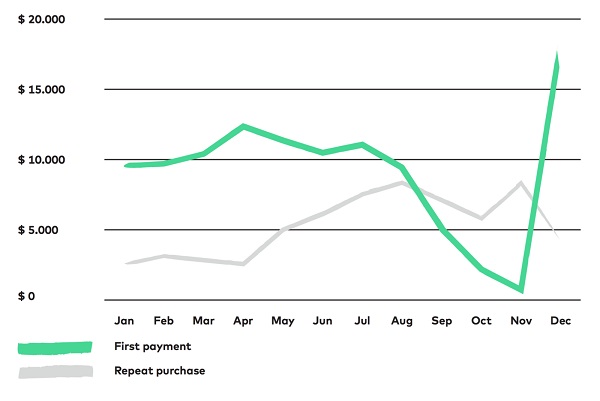 It jumps out that the Revenue generated by new customers drops in autumn, but returning customers cover this gap.
In light of this, we created a Cohort analysis for those who made their first Payment in the shop in 2014. We looked at exactly how much was spent and when as a Repeat Purchase. We found this: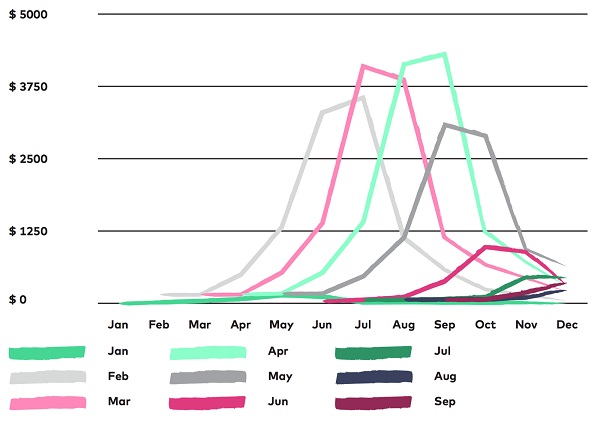 The customers from 2014 brought the best Revenue from a Repeat Purchase at the end of the summer and beginning of autumn. In fact, we also know that customers from February, March, April and May are really strong and spend a lot 4–5 months after they make their first purchase (so July, August, September and October).
From this, two obvious reports followed.
One is to take a look at the same metrics, but through many years. (This also showed that the February-May customers spend a lot as a Repeat Purchase. So again: this is a hiking backpack ecommerce business. It is clear that it was these customers who took hiking seriously and planned their trips ahead and with that their trip equipment, too. The rest shopped on an ad-hoc basis in the summer, or gave the backpack as a gift — typically around the Christmas period.)
The other research was about finding out the exact products that people purchase as a Repeat Purchase. This was a much simpler story. In short  —  The Hiking Backpack ecommerce store was able to find a well-targetable Customer Group and also what to sell them and when.
The autumn campaign of 2015 was thus approached with a brand new strategy.
Instead of aiming at new customers, the current ones were targeted in these 3 months. This had its results.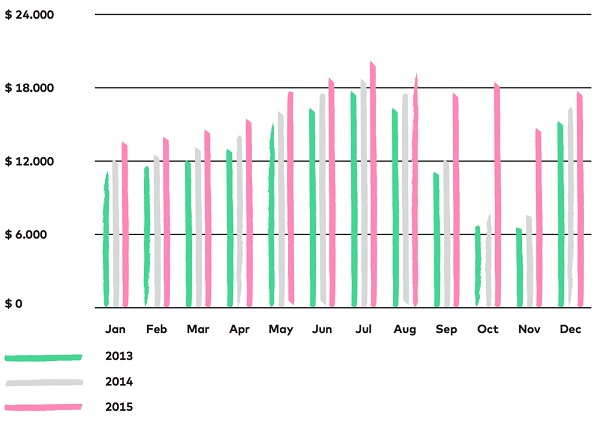 This is just a short ecommerce case study but you can find more of these – along with the most commonly used data terms for online businesses – in the free Practical Data Dictionary.
This article was kindly contributed by Tomi Mester.
Tomi Mester is a data analyst and researcher, and the author of the Data36 blog, covering data science, AB-testing, online research and data coding. He's an O'Reilly author and presenter at TEDxYouth, Barcelona Ecommerce Summit and Stockholm Analyticsdagarna. More info about Tomi: here and here (linkedin).