The holiday marketing campaigns has most probably drained your marketing budget – ad costs are sky-high because of the fierce competition. That's why it's worth a try to get a better return on the money invested.
If you get your holiday season shoppers to shop again, those purchases will get you a higher profit margin than the first (if you even managed to make any) and most likely offset the cost of acquisition. We outline a few ways to do that in this piece.
How to get better returns on your holiday marketing money:
Make gift buyers regulars
Create a New Year resolution trend
Invite gift receivers specifically into a member zone
Double down on content and product use ideas
Retarget browse abandoners with better offers
Reengage reviewers
1. Make gift buyers regulars
The clients you acquired during the holiday season most probably shopped for gifts, not for themselves so it is a bit tricky – are they interested in your products as users?
They already know your brand so they are more likely to trust you again. And besides, they've already seen your products when they gave them to their friends and family so they might be curious to try them.
What to do?
Just segment your holiday shoppers (time frame of order will help for precise targeting) and send them an inviting email to try your brand for themselves.
One example: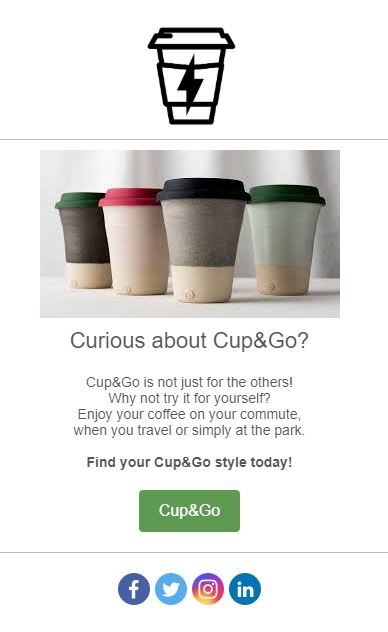 2. Create a New Year resolution trend
New Year's resolutions are a thing so why not use it to stimulate some extra sales? Change your site copy, product descriptions and ads a bit to catch the wave.
Some of the most popular resolutions year after year are:
Get fit
Eat healthily
Spend more time with family
Read more
Network more
Learn a new skill
Gain confidence
Travel more
Think of ways to tie your product to a suitable resolution and show how it will help people achieve their goals. IKEA does it perfectly, as always: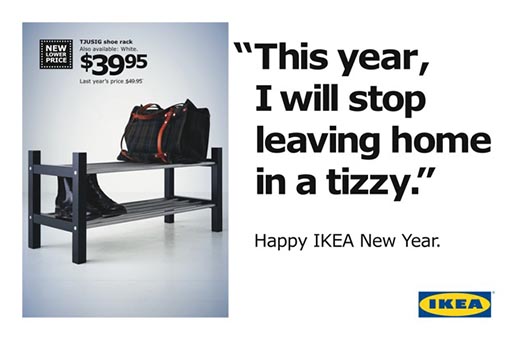 Pop media outlets also publish roundups of products to that end – try to get into a selection or two.
Examples:
Eat healthily with new cookware
Spend more time with family by ordering a meal subscription
Read more with hand-sewn book jackets that let you take your book on your commute
Learn a new skill with craft starter packs
It's all about the angle – how you make people look at your product. Is it an unnecessary splurge right now (when they already have spent much for gifts) or is it a treat for themselves?
3. Invite gift receivers specifically into a member zone
This one is a long shot, but since you're fighting for extra sales in a slow season, why not?
We suggest you run a campaign aimed at the gift receivers, the people who were gifted your products. Invite them to join your community for more perks, offers, etc. If they do, they'll be closer to the brand and can be marketed to directly for future purchases on their own.
Option 1
Filter the gift buyers (by time of purchase, gift wrap included, gift card ordered, etc.) and send them an email explaining the benefits of the member zone and asking them to tell the gift receiver. They can forward the email easily – don't forget to mention this adds value to the gift given. Most people would like to see the gifts they give appreciated and used.
Option 2
If you don't mind spending a bit more, run an ad campaign targeted at the gift buyers (a custom audience campaign) asking how the gift was received and telling them about the member zone.
4. Double down on content and product use ideas
If people know many ways to use, reuse and repurpose your products, they will have more motivation to buy again. So give them many ideas with email content engagement.
Related: How DTC brands do content marketing
Inspiration plays a great deal in the buying decision, that's why visual inspirational tools like Instagram and Pinterest drive sales so successfully.
5. Retarget browse abandoners with better offers
During the holiday season, many people browse too many online shops to choose presents. This results in huge browse abandonment for you as the seller. But the good news is you have a way of recovering some of these semi-interested shoppers and getting them to buy this time.
How? Metrilo monitors all visitor and customer activity on your site so it takes about two clicks in the CRM to identify browse abandoners and send them a win-back email. All you need is their email address, which Metrilo will have if they ever shopped or registered with you.
Just an example: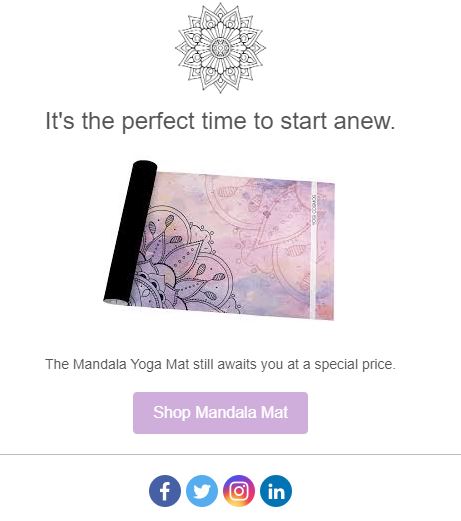 6. Reengage reviewers
With an increase in sales come more customer reviews, it's natural. Customer feedback is a great source of ideas for improvement, new products, new variants, marketing copy and partnerships.
Customers who take the time to leave reviews are valuable: they show engagement to the brand and strong opinions. Whether positive or negative, they deserve special attention because
A) they can turn into brand ambassadors
B) they need to be made peace with.
Either way, you should reach out to them and reward or reassure them the issue is taken care of. This will reinforce your brand image and alleviate the tension if there's any. All of this leads to a more positive brand perception and holds the door open for future orders.
Improving your holiday marketing ROI might make all the difference for your bottom line.