Importing new products and editing the existing in Magento sucks. It's ok, you can admit it.
I doubt anyone enjoys exporting and importing files back and forth. It takes SO MUCH TIME.
It's a huge and dreary task, yet you can't do it sloppily – SEO, customer experience, conversions, all depend to a large extent on product descriptions and details.
For all of you who feel there's gotta be a better way, we put together this article. We'll go over everything that's wrong with the standard way of importing products to Magento and give you 3 alternative ways to do it.
The aim is to save you time and effort, minimize mix-ups and allow you to focus on more important things.
The standard way: CSV import
For a step-by-step tutorial, see this article by SiteGround
As you know, it's a straightforward method, although not the simplest one. Probably the best thing about it is that it' free and you do it in your Magento admin.
It's basically creating one sample product in the admin, exporting it in table format to use as a template, filling in all products in the same way and importing it back again.
The problems with standard product import in Magento
Error identification
When uploading the CSV file, Magento might detect some errors like missing or mismatched attribute, and duplicate columns or descriptions. You have to be extra careful to put each attribute in the right column because otherwise they get all mixed up.
Magento says there are X number of errors, but doesn't help you identify and fix them. Sometimes, you'll have to go over the whole file, find them yourself, fix them and upload it again.
Product image uploads
Adding product images usually is done separately from the product detail import thanks to Magento's file management. It's not recommended to include pictures in the CSV file because it often messes up the whole import.
Editing a product is complicated
Editing products is a pain. Having to go over each spec individually for each product is enough to make you cringe.
All in all, as much as Magento users are not afraid of a little challenge, even basic tasks can take too much time. I mean, if you enjoy clicking through so many fields and sub-menus, go ahead, why not. ☺
If you, on the other hand, don't have time or nerve to waste, third-party tools can help you. They can be more comfortable work environment for such tasks. Below, we'll show you how you can do it with the alternative solutions we found for you.
We chose them because they solve the most common problems of the standard import. We figured, why not simplify things and leave more time for not-so-boring tasks?
Importing products with Sheetly
Sheetly is a tool that simplifies product management in Magento. It works and pretty much feels like a familiar spreadsheet, but smarter.
You enter all product details in it (for as many products as you want) and it syncs with your Magento to show them ready in the admin. Then, you can publish them to your store.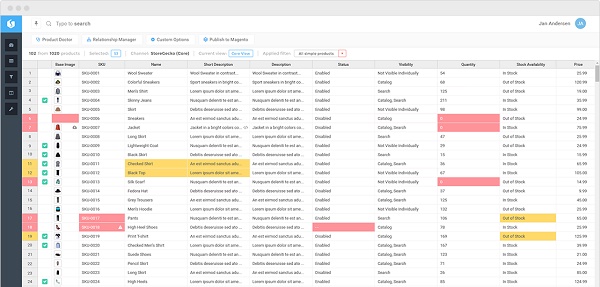 How is it different from the CSV file?
No need for exports and imports, it's integrated with your Magento store so you work in it and see it in the admin. You still have control over when they go live, though.
Since it's connected to your admin, if you add any new categories or attributes, they'll be ready to use in Sheetly, too. It saves time from exporting new tables all the time.
It shows where the errors are (which particular cell) and points you at how to fix them so you won't have to do a file over because you switched attribute columns, for example.
It has a drag & drop picture manager that makes product image upload easier.
Editing products is faster because you can freely move across rows and columns, copy, paste and so on. All changes are saved immediately just like in an Excel worksheet.
Yes, it doesn't fill out your product info for you. You still have to enter all details but at least the sheet is set up and ready.
What's the catch
No catch, in fact, their clients love how much time and effort Sheetly saves them that transfers to other crucial tasks. One formulated it as:
This is the solution that enables me to expand my shop into new markets easily.
When the manual basics don't take up all your energy, you can grow your business.
Keep in mind that it's a paid tool based on the number of products you manage. Try it in beta here.
Import/ Export Products Extension
Another find in the Magento Marketplace is this extension by developer Scott Bolasevich.
It does work with files, but on steroids. It covers all kinds of products, editing, tier pricing and custom fields.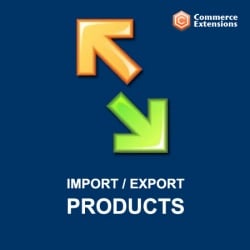 Highlights:
No need for FTP client when importing.
Image management is taken care of – you can upload via a link or from server; change images to existing products; set up galleries, etc.
No needo set up attributes and categories in advance – they're automatically created at impo if not found.
Apparently, users are happy with the support provided single-handedly by the developer.
Cons:
If there's something, it still uses a CSV and it's a paid solution (one-time buy).
Fast Products Import Extension
The third tool is another extension found on Magento Connect, Fast Products Import by EcommerceTeam. It works for both importing new products and editing existing ones just like the first two.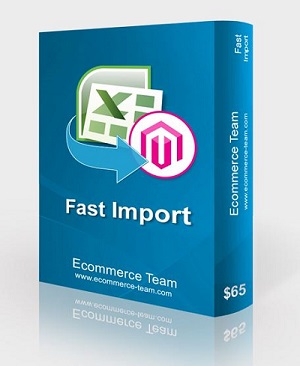 Pros:
There's a cron option for scheduled imports (automation everywhere!)
It works by using direct mySQL queries.
You can set a Correction factor, which helps merge entries that seem similar but for a simple typo.
You can also set default attribute values to use in import in case a value is missing.
It has a wide range of customization options for the data entries like appearance and number modifications.
Cons:
It's a one-time buy tool with only 6 months of support, which can be a bit of a problem.
What do you think?
So here are three quite different approaches to product import in Magento. If you don't make changes regularly, probably the standard one is ok and you don't need anything more.
However, if it gives you headaches and it's been the reason you still haven't taken Christmas sweaters down from your store, check out these solutions – they might actually make your life easier.
If you need more help with running your store, Metrilo has analytics, CRM and email marketing tool designed especially for Magento. Try it for free.