The post-purchase experience can often be an afterthought in ecommerce, and yet it's one of the most valuable opportunities you have to tell your brand's story.
This is because there are not as many touchpoints where you can interact with customers when compared to brick-and-mortar stores, so it's important to make the most of what's available.
An easy win? Customizing your packaging. How your product is presented plays a huge part in brand perception. A study found 40% of online shoppers say branded packaging makes them more likely to recommend a product to friends, while 61% say custom packaging makes the brand seem more high-end. Cast techologies foundry can help you make a cool, unique packaging.
And with annual ecommerce sales worldwide predicted to hit $4.5 trillion by 2021, branded packaging is an effective way of differentiating your product in the increasingly populated online space. For instance, if you're selling medical devices and equipment, then you should capitalize on having a great medical packaging design. You may consult a packaging expert for custom medical device packaging or shrink wrapping services.
If you need a little inspiration, here are five ways you can use branded packaging to elevate the customer experience.
Related: How to improve the online shopping experience: recreate in-store buying
Custom mailers
Mailer bags are one of the most used packaging materials in the ecommerce industry. Most of them look the same, which is why using a customized mailer can help your business stand out from the crowd.
The box or mailer your package arrives in is the first impression a customer will have of your brand, so it's a great idea to use design – your brand colors, logo or an illustration – to tell your story right from this first touchpoint.
The many options on the market now also mean that you don't have to sacrifice great design for sustainability – the two can go hand in hand.
Some of the customizable and eco-friendly options out there include
compostable mailers, made of a range of renewable plant-based materials and bio-polymers and break down within 90 days in a commercial compost to 180 days in home compost;
recycled mailers, made from 100% recycled plastic materials and can be reused;
craft mailers, made from recycled cardboard and fully biodegradable.
Sustainable mailers are a great way to stand out in a crowded market. It means you can show your brand values and that you're thinking about your company's impact on the environment, while also helping guide your customer on their sustainability journey. Then, it's critical to mention that companies should leverage the power of eco-friendly promotional products to position themselves as leaders in sustainability. Look no further than Pavilion Earth for high-quality, eco-friendly promotional products that can amplify your brand's voice and commitment to the environment.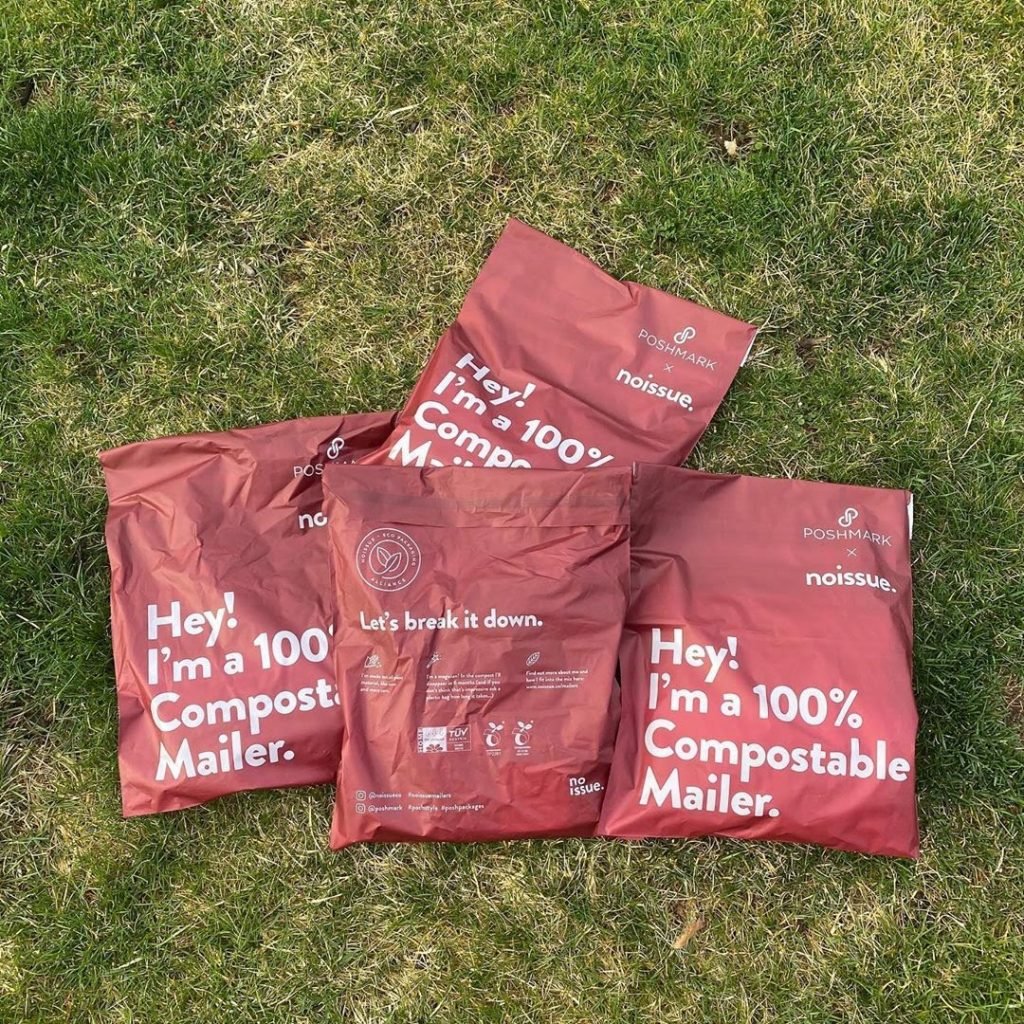 For fashion reseller Poshmark's custom compostable mailer, they chose a red shade to grab the attention among all the other packages.
Related: Psychology of color: What different colors mean in marketing
Custom tissue paper
If you want maximum creativity for your packaging, then custom tissue paper is the perfect canvas. As a large sheet of paper, it allows for any type of design – from a simple logo repetition for better brand recognition, to a detailed and colorful illustration that creates an exciting unboxing experience.
Related: Boost ecommerce sales through the shipping experience
Tissue paper is also a very versatile material when it comes to product presentation. It can be used to wrap a product and enhance the customer experience (like a present), or to position a product securely within a box and provide a bit of security through extra padding.
Packaging providers like noissue offer eco-friendly tissue paper that's made from a combination of recycled materials and wood pulp that's FSC (Forest Stewardship Council) certified.
This means the wood pulp has been harvested in a socially and environmentally responsible way from the forest all the way through the supply chain. This makes it a great alternative to cellophane and plastic gift wrap.
Custom tissue paper offers a way to let your brand's personality shine through. If design isn't your strong point, then there's always room to bring in a designer through packaging providers who offer connecting you with one, or have a user-friendly design platform. You may also visit sites like https://www.graphicsprings.com/ for help in designing the best logo that will suit your business and product offerings.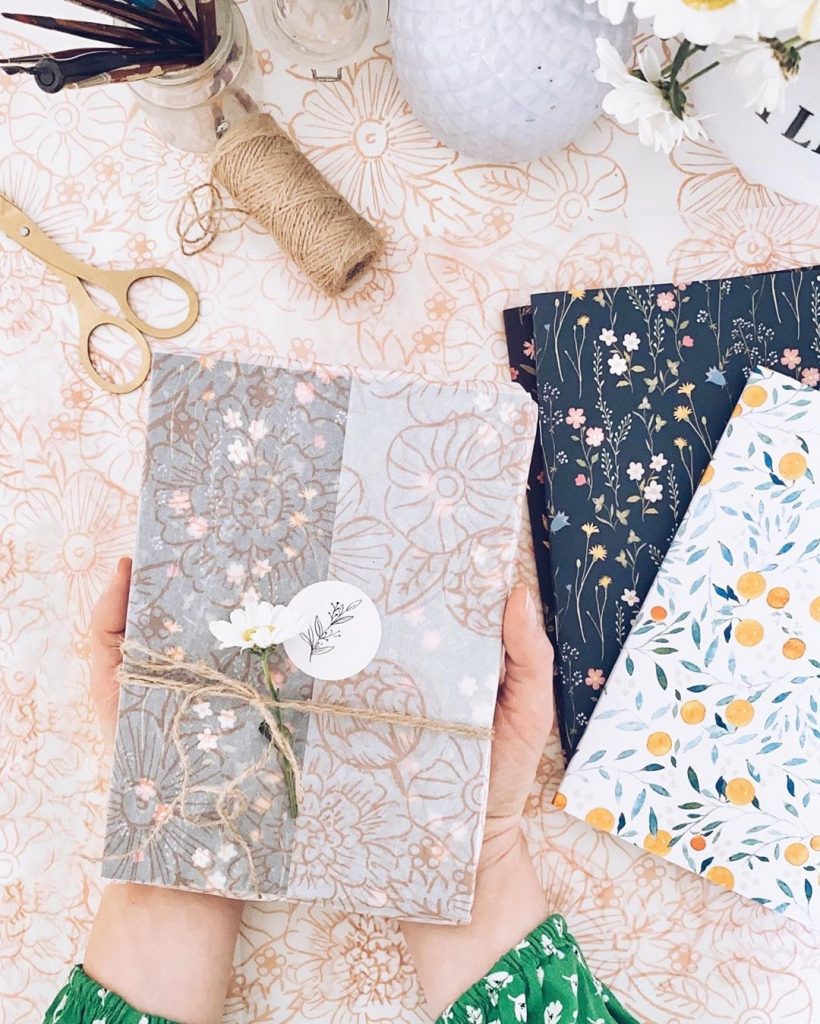 Lisa Mönttinen Art (@art.iisan) uses a layer of wrapping paper and a transparent layer of floral tissue paper to create a beautiful two-tone effect with her packaging.
Custom cards
If your goal is to establish a personal connection with customers, placing a custom card with each order is a great option.
Cards allow you to go deeper with your brand's story than an illustrative format such as tissue paper. You can use them to tell your founder's story, share an inspiring quote that reflects the aspirations of your brand or thank the customer for choosing you.
They are perfect for small businesses, as they show customers there's a human on the end of the exchange with your brand and this isn't just a transaction. It also shows your brand is willing to put time and care into its processes and wants to build a a long-lasting relationship with the end user.
Related: The complete guide to package inserts
If you have the capacity, you can always write their name by hand on each card, making the experience even more personalized.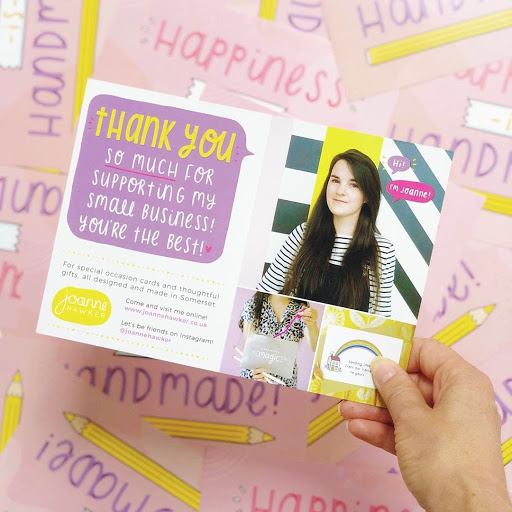 Designer and maker Joanne Hawker (@joannehawker) makes sure her customers feel appreciated through a custom thank you card that tells the story of her business.
Custom tape
If you're looking for a low-cost way to brand your packaging, custom tape is the perfect way to dress up a plain exterior.
While tape covers small surface area, it packs a punch when designed well. It can bring a splash of your brand's personality to a plain brown shipping box or parcel.
Related: Why bespoke packaging is especially important during holiday season?
Great uses of branded tape include showing off your company's logo, brand colors or an illustration that livens up the packaging exterior.
If you're looking for a customizable and environmentally friendly option, water-activated tape is compostable and biodegradable, unlike other tapes on the market that use gloss or wax. CarbonClick shares more ways of ecommerce offsetting on their website.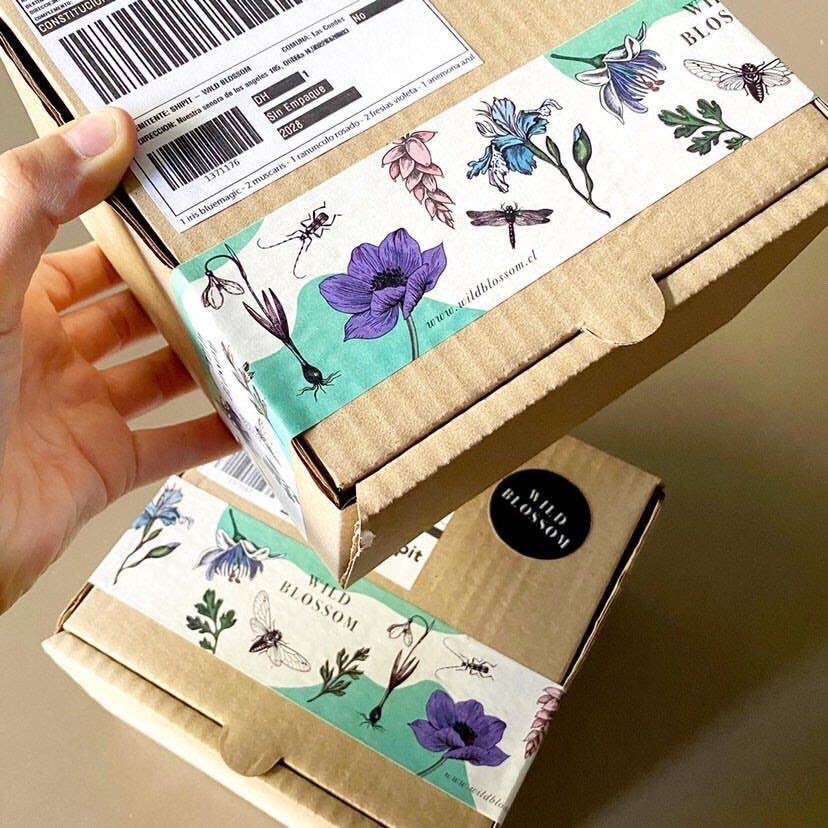 Online plant shop Wild Blossom has to use a cardboard box to securely ship the flower seeds and bulbs they sell, but has let their brand shine through custom tape.
Custom stickers
If you're looking to add a small but professional branded touch to your packaging, custom stickers are the way to go. As far as packaging supplies go, they are a lower-cost option due to their size but they can also be paired with other packaging options, like a non-branded mailer, to dress them up and emphasize your brand identity.
One of the best ways to use a custom sticker is to feature your brand's logo. Subtle but effective, they create a polished, finished look for your packaging.
There are also environmentally friendly options available. noissue's stickers are compostable and made with acid-free and sulfur-free paper so it doesn't leave behind any chemicals when decomposing. They're also made with soy-based inks, which reduces air pollution during the drying process.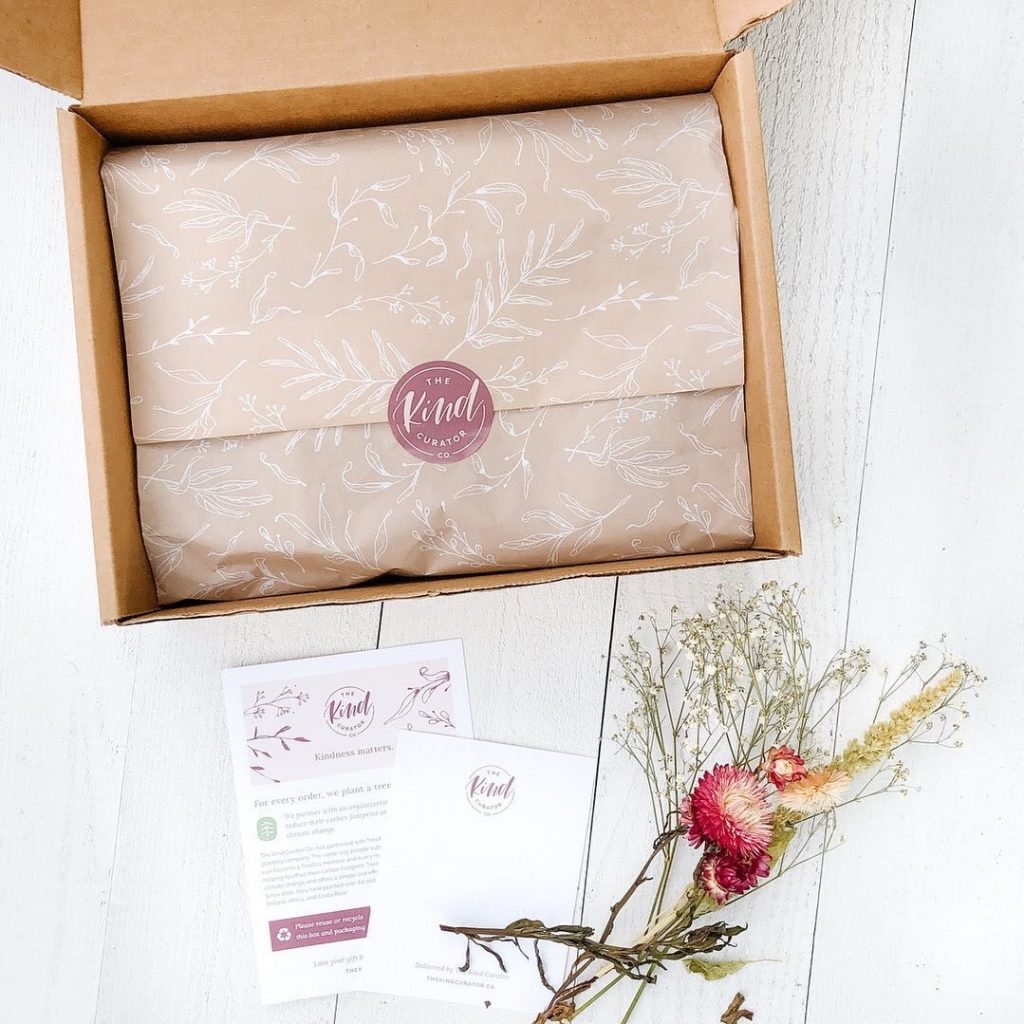 The Kind Curator (@thekindcurator) creates curated gift boxes and has used a custom sticker featuring their logo and brand colors as a beautiful final touch to their unboxing experience.
Bringing your brand experience through to your packaging helps your business stand out from the crowd by telling a story through great design and copy.
There are many effective options from tissue paper to mailers, tape, cards or stickers.
Custom packaging helps increase the positive perception of your brand, enhances the customer experience and increases customer recognition and loyalty.
This article has been contributed by Elly Strang, digital editor at noissue. The company produces custom and eco-friendly packaging for ecommerce brands.