A viral campaign that makes headlines is the dream of many marketers. The power of these campaigns lies in how they manage to reach huge numbers of people organically and cheaply. And even more so, their authenticity.
Viral campaigns are uniquely able to connect with viewers naturally because people stumble across them when a friend or an influencer they chose to follow shares them. This makes the content look more authentic and reliable, establishing a positive interaction with the brand.
What is viral marketing?
A viral marketing campaign is one which gets shared by a mass of people over a short period of time. The snowball effect makes it a huge talking point, racing even people outside the original medium. Over the years we've seen great viral campaigns take over social media and a fair few of these have been created by ecommerce brands.
With over half of the people on the planet now using social media, the potential reach of campaigns that go viral really is mind boggling. Despite seemingly modest budgets, viral campaigns are able to promote brand awareness and get products in front of huge numbers of consumers, giving marketers some of the best ROI they'll likely ever see.
Related: How to increase your profit margin
Did you know? Emotions play an important role in projecting the success of viral campaigns. Research into the 100,000 most shared articles on the internet revealed that the most shared articles were those that inspired awe, closely followed by those that amused readers and made them laugh.
How can viral marketing be used by ecommerce brands?
Ecommerce brands have tried to create viral marketing campaigns over the years, with a handful of companies shooting to fame solely as a result of their viral content.
For brands looking to expand their reach and rapidly increase awareness, without having to invest a lot of money into targeted advertising campaigns, viral content could be the answer.
But creating a campaign that's destined to go viral is sometimes easier said than done.
Have a look at our tips on how to create a viral campaign to find out how to maximize your company's chances of success.
Get to know your audience
Customer insights are your friend if you're hoping to go viral. The more you know about your audience, the better equipped you'll be to create content that they'll love, and launch it at the best possible moment.
Keep an eye on key metrics – demographics, location, interests, etc. – and analyze emerging trends that you could use.
Related: Content marketing examples for ecommerce brands
One example of a successful viral marketing campaign comes from bakery chain Gregg's. They recently went viral with the launch of a vegan sausage roll, which was perfectly timed to get in the news during Veganuary. The campaign parodied a new iPhone launch and was as witty as it was eye-catching.
Make content easily shareable
This might seem obvious, but it's overlooked far too often! Content that goes viral does not require any effort from the viewer.
That means the share buttons are very visible and users don't have to think twice if it's too much work to spread your message. Use a cross-channel approach to push content on all your social platforms so it's simple for users to share no matter which platform they use.
The Mask Up America campaign went viral earlier this year. Its success was largely due to the cultural references and the humor in the campaign's messaging. People naturally wanted to share it because it's tongue-in-cheek and entertaining in its own right, even apart from the message. And this was easy – it was viewed 9 million times in its first 24 hours, and retweeted over 100,000 times.
Use hashtags to expand reach
Hashtags have been around for a long time, but they're just as relevant today. With many social platforms tinkering with organic reach, it's getting tricky for brands to get eyes on their content. So there is potential in hashtags to help unpaid reach.
If you popularize your hashtag, it will draw brand awareness, making your content easily found by interested users.
Think carefully about your campaign's hashtag and come up with a short and snappy word or phrase that users can search for quickly. A funny one can be really memorable. Make it easy to spot on any campaign content and visuals so it sticks for a long time, and include it in every post or article used in the campaign.
Some recent viral social challenges have managed to come up with brilliantly original hashtags. Run for Heroes, which shot to fame at the start of the coronavirus pandemic, is a prime example of this. The campaign used #RunForHeroes to encourage members of the public to run 5 km and donate £5 to the NHS. It raised over £5 million within the first month of its launch.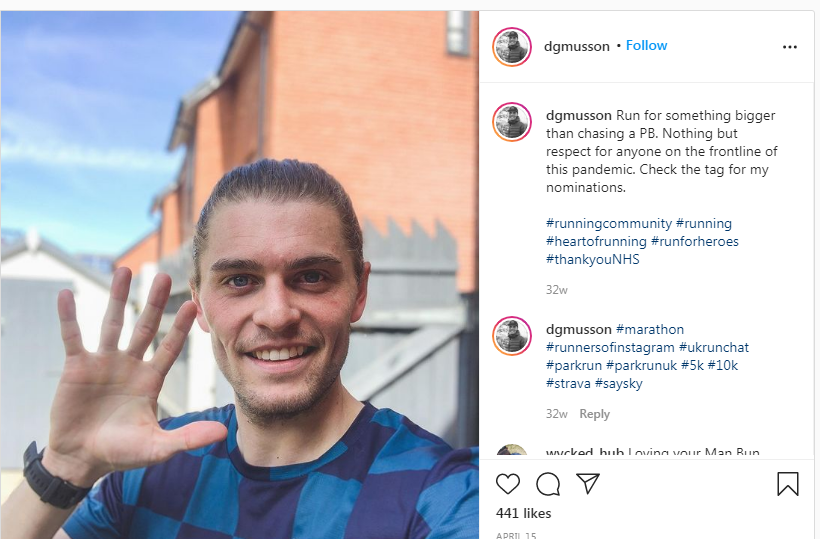 Jump on emerging trends
Trends usually take the biggest platforms by storm. This can be very useful for brands if they're quick enough to piggyback on the increasing popularity of a particular trend. Known as trendjacking, this tactic can be great for ecommerce brands that are bold enough to get involved with existing talking points and divert all that lucrative attention towards themselves. But it needs to be done smartly.
We bet you can remember the viral controversy over a dress that was possibly white and gold, or might actually have been blue and black. Well, Dunkin Donuts took full advantage of the ongoing debate, posting pictures of their doughnuts glazed in the colours everyone was talking about. This is a perfect example of trendjacking, where a brand successfully steals the attention that had previously been centered on a completely unrelated issue, turning the spotlight onto its own products.
Think about emotion
Whether a campaign is being shared because it makes people laugh, shocks them, inspires them or spurs them into action, all viral campaigns have one thing in common. They tap into our emotions.
Think about emotional responses that would be relevant to your audiences, and consider how you could create content that triggers those feelings. Can you connect with your target customers over compassion, or grateful tears, or empowered rebellion?
Budweiser went viral in 2019 with a highly charged, emotional campaign targeting the issue of drink driving. Centered around a film of a man's relationship with his dog, the campaign sought to spread the message of the consequences of drink driving. The emotional pull of this campaign made it viral far beyond Bud fans, raising brand awareness among new audiences.
Boost your viral marketing potential
While viral campaigns might seem like they appear overnight, the chances are there's been plenty of hard work behind the scenes beforehand. Brands hoping to go viral need to keep an eye on the latest trends and jump to take advantage of the next big thing.
Related: How Direct-to-Consumer brands do content marketing differently
But your team also needs to be aware of any controversies that can arise from such a campaign. You should foster quick thinking of not just seizing the opportunity, but also about handling sensitive topics appropriately. You don't want a viral scandal instead of a viral campaign.
This article was contributed by Sean Begg Flint, founder of Position Digital, a digital marketing agency for ambitious startups and growing brands. He is passionate about helping businesses establish and increase their online presence through purpose-driven content marketing and using digital outreach for good.