Omnichannel retailers nowadays aim to provide one streamlined experience for their customers. An omnichannel strategy gives retailers the chance to weave conversion opportunities everywhere – which is where their customers are these days.
We've all seen a rapid transformation in ecommerce over the last few years. As technology constantly evolves, so does the potential to keep growing and being in more spaces as a retailer – spaces that were not even there just five years ago. If any year has shown us the importance of bringing your brand online, it's 2020. As you take your brand digital and start taking up more spaces both offline and online, how do you ensure you're doing it right?
Meet customers where they are
Though often used interchangeably, multi-channel marketing doesn't always necessarily mean omnichannel. Though multi-channel is being in multiple channels at once, it doesn't mean that all of those places are integrated to provide the same streamlined experience for your customers.
We are already aware that if your retail brand is omnichannel, then you are present where your customers are. Not just present, but also meeting them where they are, in the right way, on all devices and channels.
Read also: Optimising for the mobile-first Google index
All touchpoints should work together to create the same type of experience for your customer. Your tone, attitude, and reliability as a brand need to be unchanging across channels. Shoppers want to feel that you are two steps ahead of them and that it is more than just a transaction to you. If your customer engages with your brand on social media and then through the live chat on your site, that brand voice needs to be the same. Without a sound strategy across departments, the likelihood of providing a confusing set of disparate interactions is high.
Read more: The shopping experience
Pinning down the spaces your customers find themselves and meeting them only in those places is the way to go with your omnichannel strategy.
The tricky bit is knowing how and where to start when you want to go omnichannel as a retailer. Especially when you've had to do it in the midst of a global pandemic.
How omnichannel retailing works
Picture this: You're a sneaker junkie. You talk about the latest models on the phone to your friends, and via messages on social media. Your social feeds are full of targeted sneaker ads because of your activity.
While scrolling through your Instagram feed on your smartphone one day, you come across a new sneaker release you love the look of. An influencer you like and follow first introduced you to the brand. You click to the brand's account, look through some of their other posts, read a few captions and comments, then you leave the app.
Later that day, you're on your tablet and you go on to the brand's online store. The sneakers you recently viewed show up. You browse through a few other recommended models, decide you still like the pair you saw first, add it to your cart, but then you leave the site. You aren't quite ready to buy them yet, as you'd prefer to try them on first.
The next day, you are at the brick-and-mortar store. Your phone connects to the store's wifi network. A shop assistant gets an alert and can see which sneakers you've been looking at. They are able to give you personalized customer service and you decide to buy the sneakers after trying them on.
A few days later, you receive an email from the brand. They congratulate you on your purchase and say they hope you're enjoying your new sneakers. They offer a discount code for your next purchase. You remember how much your friend liked your new sneakers, and it's their birthday coming up, so you decide to have a pair shipped to them. The online checkout is a breeze and you're able to track the shipping journey through your phone, tablet, or laptop. Your friend receives the sneakers the next day, with a personalized note to boot.
Buying these sneakers in two different ways and the journey you went through both times was consistent. You had the same feeling throughout all the touchpoints. You get the impression that this brand has gone out of its way to provide a personalized experience for you. Over and above humanizing a transaction, the brand has also made it effortless for you to find what you like and make it yours.
We know that the consumer's journey starts and ends in two different places almost every time.
When the goal is to make it easier than ever for your customers to pick up where they left off, how do you ensure all of the different interactions with a shopper are part of the same customer journey? And how do you pivot when the unexpected happens?
Your omnichannel strategy
While taking into consideration your plan of action to succeed with omnichannel retailing, it's important to answer these questions about each channel you wish to sell through:
Who is the customer? (Read: Identifying your target persona)
Why are they on this channel?
Are they only looking around or do they intend to buy?
How long do they spend on this channel?
What experience are they getting from your brand via this channel?
How much do they spend on average on this channel?
Are they likely to be a repeat customer?
If so, what is the expected customer lifetime value?
How can we optimize this channel for further conversions?
Based on what you know about your customer, you can offer applicable data for your products targeted to their location, language, purchase history, the device(s) they are present on, and other relevant consumer behavior. This more personalized offering requires retailers to have a sound understanding of how to manage their product data in order to deliver to their consumers in a precise, informed, and trustworthy way. This is especially important when consumer behavior takes a sudden and unexpected turn.
Read more: How an ecommerce CRM can help you
Brands doing omnichannel right
Some brands have proven that they know what they are doing when it comes to omnichannel retailing. It's true that they often come with big budgets, however, their strategies can be used as inspiration and adjusted to fit smaller retail brands.
Perhaps they already had a solid plan and strategy pre-pandemic, but based on how they've approached omnichannel retailing before, they are sure to be rising to the occasion and pivoting to allow for the sudden change to the market environment.
Read more: How the coronavirus is changing consumer shopping behaviors
IKEA
The Swedish furniture brand rolled out the Place app, allowing shoppers to use their smartphones to virtually place IKEA products in their homes at scale in order to see how it looks before buying.
Most ecommerce companies don't have the budget, especially now, to create Virtual Reality integrations, but the takeaway here is that shoppers react positively to highly visual content. They started using a great 3D scanning service recently. Building brand loyalty can be done by providing shoppers with 3d produktvisualisierung images that show the product from every possible angle or engaging in social media influencers to produce video content on your behalf.
As a furniture retailer, if you're not already on more channels than just your physical store, it's time to be. Fear not, follow these steps for building a digital strategy to take your brand from brick and mortar to online.
Nike
Nike realized the importance of synchronizing and centralizing their product data in order to boost its brand image and customer loyalty.
They launched the Nike App at Retail, linking the Nike app with physical retail experiences. Some of the capabilities of this app include shoppers being recognized as soon as they enter stores, to be able to scan for the availability of products in their area, and reserve items which can be tried on in an in-store locker before buying.
Nike is a stellar example of a brand fully in touch with the channels their customers are taking up and how they move through them. This provides them the opportunity to give their customers a fully personalized experience, one that is tailored differently for each individual shopper.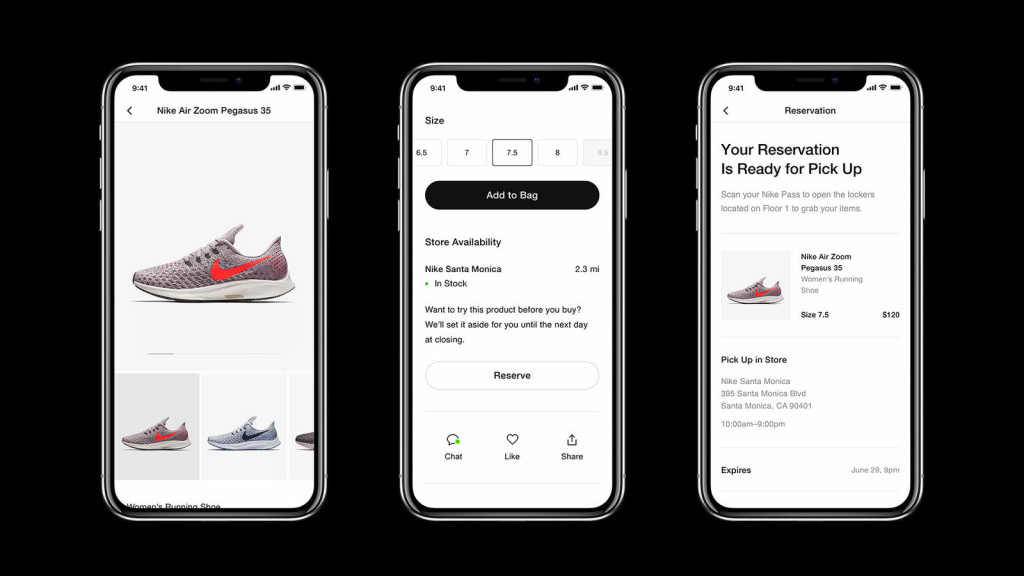 Walgreens
The US drugstore chain has gone over and above in the customer experience department with their mobile app that allows customers to have one seamless experience across any of their devices that can then be effortlessly continued once they are in-store.
Shoppers are able to be reminded about prescriptions as well as have live consultations with doctors through the app, among other things. Walgreens even offered drive-thru COVID-19 testing when the outbreak hit. Taking into consideration what your customers really need when they need it and delivering on that can do wonders for both your brand image and your bottom line.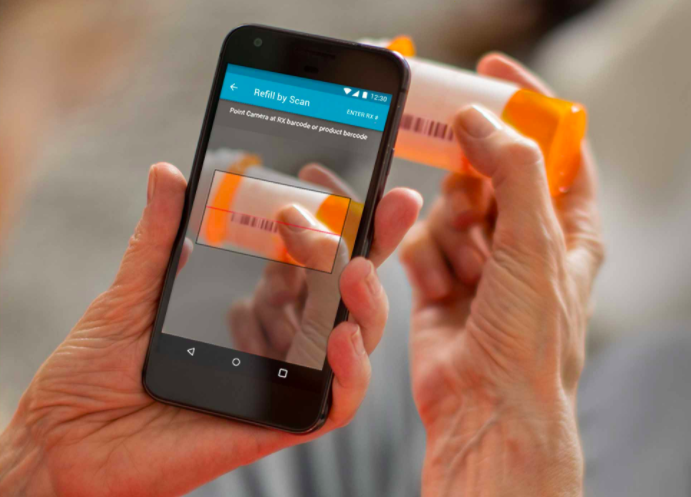 Going omnichannel to keep going
Bluecore released a COVID-19 Retail Trends Report earlier this year. They found that in the United States and Canada, first-time ecommerce sales from traditional chain stores rose to a massive 119% compared to the previous year.
With the outbreak of COVID-19, retailers who had previously not paid much attention to the rising omnichannel trend had no option but to do so. These retailers saw the importance of transmitting their brand from bricks to clicks and maintaining the same level of communication and service their customers knew and expected of them.
Online shopping rose rapidly and retailers had to stay afloat and jump to offering contactless solutions to shoppers who were staying at home. Delivery and pick-up services have become the new norm, and with it, both retailers and shoppers have had no choice but to adjust to the current way of life. CEO of Target, Brian Cornell, stated that they have seen single days where pickup volume is double what it is on Cyber Monday.
Amidst threats of limited availability, late delivery, supply chain challenges, and concerned shoppers, previously forecasted omnichannel trends revolving around AI-driven solutions and in-store experiences seem to have been put on a temporary hold.
The real challenge retailers face is lining up all their product content based on which customers are interacting with them and where.
Get this right, and you are well on your way to developing an omnichannel strategy that makes each and every shopper feel they are being personally considered on their journey.
This article has been contributed by Sophia Ioannou, Communication Manager at Plytix, a B2B SaaS helping businesses of all sizes manage their product data and get it to market faster and smarter.