Managing an eCommerce store is partly about product innovation and partly about marketing. One of the advantages of modern eCommerce tools is that you can decide whom to sell as well as how to do it.
In fact, this has opened an opportunity for many online store owners where they sell to both retailers and end consumers. In this article, we will look into some of the opportunities that you can explore with an WooCommerce wholesale store and ways to execute them.
Wholesale and eCommerce
eCommerce is primarily considered as an opportunity for small businesses to sell directly to customers without the huge financial investment upfront.
However, for those who have their own products, it also offers an opportunity to sell to retailers and expand their market reach. This essentially enables many businesses to try out two selling strategies effectively together – Business to Consumer (B2C) as well as Business to Business (B2B).
Let us try and analyze why it is a good idea to venture into wholesale selling when you have a production unit or abundant stock of certain products.
Better customer acquisition opportunities
The success of a business depends a lot on customer acquisition as well as retention. Both require targeted marketing strategies and that would mean dedicating considerable time and effort separately.
In fact, wholesale selling is a great way to acquire new customers without stretching your marketing budget. That is because a new retailer extends your product's reach and introduces it to a new audience.
When you think about it, this will be increasing your sales numbers in a market that you probably wouldn't venture into otherwise.
Improve brand recognition
There are a lot of established retailers with a loyal customer base that have built their reputation over the years. If you are able to sell your products through them, it will help a lot in developing a positive perception and recognition for your product and brand.
Any platform with a bigger reach than your own is a good potential partner for getting your brand name out there. Of course, you can pick and choose the ones that best fit your brand image and the target audience you want to reach.
Save marketing costs
You can approach a market in different ways according to your strengths. If you prefer to focus actively on product R&D, you get to do that if marketing is taken care of by somebody else.
Wholesale lets you do this and takes away the demands marketing places on your time and resources. It will help you expand your product reach to new markets without huge financial risks and operating commitments.
Sell more, do less
Wholesale can bring you extra sales without you doing much about it. That means less operation costs and hassle while still getting into a whole new sales channel. You and your team still get to do what you do best, only enjoying sales on-top as someone else handles orders, storage, merchandising and so on.
Devising a wholesale strategy
When selling to retailers you need to make a huge cut in your profit margins compared to selling directly to consumers. This could be a challenge for small businesses, but it can be managed if you use innovative pricing strategies.
Adjusting your retail price to offset the discount provided for wholesalers is on way to go about it.
Another way is to set up a minimum order quantity or tiers for wholesale customers. This way you can also weed out the scammers and illegitimate resellers.
Additionally, you should protect yourself from price dumping. Make sure your agreed terms with wholesalers include minimum and maximum retailing prices they can post in order to not undermine your own brand.  If you need payment solutions for your transactions with retailers and other businesses, you may pop over to these guys.
Handling the wholesale process manually
When you have an online store for retail, you can keep the wholesale business completely separate. This means you will need a different domain for wholesale customers. This can increase your workload, as it will be equivalent to handling two different stores.
Also, you will have to actively manage relationships with potential wholesale customers, circulating quotes and offers back and forth. This increases your team's workload and can lead to mistakes if you do individual quotes manually.
How to set up individual wholesale pricing on your regular WooCommerce store?
Once you have analyzed your options, you might decide to combine both wholesale and direct B2C sales in one store. It all depends on your products and your specific business requirements.
WooCommerce is a great platform to create a wholesale store with options for user registration and individual pricing. Here's how to do it.
Integrate a registration form
One of the first steps for a wholesale business is to get retailers to register on your site. You can collect the necessary information and evaluate if they are suitable for a partnership with you.
Gravity forms is one of the most popular form solutions for WooCommerce sites. With a simple interface and numerous field options, you can easily customize a form to your needs. Moreover, features like conditional logic, file upload and email notifications will help you out a lot.
Creating user roles
One of the major advantages of WordPress is that it has a default user management system that helps you segment users. WooCommerce creates two user roles by default. Furthermore, you can create custom user roles using one of several plugins created by third-party developers. Click here to see more custom WordPress website development services.
Setting up individual pricing
After categorizing wholesale customers into different groups, you can assign a different pricing to each. Let's see how to set up individual product pricing or store-level price adjustments using ELEX Role-based pricing plugin.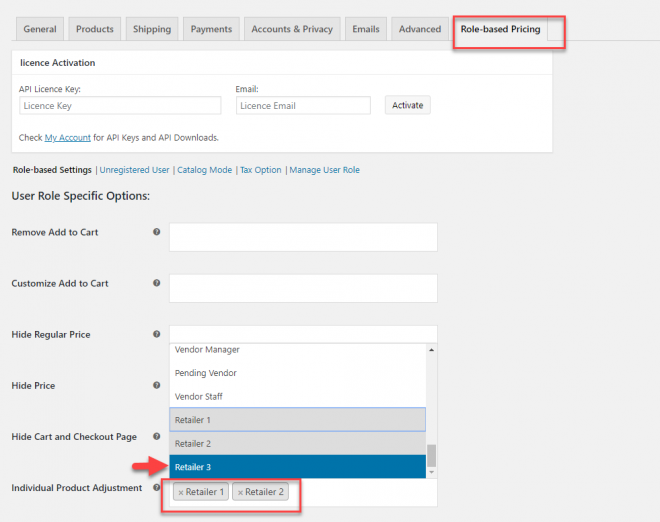 Once you install this plugin, in the plugin settings you can input different prices for a product depending on use roles.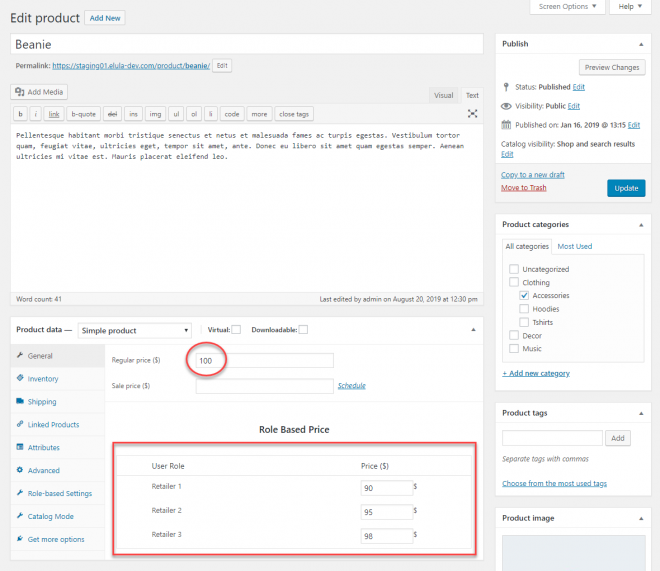 When  a customer logs in to your store, they'll see the price of this particular product for their user role. This is one of the simplest ways to set up wholesale pricing and is suitable if you wholesale only a few products.
If you want to have wholesale pricing store-wide, it is better to set up price adjustments to individual user roles rather than individual products. The plugin has this option in general settings. It can be configured as a fixed value or percentage value, and can be restricted only to certain categories. You can add a discount or markup according to the pricing strategy of the store.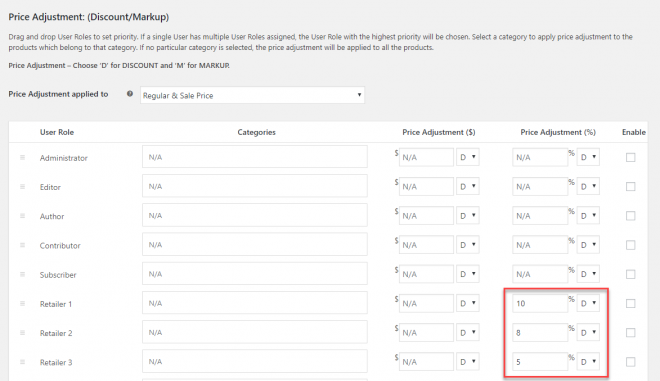 Creating a separate wholesale area on your store
Another method you can try is selling to wholesale customers separately by creating a separate area on the site for them. Only customers with specified user roles will be able to view products here when they log in.
This article has been contributed by:
Vijay Chelakkat, Founder of ELEXtensions.com & LearnWoo.com, in charge of Business Development & Marketing. He is passionate about product development and solving various problems that ecommerce customers face.