Over the past couple of years, the direct-to-consumer (DTC) model has become popular. It challenges the retail industry and revolutionizes the way that brands work.
More and more companies are embracing this business model. Although most of them are making under $1 billion in annual sales), they have potential.
Footwear, fashion, beauty, food and home goods industries are all shifting towards this business model as a means of reaching their customers and establishing relationships directly.
In fact, in 2017 alone, d2c sales increased by 34% and the number of brands selling directly to consumers was expected to increase by 71% in 2018.
The primary challenge small businesses face when launching their own brand is funding. Unlike other ecommerce models, DTC brands usually have to invest in inventory long before selling it. That makes cash flow really tight.
Other costs in research and development (R&D), manufacturing, and branding ask for even more capital.
There are, however, ways for DTC brands to finance inventory. Let's take a look at a few of them.
Venture capital
Venture capital is the most obvious choice for funding a new, small-scale DTC brand. There are a few reasons for this.
Bank loans are hard to get by new companies. Even if you manage to take a loan, it won't be that big to invest in R&D. VC funding lets you scale, develop more or better products, increase production, etc. Plus, they usually help with expertise.
Today's competitive mortgage market, a percentage point or two on rate can be all it takes to make or break a deal. You can help applicants secure the best rate and term possible with a score that is reflective of their true borrowing potential using certified rapid rescore credit service.
If you are looking for fast cash loans and the best deals based on your application, you can look at this sunnyloans site for more info!
There are several investor funds that work with DTC brands and can help you grow.

For example, there is Forerunner Ventures that offer capital of nearly $360 million to DTC brands. They are specifically interested in B2B commerce, SaaS and innovative brands. They have DTC household names like Glossier, Away and Birchbox under their belt, which is impressive to say the least. The main focus of the funding is to finance inventory and influence consumer trends in newer ways. The funding provided is more than enough to cover operational costs as well as production and marketing.
Other venture capital providers include Samaipata, Collaborative Fund and Obvious Ventures. All of them invest in DTC brands and help establish their digital business.
Crowdfunding platforms
Crowdfunding platforms are a viable source of capital for DTC brands, particularly for those looking to build demand. They are a marketing tool as well as a funding one.
Kickstarter and Indiegogo are no longer only for funding weird personal projects or raising awareness campaigns. DTC brands find their tribe there. Those early adopters later become brand ambassadors and spread word-of-mouth. Exciting storytelling and building a community helps on there.
Foldable cycle brand Mate raised over $22 million across two campaigns and fitness trackers Misfit raised $850,000 through crowdfunding campaigns alone.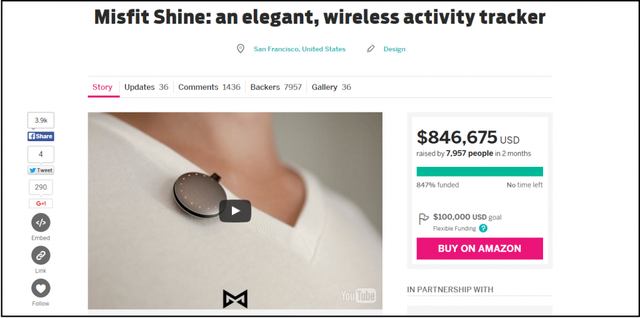 Other platforms DTC brands can use for crowdfuning are Fundly, Patreon, Smallknot, GoFundMe and Rockethub.
Just be prepared that usually the funding received on these platforms is only enough to kick the product off the ground. For later stages, you might need to look into other funding options.
Revenue-based funding
Revenue-based funding is a relatively new but is getting popular among new startups and DTC brands.
It is a pretty straightforward funding method. The company agrees to share a percentage of their future revenues with a lender in exchange for money upfront.
Loan repayments are tied to the monthly revenue of the business. So, for example, if a DTC brand ends up making a lot of money in one particular month, the repayment installment would go up this month. Respectively, it would go down in low-revenue months.
There are several platforms that provide this kind of funding. Shopify provides tailored offers to its merchants via Shopify Capital. Clearbanc provides capital and loans based on business metrics and revenue data.
What's good about this option is that hard money lenders provide initial operational capital for DTC brands to set up, make and market products, and the brands can pay back as they grow in sales. Working with a hard money lender is a great option that should be considered seriously when trying to acquire the capital to get started.
Hybrid funding
With platforms like Indie.vc and private equity firms like, hybrid funding is becoming a new form investment source for DTC brands. Lenders not only lend capital to the entrepreneur but expert guidance as well. They also own a small portion of the company in exchange. Hybrid funding is mutually beneficial and calls for investor involvement.
Hybrid funding is debt-style funding with an added equity. This means the company receives capital without having to return it immediately.
It also offers a priceless opportunity to learn from the experts in branding, marketing and customer retention through mentoring.
Choose the option to finance your DTC brand that best suits your business goals. Luckily, there is something for everyone. But financing your inventory should be a top priority because it can make the difference between success and flop.