Four months until Christmas and a lot of ecommerce stores have already started planning their holiday marketing strategy.
And rightly so, the holiday retail sales crossed the $1 Tn mark for the first time in 2018 so holiday season 2019 should be taken seriously. Last year, the average American shopper spent close to $846 on gifts around Black Friday.
This is why it is important for your brand to stand out for the holiday promotions.
Email marketing is still one of the most effective ways to engage and retain your customers. However, many brands underuse email marketing during the holiday season, copying cliche tactics too much to make a difference. In most cases, brands use the same email year after year, hoping for just average open rates.
So let's see the most common mistakes in email holiday marketing, how to avoid them and more holiday email marketing tips.
1. Not cleaning the email list
According to Zoominfo, at least 30% of people change their jobs every year while a good 37% change their email addresses.
As a result, 40% of business objectives fail as the data becomes inaccurate.
If you want your holiday email marketing strategy to be successful, then you must begin your campaign with a clean and accurate email list. The validated email list leads to better conversion rates.
You can use a tool that removes duplicates, validates the email addresses, and removes the non-existent addresses. You can even remove from the list the subscribers who have not shown any engagement with your emails.
A clean list will generate more engagement as you're left with subscribers who are truly interested in your brand and holiday campaign. Once you are done with the cleaning, you can proceed with the campaign planning.
Related: Holiday email marketing examples
2. Wrong segmentation of the list
Segmented campaigns have a 14.32% higher open rate and a twice higher click-through rate than the non-segmented campaigns.
This proves how important segmentation is for the success of an email marketing campaign. However, more often than not, we marketers tend to ignore the importance and release the same holiday offers to all contacts on your email list.
For instance, there are people who don't celebrate Christmas or New Year on the 31st of December. In some cases, sending emails to these people might even lead to losing them overall. The overall conversion rate will reduce.
You can use Metrilo to segment your list effectively, and not ruin your brand's reputation by sending the wrong email to the wrong person. You can start by choosing to target only last year's holiday shoppers or the ones from a specific location.
3. Faulty personalization
If you send very generic emails, playing it all safe, your brand will probably never get stuck in someone's head.
Using a person's name is only the first level of personalization. Automatic retargeting, which many brands love and use a lot, is also quite annoying and creepy. They'd just browsed for gifts – because it's the holiday season! – and the product is stalking them on social media.
Personalization is not about scaring people how much you know about them, but about offering them the best products for their needs. And that's harder because it requires behavior analysis and more precise use of data.
Proper personalization is:
using past purchasing behavior to gauge what kinds of products people are interested in – baby or kids clothes, men's or women's fragrances, plastic or wooden toys?
identifying what kind of offers convert them – heavy discounts or new collections, email content or influencer posts?
tailoring the offers in a certain price range – from past orders, you can see how much they spend on average
pacing the communication comfortably – your ecommerce analytics should show you how long different people take to decide and buy something so emailing them too often might be counter-productive.
Read more: Customer segmentation based on behavior
Personalization is very important, especially with holiday email marketing because the window for converting the subscribers is very small. This email by Google's Local Guides aptly describes how holiday wishes should be sent to your subscribers.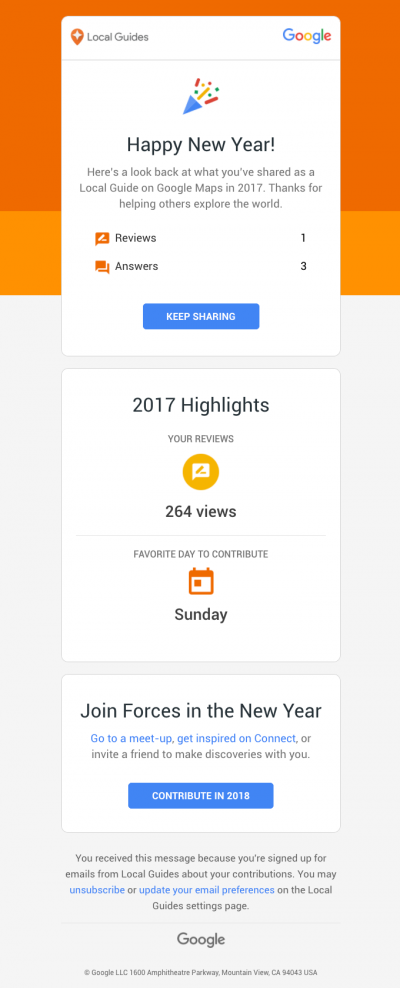 4. Poor email design
A good design is a must for every email marketing campaign, and more so for the holiday emails. There is a high chance you go all image-oriented with your emails or just use colorful fonts that are not readable.
Related: Sending effective ecommerce emails
A giant image may look interesting but the CTA is the hero and you need to make people click the button and convert.
As a result, it is important to use eye-catching images combined with readable text and ample white space. If you use a colored background, it should ideally be the text color that resonates with the background and makes your email appear coherent. If not sure, use email templates or at least copy them.
The color of the email should be in sync with the context of the email marketing campaign (Christmas, you know).
Keep the design simple and easy to comprehend. The worst email is a crowded visual with no clear CTA to click.
Proper font size, height, and weight are essential along with a good font choice. Tropical fonts is a great choice for holiday emails.
Take a look at the example below and notice how the font size varies throughout the email.
5. Clickbait subject lines without pre-header text
Email subject lines can make or break your email campaign.
Clickbait is hardly the way to go, though. You will get the open rate, true, but not the conversion.
Your subject line should be in sync with the content of the email, not a pun that's funny just to you. It should be catchy and contextual.
A pre-header text is a must with the subject line because it gives an insight into what the email is about and helps people decide to open it or not. If it's missing or weird, that's a red flag and might look like spam.
Most email clients display the pre-header text along with the subject line so don't overlook it when you're fighting for every conversion you can get.
6. No alt-text images
In many email clients, the images are not displayed. People get frustrated if an image doesn't load and feel cheated, which reduces your conversion rates. If your competitor's emails load well, chances are people will forget about yours quickly. It's not their fault.
However, with alt-text your emails won't have this issue because the alt-text will explain the image to the recipient and would provide a hyperlink to the original image. As a result, the subscriber won't miss out on anything and the experience won't be negative. Leveraging this element can be gold for your brand.
Wrap up
Email marketing is highly effective for the holiday shoppers. With a purposeful strategy and good timing, your Q4 can be profitable and not as frantic.
Start early, segment wisely and target with meaningful offers – that's the basis of a successful holiday shopping season.
Lure subscribers to open the emails by sending offers and sale information that resonates with their needs
Plan in advance, else you will not be able to make the most of the holiday season
Take into account proper design strategies, and make sure you follow the basic design rules and elements for the holiday email.
Read more: How to keep holiday shoppers after the holidays
This article has been contributed by InboxArmy, a professional email marketing agency providing advanced email marketing services. They specialize in building email programs and using data-driven strategies to turn around underperforming accounts.