As the owner or marketer of an ecommerce brand, you know why the products you offer are the best options for your target audience.
You know their features and benefits. And you know exactly how to use your products to get the absolute most value out of them.
The problem?
Your potential customers don't know any of this. Even those who have purchased and used your products may not know all this.
If your prospective customers are unsure of how to use your product or whether your product will help them achieve their goals, they'll be hard to convert.
If your current customers aren't able to use your product to achieve their intended goals, they aren't going to stick with your brand for too long.
It's up to your team to provide the information the (prospective) buyer needs to get the most use out of your products so they're satisfied and buying again.
This is where a comprehensive ecommerce knowledge base comes in.
What is an ecommerce knowledge base?
A knowledge base is a central hub of information about a company's products, services, and overall brand experience.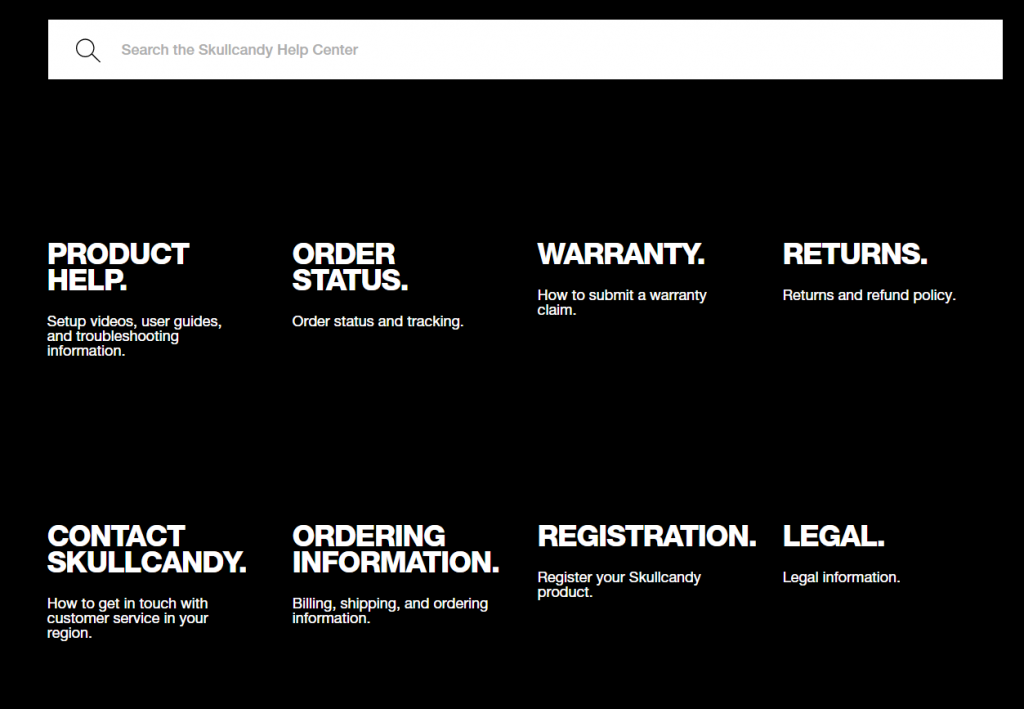 For consumers, a brand's ecommerce knowledge base answers frequently asked questions and helps on every step of the customer journey. This is the place for necessary content (not a marketing blog) that informs about the products, terms and processes. It helps the prospect decide to buy and use the product after.
Related: Marketing content ecom brands can use
Knowledge bases (KBs) also provide:
contact options
info about additional services, guarantees, maintenance, proper exploitation
certifications, documentation and other legal requirements the brand meets
terms and conditions
But KBs are meant to dive much deeper than just this surface-level info.
A comprehensive customer-facing KB will also offer instructional and educational content to enable customers to use a brand's products or services to their full potential.
For example, many ecommerce knowledge bases include:
In-depth info on product specifications and features
Step-by-step instructions for various use cases
Troubleshooting tips and supporting documentation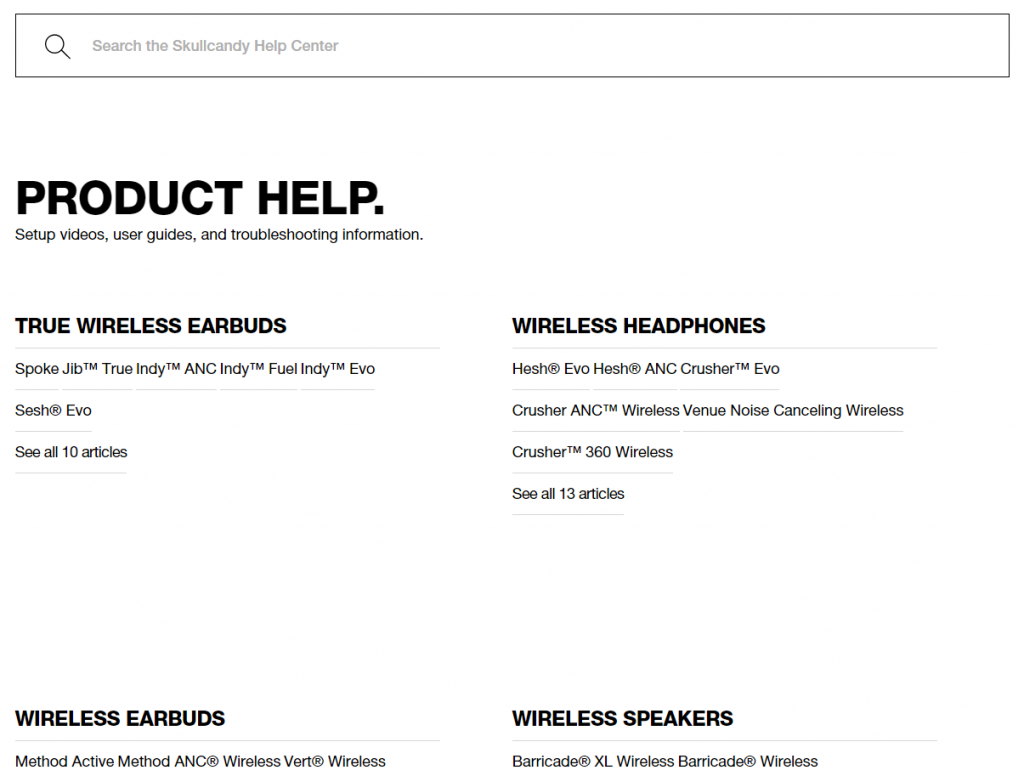 Now, we'll look at some key ways successful ecommerce brands use knowledge base software.
4 Ways an ecommerce knowledge base helps drive revenue
Better SEO attracts high-value prospects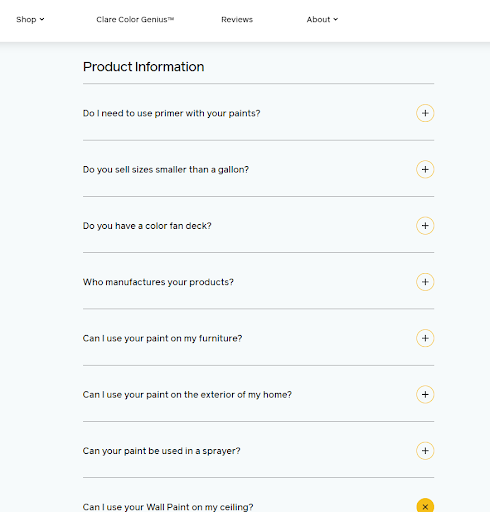 The content in your knowledge base is easily picked up by search engines. It's super-concrete and hopefully answers the questions people will be googling anyway.
A well-organized and written KB will help your site rank higher and appear in related searches from prospective buyers. This translates into more conversions and greater brand awareness.
Take Shipt's knowledge base, for example, which includes answers to questions such as "Do shoppers accept tips?"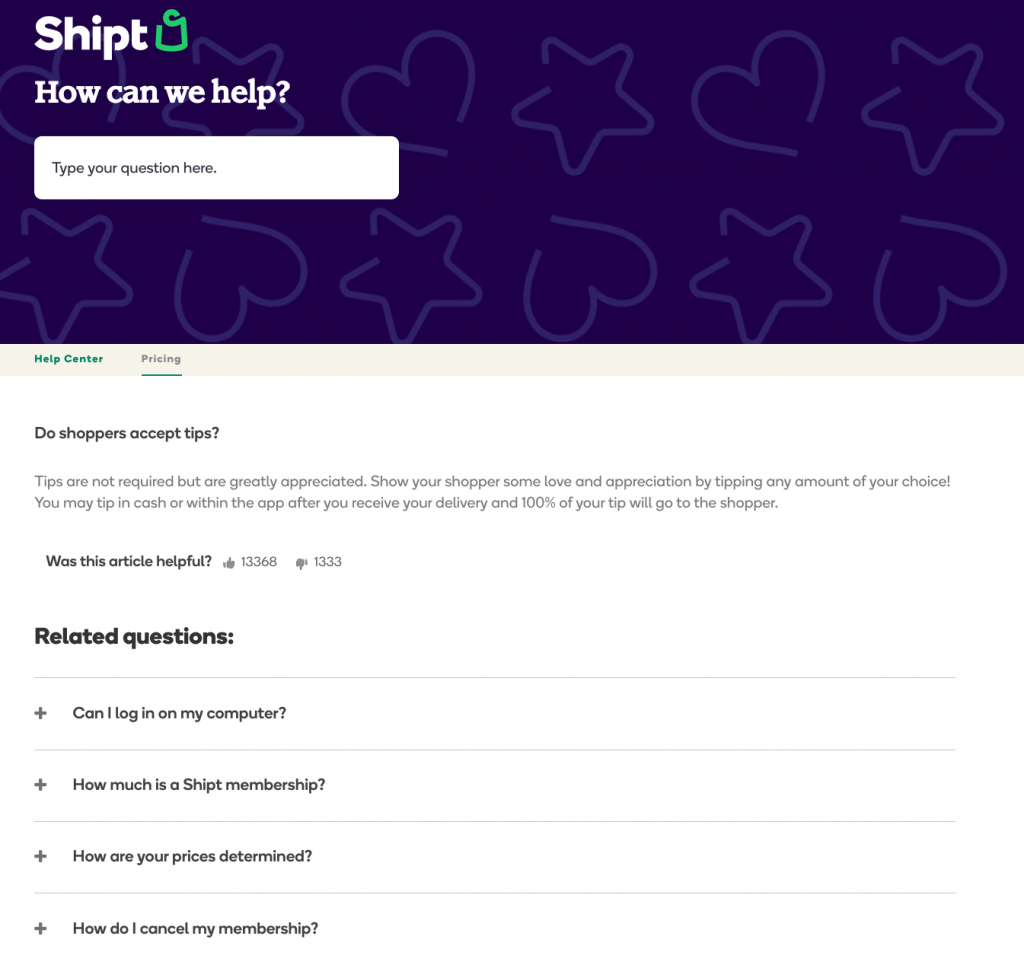 This question isn't unique to Shipt's customers; it's a common question among those looking for grocery delivery services in general.
Because Shipt addresses the question directly in its ecommerce knowledge base, their content is among the first results potential customers see when googling their question: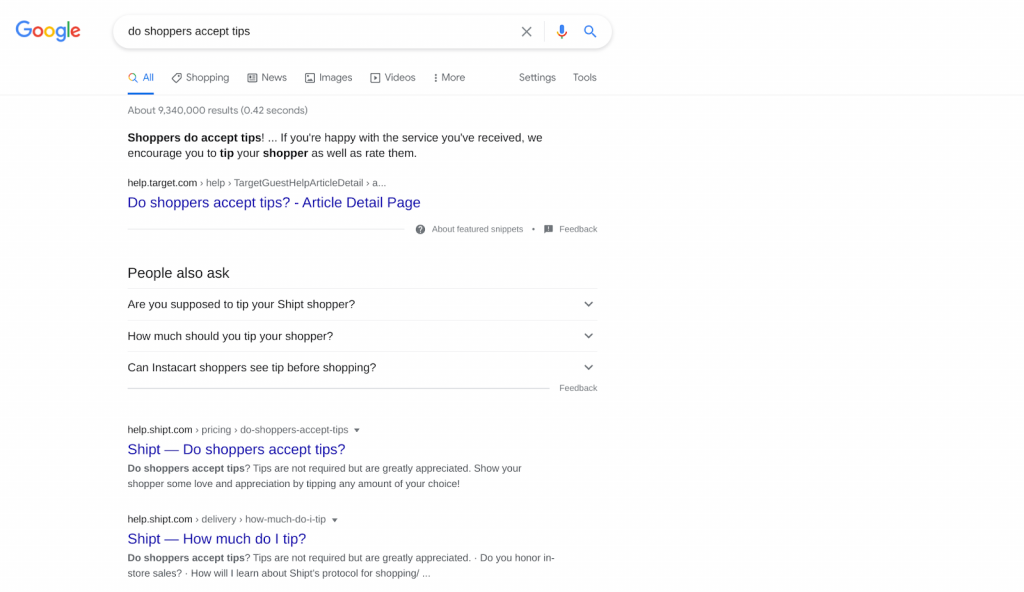 This gives Shipt a clear edge in terms of brand awareness and trustworthiness, and increases the team's chances of converting new prospects from the get-go.
Related: 10 Common ecommerce SEO mistakes: The definitive guide
It's also worth mentioning that knowledge base content often shows up in search results for terms used by consumers with high purchase intent. It's pretty clear that someone asking whether or not to tip an on-demand shopper has intent using such a service in the first place — and is looking for the service that best fits their needs.
Another key part of customer-facing knowledge bases that help with SEO: opportunities for lots of interlinking between related content and search engines love that.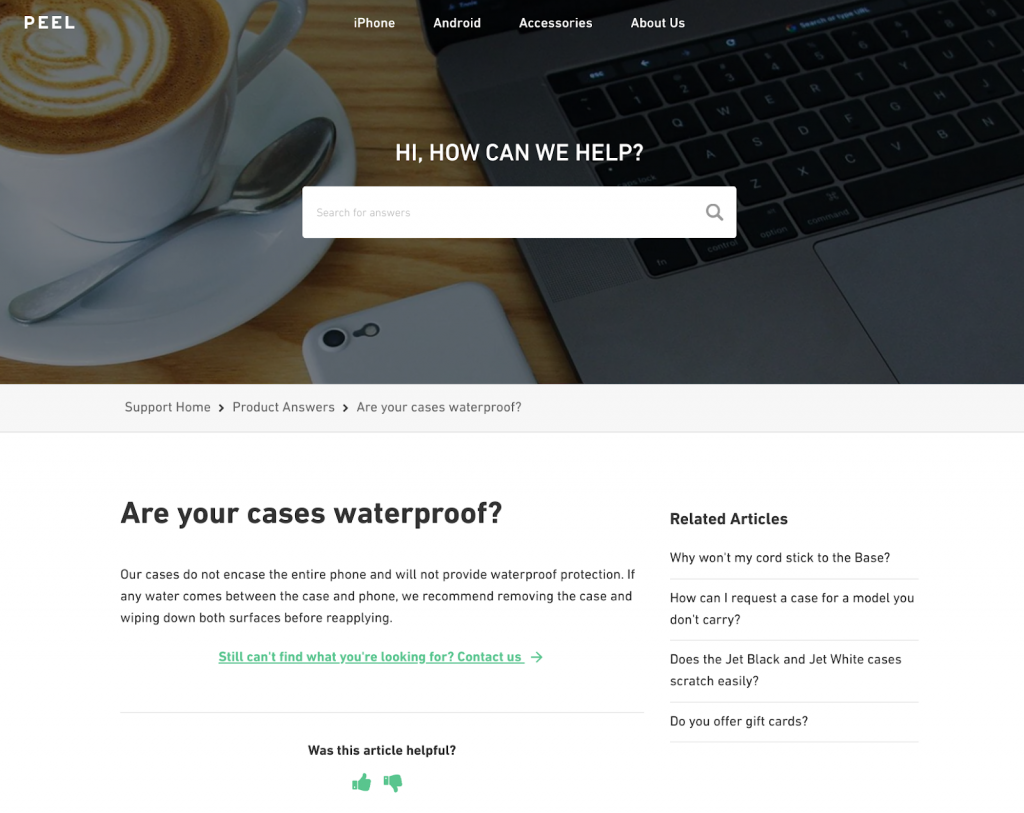 What's more, related articles keep visitors on site for longer, allowing them to learn even more about the brand. The more they learn about the brand, the more comfortable they'll be to buy from you.
Provide self-service options
The modern consumer often doesn't want to spend time on the phone to seek customer support.
In fact, 79% of US consumers say they have used a self-service portal for customer service purposes — and 88% of consumers expect brands to provide self-service options.
Most importantly: 91% of consumers would use an ecommerce knowledge base if given the option.

Why do customers love self-service?
no wait times for support staff to reply/ answer the phone
no need to communicate with a customer service rep
a searchable knowledge base lets them quickly find the information they need
For prospective customers, such self-service options can remove the friction standing in the way of an initial purchase. For current customers, it enables them to experience the true value of your products — and makes them more likely to return to your brand whenever they're in need.
In both cases, your knowledge base will play a key role in increasing the chances of making a future sale.
Free up capacity for more meaningful customer support
Customer service can actually grow your business if you let it. A KB to free up their time and energy will help.
Your support staff will have much more opportunities and resources to help those who do require a bit more hands-on assistance.
Again, the more efficient and effective your customer service efforts, the better your chances of retaining your customers will be.
Speaking of enabling your customers to extract maximum value from your brand…
Help customers become power users
Making full use of your products and enjoying the full package of benefits should be an ultimate goal for your team. Happy customers are the ones who are fully satisfied with what they got for their money.
To achieve this, your knowledge base should serve as the go-to resource of setup, use tips, maintenance and so on. This means including in your KB not only information your customers are looking for, but also the information they don't yet realize they need to know.
It's the difference between keeping your customers at the status quo, and allowing them to achieve more with your product than what they originally thought possible. It lets them gain a complete understanding of the products you offer.
For example, say a customer starts out on the following page on Versature's knowledge base: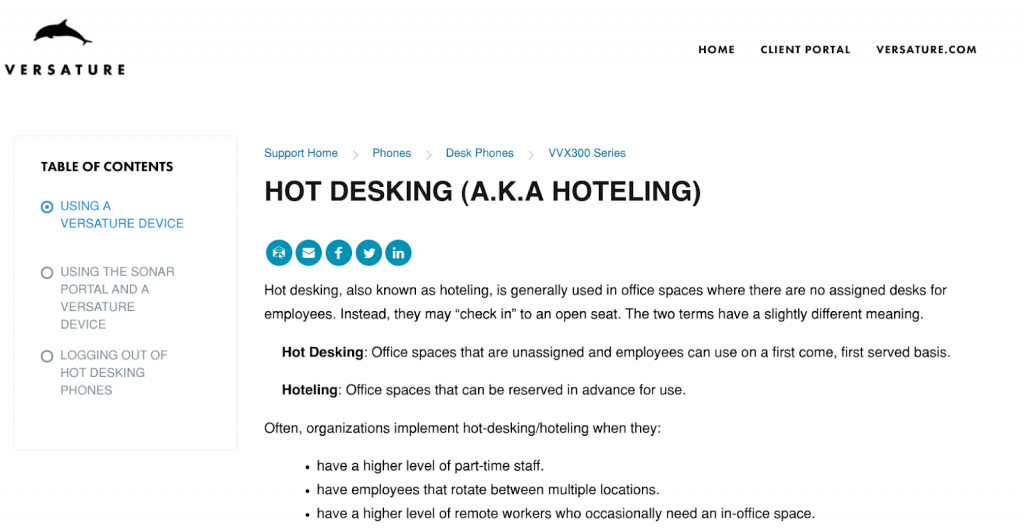 Once they reach the end, they're then presented with the following suggestions for further reading:

This allows the user to make full use of the product in question and experience it just as the brand had intended. Without access to the knowledge base content, the customer may never go beyond the basic functionality of the product — and will never understand the true value it brings to the table.
It works for customer retention: your customers will be getting more value out of the products so they'll be more likely to continue using them and buy more from you.
Help word-of-mouth
This can also help your customers recommend your brand to others in a more targeted and powerful way. The better they understand your product features, functions, and benefits, the easier it will be to refer said products to those who need them most.
Across the board, this means more sales for your company — and more high-value customers coming in.
Knowledge bases: more & higher-value conversions
Keeping your target audience informed and engaged is vital to improving your revenue.
For your customers to feel comfortable doing business with your brand, they need to:
Know what you have to offer
Understand the value
Know how to use your products or services to extract full value out of them
If you don't provide enough information on either one, you risk of losing their business for good. In most cases, these lost customers will end up defecting to a competing brand that's more dedicated to helping them achieve their goals.
By creating a knowledge base to assist your customers at every step along their brand journey, you'll enable them to reach their goals. In turn, they'll be more likely to stick with your brand and become loyal customers.