At this time of year, you probably do two things: get ready for the holiday shopping season and wonder what the next year is going to be.
We were curious, too, so we compiled a list of the most anticipated trends for the near future of online retail and brands.
If we have to sum it all up: 2019 will be a year of ecommerce going even techier if that's possible 😀
Augmented Reality and Virtual Reality
Now, most modern people are familiar with these experiences through games and demos.
Big names like IKEA and Houzz are a step ahead in ecommerce already and have created AR apps that let people choose products from the store and test them in simulated rooms close to their real ones at home.
There are a number of interior design apps that do the same. Augmented reality will be a trend in 2019 in many niches, and it will definitely change user experience.
The same goes for virtual reality. In ecommerce, VR is an incredible opportunity for users to see the product in 3D. If you can use such software, you're crossing the gap of online retail and the problem with not being able to touch the product will be irrelevant for your customers.
Also, shopping might be soon done without seeing the product at all….two ends of the specter.
Voice search will grow in 2019
Voice searches will be 50% of all searches by 2020. 22% of people owning devices like Amazon Echo and Google Home have purchased something through voice search.
While it will be hard to compete with Amazon on their device, Google Home, Harman Kardon Invoke and Apple HomePod let us in customers' living spaces.
Even young children who cannot write or type yet can use voice search to find their favorite videos online.
Optimizing for voice search would include:
preparing content that answers questions – how, where, how many, what and so on
using lists of types, options, and so on ready to be read aloud in voice results
using everyday language and structures that fit the way people talk
Chatbots and AI
Some companies have been testing chatbots – Pizza Hut, Whole Foods, Sephora, Spotify, Mastercard.
Many Facebook-based shops also use some chatbot functionalities to answer FAQs or facilitate transactions. Since it is easy to set up, we can expect a steady increase in use and overall good adoption from smaller shops. Following Facebook chatbot best practices will make your brand more professional and clients – satisfied.
However, some users have started complaining of the limited abilities of the bots to answer complex questions and find solutions in real time.
The tech should develop fast or consumers will soon render chatbots unsuccessful and unwanted in their experience so be careful if you use them. After all, technology should be better and more efficient than a real person to really make sense, otherwise it's an unnecessary complication.
Native social selling
People are on social media all the time. We as marketers cannot expect them to just leave the network and go to a brand's site.
With Instagram and Pinterest shoppable posts, native social selling is likely to overtake sales on site.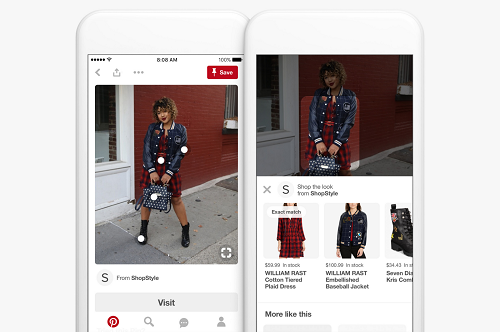 On social media, the steps in the buyer's journey are fewer. They can talk directly to you, the brand, without having to do a research first and actively seek you out.
The good news is that this means less SEO and AdWords burden for you. The bad news is you have to rely on social presence to engage your public there. And organic reach is not high anymore.
The brands that manage to achieve a genuine presence and natural engagement of their followers will be the ones that win here since ads are becoming prohibitively expensive.
Which leads us to…
Omnichannel presence
Omnichannel is being present everywhere and serving your customers on whatever device, platform and medium they choose.
This includes answering questions on social media, placing an order for them from your physical store if an item is out of stock, saving their sessions to be continued across devices and so on.
Recognition of your customer's time and complex buying behaviour will get you a long way when the other option is to force them to complete a purchase now or forget about them.
Investments in infrastructure and apps will be needed so we recommend digital-first brands start mapping their customer journey and interactions.
Content marketing
Content is overused, but still an efficient way to lock your audience coming again and again to your site – and buying from time to time.
Content lets you get across the right messages and position your brand with your own choice of words. Tell the stories you want to be associated with and create your own ecosystem for people sharing your views to join.
One side benefit is that content is sharable and might earn you word-of-mouth points for (almost) free. Brand awareness can grow organically.
Read more: How DTC brands utilize content marketing to grow
Subscriptions
In general, repeat orders from existing customers are much sweeter than having to pay for new ones.
For direct-to-consumer brands, subscriptions are an even more logical step than for ordinary sellers since DTC relies on long-term relationships with customers.
If you have a frequent-use product, jump on this ecommerce trend to make reorders easy for your most loyal customers.
Automating orders saves both sides time and cements your relationship – they're your subscribers now, not just buyers who come and go. This makes switching perceivably harder.
Regular orders and predictable revenue, anyone?
Niche markets and D2C brands
Launching your brand and product, you probably went after a very particular niche. Your branding is geared towards a very specific market. Hyper-targeted brands are the future and it's not changing any time soon.
Even big brands like H&M are branching out to cover narrower niches with separate new brands so the main one doesn't cast irrelevant shadows.
The market is going into smaller and smaller fractions and if your planning expansion, it should be a separate venture with its own target, identity and so on. Long gone are the days of one size fits all.
Feel excited about 2019 already? Or not so sure?
Isn't it the same way at the end of every year when we don't know what exactly lies ahead?
The best strategy is what you've been doing so far: create a really good product people love, add new ones around it to keep them hooked, serve them well while being authentic and build long-lasting relationships to root your business deep. Everything else is tech and perks.