Why do you need a Shopify CRM?
All the data in your reports is generated by customers/ visitors. What you see is their behavior on your website and their reaction to marketing activities. That's why customer insights can be the holy grail in your marketing mix.
Every click on your website, every page they see, the products they browse and purchase. You need this information if you are to truly leverage the power of data.
Connecting your marketing with customer behavior allows you to tailor relevant and timely messaging to drive more sales. 

You can usually find this data with a CRM Shopify integration. This data can have a big impact on your sales directly, which is why you need a Shopify CRM that gives you all this and lets you act upon it if needed.
The problem is that most CRM software for Shopify out there simply isn't built with Ecommerce stores in mind. As a Shopify store owner, you need a solution that integrates quickly with your store and gives you pure ecommerce customer data because this is what you can use in your marketing.
Features of a best CRM for Shopify:
Individual customer profiles
Session tracking
Metrics like customer lifetime value
Tagging options, including automated tagging
Many filtering options for customer segmentation
Integrated email
We've covered the difference between Standard CRM and an E-commerce CRM before so now we'll focus on your specific needs for Shopify stores. If you're now choosing your ecommerce platform, check out this Shopify review to see if it fits your needs in the first place before going deeper with a CRM.
What to look for when picking a Shopify CRM?
We've talked to so many Shopify store owners and found a pattern in what you, guys, need.
Common needs seem to be:
Comprehensive & complete customer profiles
Ideally, each customer will have an individual customer profile. One that can easily show you all their sessions, interactions with your site, products viewed, revenue, etc. Customer profiles allow you to understand customer behavior and truly personalize your messaging.
Ability to tag customers with both pre-set and custom tags
This can be extremely helpful with segmentation and building lists of people for personalized email marketing.
Segmentation
In ecommerce, segmentation can make all the difference, especially if you want to make your marketing more personal. There are 28 ways to rank according to this E-E-A-T shopify SEO guide. What's also neat is that you can filter customers by behavior and then also tag them accordingly. Tagging works wonders here, as they will let you create any segments of your choice.
More customer metrics
Individual metrics like the number of orders, sessions, and LTV are key to understanding shopping habits. This will help you resolve any issues and keep your messaging relevant at all times.
The ability to contact people directly from the platform
Whether it's a simple plain text message or an HTML email you want to send to a specific customer or segment, being able to do it right on the spot via your CRM platform is a neat feature that saves you time and efforts, plus it uses the data already in the CRM.
Seamless integration
This is probably the biggest factor for each Shopify store owner. The CRM integration with Shopify should be smooth and quick. No coding, no complex stuff. Ideally, the CRM will have an official Shopify CRM app.
So these are some of the must-have features to look out for when shopping for a Shopify CRM solution.
Let me tell you a story that will show you how even the slightest and most obvious customer insights can change the way you look at things.
Earlier this year, I worked with an online coffee store. Amazing people, excellent coffee, well-polished website. They had everything needed for success already in place.
Digging a layer deeper into their data, we could see there was a group of people that did not quite convert as much as the others.
Why would nearly ⅓ of their traffic not convert?
We had to take a deeper look at customer behavior for this group of people. It turns out all these people, with a conversion rate of 0.37% came from Boston. Any other city averaged about 18%.
So why on earth were people from Boston so different to the others?
The answer to this turned out to be quite straightforward. It didn't even require data, but without looking into the data, we would've never identified the problem. There was a movement in Boston at that time, that encouraged people to buy local. Coffee was one of the commodities that Bostonians started buying locally right away.
It's a simple example, but without digging into customer behavior data, we'd never find out that Boston was a no-go at the moment. Many people might have just jumped heavier on promotion and burnt a much-needed marketing budget.
This is just one of many cases where digging deeper into your customer data can help you avoid a marketing disaster.
What else can the data within your Shopify CRM help you with?
Email Campaigns
You probably run email campaigns, but are you getting the results you should be getting?
Using customer behavior data, you can set up powerful email automations that are driven by the actions people take on your site. You could be converting people on autopilot just by utilizing customer behavior for your email automation campaigns.
Tagging and segmentation can help you send people relevant newsletters too. You might want to send a specific message/ offer to a segment of people and with most Shopify CRMs you will need to export that segment and import it in your email tool. It'd be better if they're connected in one.
Retention
For all of us in eCommerce, retention is the key to success. You can't always be in acquisition mode. It's expensive and your margins will melt away.
Using customer behavior data, you can convert people who have not bought for some time, or you can nurture them with content until they're ready to buy again.
Tagging them also helps to keep track of everything and customizing the experience you provide. As your store grows, you'll find it useful to record customer characteristics ("has kids", for example) and preferences ("paleo diet") so you can find them easily later and act on that knowledge.
Build a community
All this customer data gives you a deeper understanding of the people behind those clicks and orders.
You will be able to build much more meaningful relationships with your customers and fans. You can learn more about managing a Shopify store community from Jonathan Kennedy.
What's on the Shopify CRM market?
Generally, there are a lot of CRM solutions out there. The thing is, like we said before, most of them were not built with Shopify stores in mind. You do have lots of options, but when it comes to actually choosing a solution for your Shopify store, keep in mind you need a tool that is powerful but is tailored towards your business needs.
Of course, the in-built features are a free CRM for Shopify, but other tools on the market provide superior insights and much more flexibility in the reporting and data.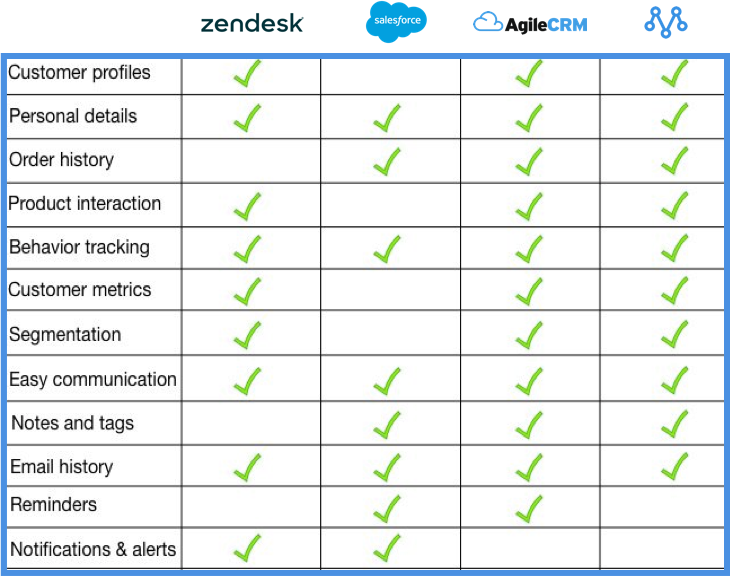 Here's a quick comparison we've done. Also, read "The Best CRMs that Integrate with Shopify: A Comparison" from the experts over at Ecommerce Platforms.
Hopefully, both comparisons will help you make the best decision for your Shopify business. Keep in mind that depending on your store size, you'll need a solution that makes team collaboration easy (preferably, at no extra cost).
Most CRMs that integrate with Shopify have the majority of the functionalities you'll need. However, you don't want to spend too much time and efforts setting something up just to test it. A wise choice would be a tool with painless integration that starts working immediately.
That said, Metrilo combines CRM, email, and analytics, all built for eCommerce stores specifically. Our official Shopify integration takes 5 minutes and just 1 click. Try us out for free.