Why Social Media Images Matter for DTC Brands?
It's no secret that 90% of the information that comes to our brains is visual.
That's why the best way to make your brand's social media posts engaging is through visual content.
Buffer, for example, analyzed their Twitter social media data and the results hold to the effectiveness of images in social media.
Social media posts with images had 18% more clicks, 89% more favorites and 150% more retweets than those without images.
Bottom line? Simply adding visuals significantly increases the impact of our brand efforts and how we engage our audience.
This applies to both small brands, startups and large public companies – everyone can use visuals in their content marketing strategy to engage leads and draw them into their funnel.
Read more: Content ideas for DTC brands
In this post, I'll take a deep dive into the following 3 types of visual content:
Stock Photos
Graphics and Illustrations
Quotes
1. Stock photos
What are stock images?
Stock images are photos made available typically by licensing for specific uses.
Put another way:
Stock photos are used over and over again. Meet "the everywhere girl", a stock image that's basically … everywhere.
Every marketer in every vertical has used the exact SAME photograph, even YOUR competitors.
Alright … I get it. You're on a budget.
There are hundreds of photos online. When it comes to visibility, it's all about reach and shareability.
In fact, photos are the most-shared content.
The question is: how should you use photos to get there?
Your first step would be to look at what top brands are doing. I recommend looking at Harry's as an example.
Case Study: Harry's
Harry's does a great job of connecting with their audience over all aspects of everyday life in their campaigns.
Traditionally how men shave hasn't changed much since the invention of the electric razor.
If you are a new player in an old industry, how do you stand out, especially when you are competing with Gillette and Schick?
You can stand out with emotional storytelling imagery in your social media that directly reaches your consumer.
Zenith Clipping is a clipping path service provider company in Bangladesh. We offer the best quality clipping paths. We are a well-reputed top-ranked image editing company serving since 2010.
Here's how they did this with their #ownyourAM campaign.
Harry's would feature regular morning routines their audience experiences as well as specific causes like Movember. They used images of a peaceful morning paradise across their social media which evoked many conversations.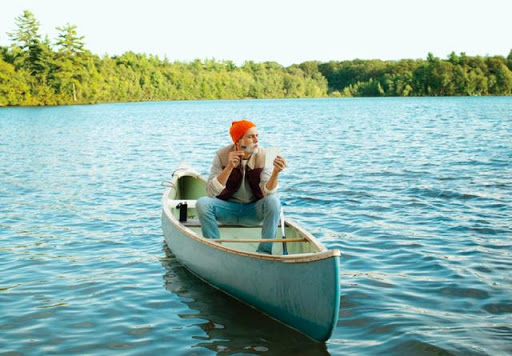 Harry's was able to find fun and memorable imagery that reflected the lives of their customers and stimulated engagement.
Pretty cool, right?
Every business is taught to take into consideration the daily lives of our customers.
Yet, to what extent?
We can see below an image of someone using their shaver while watering the lawn: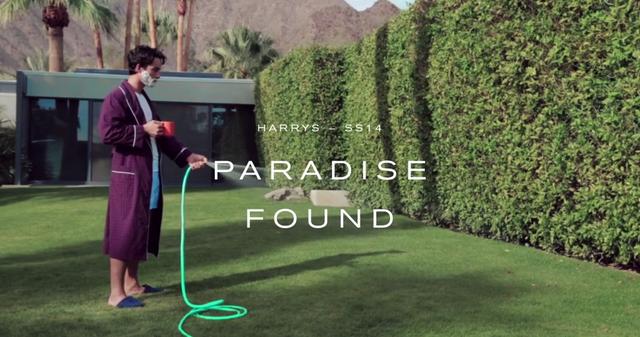 It stands out. The images provoke conversation by showing the fun nature of the brand and the visual connection with the audience.
Believe it or not, they take it even further by tackling breakfast.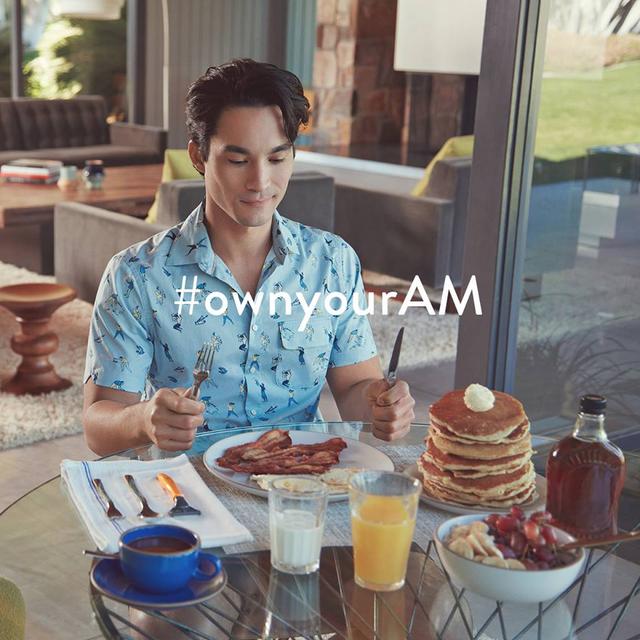 Each of the images remains consistent with the brand and sticks to the mind of their audience.
Not the same as slapping a stock image and the results prove it.
Brands have to create stand-out social media graphics that will grab the audience's attention.
2. Graphics and illustrations
The visual content trend that is taking over social media is using custom graphics and unique illustrations.
Before we dive into examples, it's important to know why they are important.
First used mostly in print media, custom graphics and illustrations took a backseat to the stock imagery alternative for much of the last decade. When there are free options out there, many companies saved a few bucks from custom imagery.
And here's exactly the opportunity more and more brands see now.
To stand out and add personality to a brand, customer imagery is the most eye-catching and conversation starting.
Using graphics and illustrations is KEY. In fact, in a recent survey 40.2% of marketers said original graphics engaged audiences best – topping videos, stock photos, charts and memes/gifs. If you need help creating presentations or slideshows with images and music, you may visit sites like https://everpresent.com/services/slideshow-music-dvd/.
Also, 34.8% of marketers said they struggled to produce visual content consistently and 31.3% struggled to create great designs. Using online social media graphic tool will help if you're a design newbie who's short on time.
You might be wondering by now: what DTC brands use graphics and illustrations well? And how do I use them?
Case Study: Casper
Brands like Casper have embraced using graphics and illustrations to elicit emotional reactions from their audience.
For example, the bold use of bright color palettes in their designs differentiates them from traditional incumbent companies.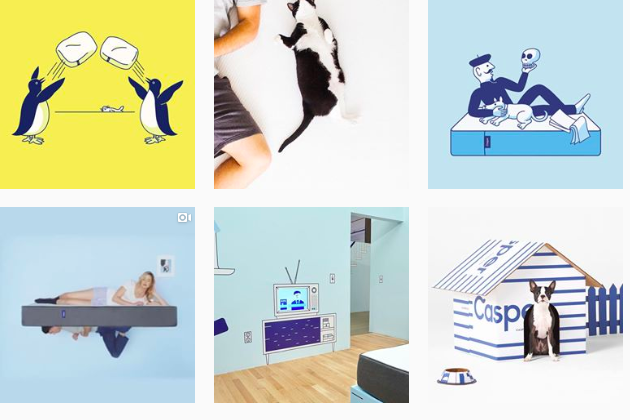 The images evoke the idea they are so much more than a bed company with each illustration of animals and humans sharing beds.
They do this by using bright colors with unique images to emphasize discoverability, and curiosity in a way that excites their readers.
Their audience is excited to see each new social media post with illustrations and enhanced copy that promotes curiosity and fun.
Case Study: Headspace
Headspace is another example of a company that uses bright and bold color social media images in their custom artwork and illustrations to excite their audience – without much copy.
Each of Headspace's social media images features a unique illustration and graphic layout. They are bold, standout, and unique.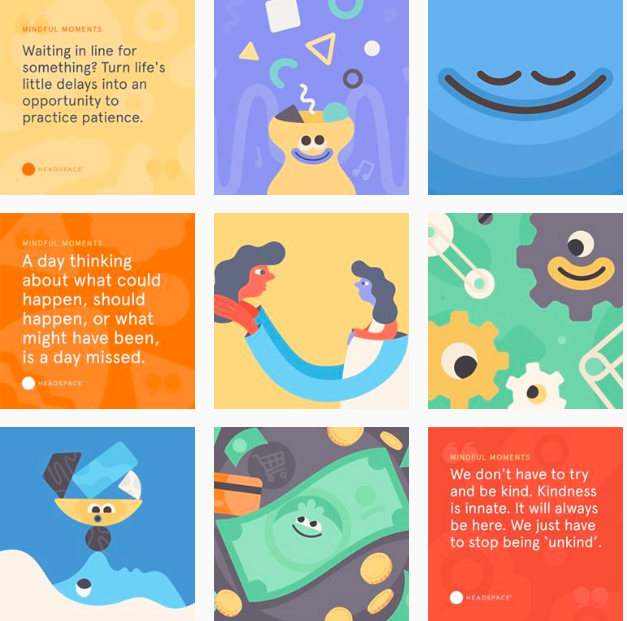 Many of their competitors use traditional stock photos and dull images in their social media posts.
Here's the dirty little secret about graphics and illustrations:
Whether the graphics and illustrations you use are visually entertaining, practical, or artistic, they help your social media marketing stand out from the crowd.
In order words:
If you want your social media posts to be seen you NEED to use them.
How do you use them well?
For example, you can take a ready template to make sure sizing and format is correct, and then customize it to fit your brand and feel. This way, it won't look like everybody else's banners and will convey your brand personality.
In choosing your images for social media, keep in mind your target persona and what they would like to see.
3. Quotes
It's no secret that quotes are an effective way to connect with followers emotionally. People relate to inspirational and fun wise words.
But here's the deal: simply publishing any quote on social media isn't going to get the right attention.
Rather, use quotes from influencers your followers admire and play on their interests.
Brit+Co is an excellent example of a company that uses quotes in visual content to resonate with its audience. Their feed is all about fun, colorful images with funny quotes.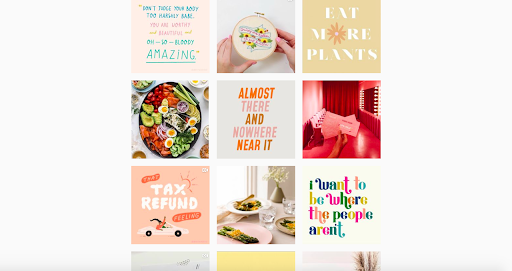 Let's dive into how they use quotes on social media.
Instead of taking a stock image and pasting words on top, they ensure that the design enhances the copy.
It's neither too much text nor generic images. The focus on practical design makes it naturally easy to read.
Conclusion
Having a social media marketing plan is crucial to connect your brand to your audience and scale engagement over time. Your posts should be consistent with overall promo strategy so you make the most of every event, partnership, launch and so on.
This article has been contributed by John Kyeremeh from Venngage.