The busiest time of year for online stores has begun and you probably are going crazy.
To help you plan your online store's marketing strategy for the holidays faster, we created one plan you can directly steal and implement for your site. We also gathered some cool examples you can use for inspiration.
Ready-to-steal marketing plan for Thanksgiving, Black Friday and Cyber Monday.
Sometimes you have too many ideas, other times – none.
For those of you who don't know where to start with holiday marketing, here's what we'd do: personalized email marketing drip campaign for different segments of our database.
How to do it?
1. Segment your customers
Using customer behavior analytics, segment your customer base into smaller groups. This will help you craft more relevant offers because those people share a common behavior.
Such customer segments are:
last year holiday shoppers (to reactivate again with fresh offers)
recent browsers who didn't buy (you already know what they're interested in)
loyal customers (show your appreciation with special deals or a sweet gesture)
people who bought a specific product (offer them a related product)
For more ideas how to nurture different target groups, check out our guide to customer segmentation for ecommerce.
2. Warm up with emails
Now that you have your segments, use what you know about them – what they bought before, for example, to create appealing offers for each segment.
You can either have teasers in the days leading up to the big shopping holiday(s) or you can directly start off with smaller discounts and more unpopular items, building expectations for the big hits.
We recommend sending 1 email a day in this period.
3. Emails on Thanksgiving
Thanksgiving is a family holiday and most people begin shopping after that, but it won't hurt if you hit their inboxes with an email or two to reserve a spot on their shopping list.
4. Email marketing for BFCM
When the clock strikes midnight on Black Friday and things go wild, you stand no chance of getting noticed unless you send at least 3 emails.
What to remember:
Subject lines will make or break it.
Cool design and simple offers will get you clicks.
Don't compete on lowest price. Bet on signature/ hit products people can't get anywhere else.
Bonus: 5. Use the segments for Facebook remarketing
Once you've identified customer segments to engage, you can usually export those lists and use them as custom audiences in Facebook. This way, your Facebook ads will be relevant using the data from your sales analytics.
Feeling adventurous? How about taking this whole plan up to another level and using content as bait for holiday shoppers?
Show me one more holiday content marketing trick
Marketing ideas for BFCM
Even if you know what you're doing and don't want to use our ready plan, a few reminders are always handy.
Website optimization
SEO bonus
To boost your chances of getting found for BFCM, a makeover of your home page is not enough.
It's a good idea to keep a BFCM page all year round so it gets well-indexed. It can be very handy for keeping your frequent customers in the loop.
Make family gift shopping easy
Because people get into family mode and realize how many gifts they have to buy, it's a cool strategy to offer family packs/ bulk deals.
If your products range allows it, put together selections of gifts for each family member so people can just order the whole bag of presents and call it a day.
This way you'll get all their holiday business and higher AOV with fewer acquisition efforts.
Special categories
You can create special categories that highlight the purpose or recipient of a gift so people feel at ease choosing from them. This helps SEO and people find easily what they need.
For example, they might not be sure if that belt is good for 50+ uncle Jim, but if it is in a "50+ Men's gifts" category, they won't think twice about it.
Make as many categories as you can – "Mom and mother-in-law gifts", "Sporty teenager gifts" and "Gifts for office Secret Santa under $20" are all life-savers.
Facebook marketing tricks
Pre-Thanksgiving promos
No need to wait till that particular day to get out there. People start holiday shopping early enough to bite early bird offers.
Make it a week-long black Friday
Cutting through all the promotional overload on Black Friday might be a challenge. Why not make use of the rest of the holiday week as well?
On social media, it's easy to first tease and then engage people for a week-long campaign. You can even introduce a new range of products (a product a day) or start a tagging game.
Good Karma
Gifts for loyal customers
No matter if they're doing their Christmas shopping with you, it's their year-round loyalty that counts.
Show appreciation for their support with a little surprise – everybody enjoys a free gift, especially when spending for others.
Thank your partners
Now is the time to strengthen your relationship with partners as well. A few products and a thank-you email or note are enough.
Business is an interaction between humans in the first place so they'll appreciate the effort and – who knows – next year might go smoother.
Want more ideas like this one?
[Download our special Holiday Marketing Guide for Ecommerce]
BFCM Marketing campaign examples
Cool email examples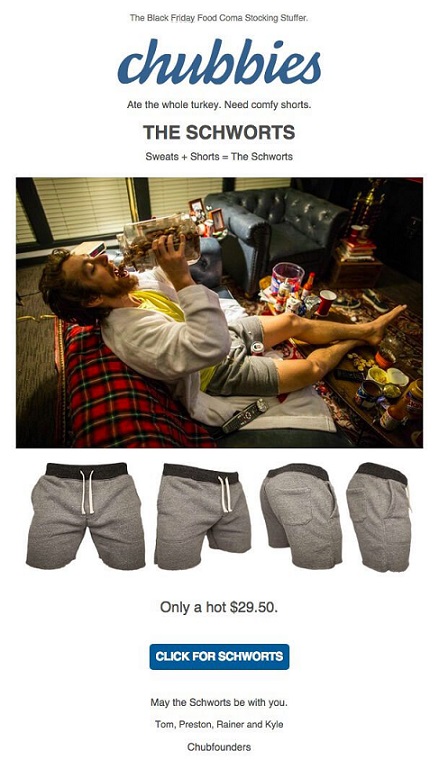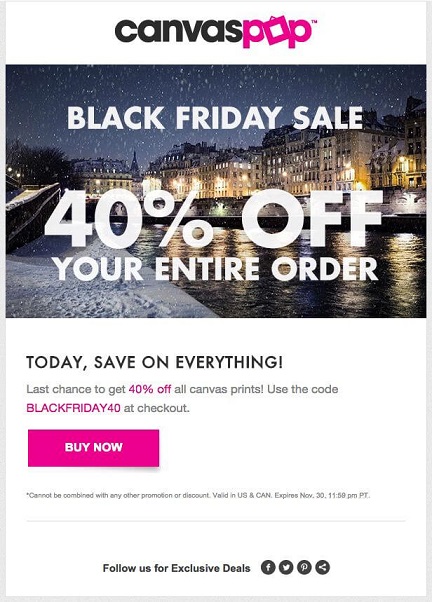 Check out our cart abandonment email templates or other ecommerce holiday emails.
Instagram holiday campaigns