Post-purchase emails are an essential part of customer retention marketing. They are follow up email campaigns after the first order and the aim is to engage existing customers more, make them loyal and drive repeat sales.
Most of the best customer retention strategies rely on such emails.
This is a very different approach than simply sending mass emails with every new promotion you come up with.
Post-purchase emails need to be tailored and to give value to the customer in order to build a mutually beneficial relationship.
If they're just promotional and pushy, people will stop opening them and you will lose them as repeat customers.
Examples of post purchase email campaigns
Let's take a look at each type of email driving retention.

1. Use and maintenance tips
If we want a customer to shop repeatedly, they should enjoy their new items. Content-rich post-purchase emails are great to explain more about the product, how to best use it and how to keep it in shape.
This will make people use your product more and will increase customer satisfaction in the long run. So when they need something else, they'll come to you for another order.
You can easily tailor this kind of campaign by product ordered and take engagement on a more personalized level from there.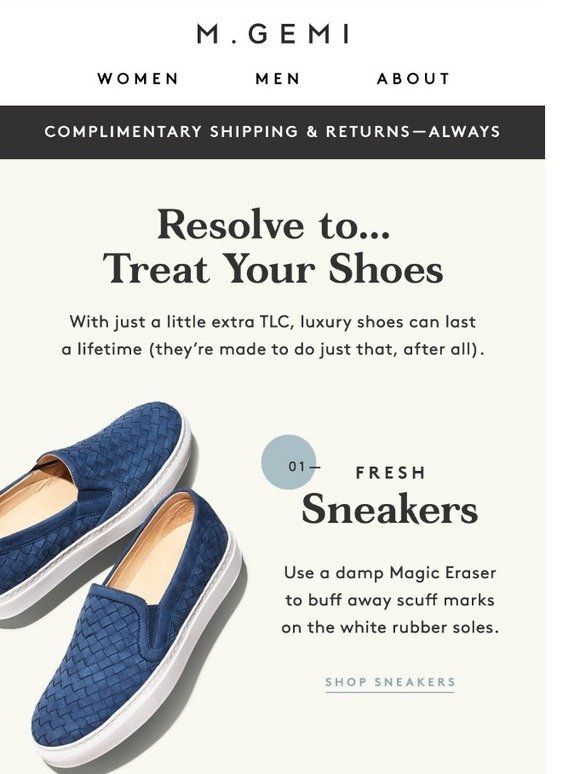 2. A better way to upsell
Upsells are proven post-purchase follow up emails that drive repeat orders. Offering specific items in an upsell email can get very inaccurate and presumptuous, though.
Instead, give customers a coupon for their next order with the call-to-action to add an accessory to the clothing item they just bought, for example.
You can make the coupon category-specific if you want to emphasize the connection between the products. It's also a good way of pushing a category that doesn't get enough attention on its own.
Related: How to sell underperforming products
3. Fight browse abandonment with an offer
You can fight browse abandonment – this is when people browse your site but don't buy anything. Reach out to them via an email and give them an incentive to go through with an order.
The beauty of this win-back email is that the viewed product(s) would be included in the email so the customer remembers easily.
Also, since this is still a post-purchase email, with an ecommerce CRM like Metrilo you have a track record of the customer's behavior on site for all their visits.
You can go through their sessions and select to send a special offer only to those who have looked at the products and left a few times to weed out casual browsers.
4. Reorder reminder for complementary products
Replenishment reminders are the post-purchase emails every ecommerce brand should use if the products make sense to be reordered (sorry, baby strollers and bridal gowns).
Check how often people shop from you in your retention analysis to time your emails for the right time when they will buy again.
But if you sell something like shoes or plants, you can still do it with a mix between cross-selling and reorder campaigns. Your main product may be a one-time order, but the accessories for it are not.
It's a golden opportunity to use post-purchase follow up emails to keep customers coming back.
Think of complementary products you can offer:
Shoe cleaning products
Garment care – storage bags, special hangers, etc.
Coffee/ Water bottle/ tea bottle filters
Spice mixes
Cleaning tablets
Plant care products
5. Save the churners
You might see a customer cohort ready to churn. To avoid it, look at your other cohorts that are performing well in terms of repurchase rate. What products did they buy? This is a huge part of why they're happy repeat customers.
We call this the Superstar technique. It consists of exposing more people to the products in your store that stimulate the most customer loyalty. This increases the likelihood that more buyers will become loyal.
So, send the cohort that's about to churn an offer about this loyalty-inducing product to get them hooked.
6. VIP offers for long-term customers
Even without an official loyalty program, you can reward your repeat customers. Simply use post-purchase emails to give them better and better deals, special promotions and VIP perks. They will see the benefits of sticking with your brand.
For example:
When a VIP customer abandons browsing because their size is out of stock (you know what size they usually shop), find it for them at the back of your warehouse and email them.
Give tiered discounts, growing proportionally with their customer lifetime value.
Send limited-time free shipping offers.
Give them an exciting unboxing experience with freebies and branded merch.
7. Repeat successful campaigns
If you're unsure what kind of email campaign to send out, look in your analytics – which type of campaign performed very well? Was it a clearance at 70% off or the curated selection by an influencer?
Then, filter your customer database to get to those who converted in this campaign and recreate the campaign for them. If they like this type of campaign, so be it – give them more.

8. Post-purchase engagement through content
Your customers might get weary of too many promotional emails so some of them should be pure content without any sales CTAs. Use those content emails to enhance the brand image and connect over shared values with your customers.
Share any company updates that might be interesting like working on a new material or starting a new partnership. Those customer engagement efforts are perfect for when you want to stay top-of-mind but know you have to wait a bit for a next order.
For more ideas: Content marketing for DTC brands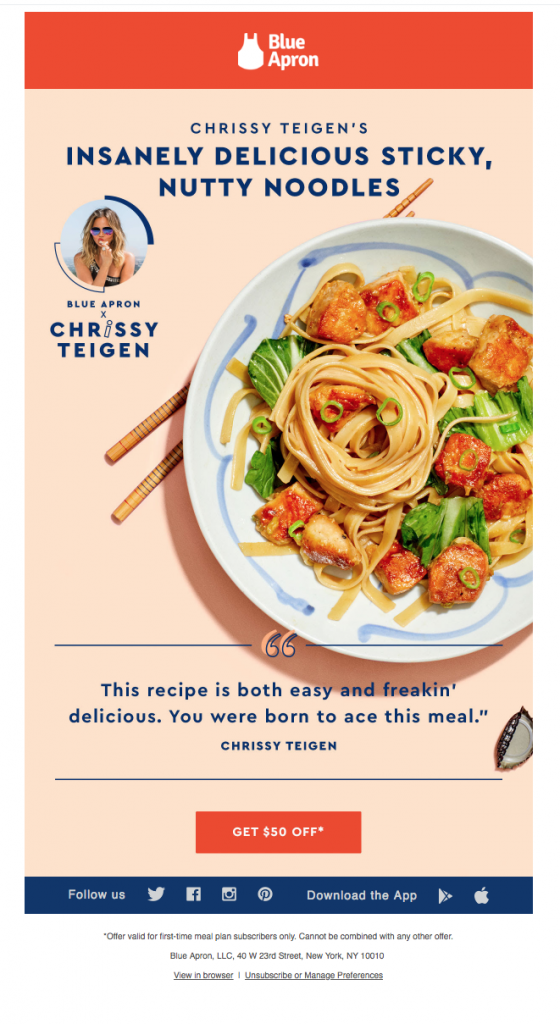 9. Ask for customer opinion
The most logical post-purchase email to send is asking for feedback and recommendations for improvement. DTC brands especially can benefit from iterating their product based on customer feedback.
The more involved with something people are, the more loyal they are to it. Feedback is a wonderful customer engagement tactic. You can involve your brand's following in the product creation process so they see it as their own – and shop it more.
Ask your customers what new variants and colors they want to see. Ask them for new product ideas, even. Their ideas might surprise you but it's an honest look into what they need and want your products to be.
Emails that don't sell directly are the best at driving long-term loyalty.
And if you go ahead and actually realize those ideas….

10. Promote an updated product
Maybe your product changes from season to season, or you keep adding functionality or new add-ons. These are great for post purchase engagement and driving repeat sales.
You know what type of products people already bought, you can easily offer the new version in post-purchase email campaigns. For example, follow up with winter running gear buyers about your summer line when the time comes.
Or maybe you simply run limited editions. It's important to keep your customers up-to-date about it with emails that stimulate reorders.
11. Tailor offers
If you have a wide range of products, it's a good idea to tailor post-purchase email campaigns by product preferences. This would mean you look at what people buy, tag them accordingly and send them emails with relevant products only.
Even better if you use a test people fill in on your site so you get more information about them: their body shape, fashion style, type of hair or skin, etc. – whatever is relevant to your products.
Such emails will keep customers loyal because people feel your brand gets them and all offers are right on spot.
For example, people who buy wooden toys would see more of them and not plastic toys. People who buy books in Italian can be spared books in French. People shopping your petite section will be happy to get a curated selection in their email instead of plus-size items.
12. Timely push
If you don't want your emails to be left unread or worse, marked as spam, you can reevaluate how often you email existing customers. Post-purchase engagement is effective only when people actually open your emails.
It's one thing to use email automation that triggers on specific customer actions and another to just blast emails every Monday because "this is the best day for emails".
The best day for emails is when your customers are ready to shop again. It is closely tied to the type of product and its lifecycle, so take a look at your customer retention matrix to find out your average reorder time (average time between orders).
This is how much time you should leave between pushy sales emails (you can have some non-intrusive ones in-between – like content) for optimal customer experience. People need a breather and your thoughtfulness will be appreciated. Emails that drive repurchase rate actually hit the inbox at the right time customers are ready to shop again.
Post-purchase emails offer so many opportunities! Whatever your customers do, there's a way to make them come back.