Online sales for eCommerce businesses reached $501 billion in the U.S. in 2018. Those sales are expected to rise to $740 billion by 2023. If you want to optimize your marketing efforts for your eCommerce business and improve your conversion rate, consider changing your copywriting strategy.
Create a better blog and website copy that meets Google's content quality guidelines to improve your search engine results page (SERP) rankings. Write eCommerce content that shares your unique brand voice and enhances your brand-building efforts. Use the following eCommerce copywriting tips to optimize brand promotion on your website.
Product copywriting that stands out
Think more strategically so you can start converting more leads to sales and cultivate a long-lasting customer lifecycle. Before you begin writing optimized content that will rank on Google, start writing copy that meets the following four factors:
1. Write with the product benefits in mind
Any website copy or blog posts that share product information must focus on benefits to the customer. Your copy needs to stand out from the competition by showing them why they need your product or service and how it will benefit them.
In depth: Product descriptions that convert
Write a bullet list that shows five to 10 product features and includes benefits for each feature. For example, if you're selling a diffuser for essential oils, mention the eight LED light color options. That's a feature that can benefit the customer by setting a romantic mood with the candle-like flicker mode or serving as a night light while diffusing calming lavender oil.
2. Write copy that triggers an emotional response
Using emotional triggers in copy can increase your conversion rate effectively and bring in more product sales. You'll need to have a comprehensive understanding of your target audience first so you know how to trigger their emotions.
Consider some of the following emotional triggers:
Urgency – Trigger an emotional response to purchase by offering a discount for one day only. They'll want to save money and make the purchase.
Fear of missing out – Motivate more sales by writing copy that showcases a limited-edition product that they don't want to miss out on.
Innate values – Focus on how your product can benefit the value system of your target audience, and you'll likely increase sales.
3. Write relevant website copy that resonates with people
Your end goal is brand building and increased sales. The end goal of leads and customers is to find the right product at the right price. Your copywriting should resonate with the customer's end goal.
Whether you're working on blog content or website copy, you should write with the customer in mind. Focus on how you are solving their problems by providing your product or service. Write copy in a relatable, conversational tone.
In depth: How your brand values resonate with your target audience
Read your copy out loud to ensure that it has a conversational tone and isn't going to lull the consumer to sleep. Find a way to make your advertising copy interesting, even if you're selling reams of copy paper. Engage your readers with a question so they keep reading.
Ecommerce contentwriting tips to increase website ranking
The right eCommerce copywriting strategy can increase your chances of reaching your target market. Use these seven copywriting tips to start improving your website ranking:
1. The importance of keywords
You can use Google Trends to identify the popularity of search queries from the past year. Effective keyword usage is important if you want your website or blog content to rank higher on search engines and reach more internet users.
Start with the keyword trend search, and plan your website copy around that. Make sure your content reads naturally — if you stuff it with keywords, Google will penalize you with a lowered ranking.
Make sure the primary keyword is in the H1, H2, and H3 headers, within the first paragraph, and in the meta description. You can use the keywords in the body of the content, but keep it balanced.
2. Mobile-friendly content
Brand building on your website involves writing mobile-friendly content. Retail eCommerce mobile sales in the U.S. in 2018 totaled $148.08 billion. Those sales are expected to reach $432.24 billion by 2022.
Writing mobile-friendly eCommerce content creates a better user experience (UX) on mobile devices. This content can help increase your SERP ranking because Google has started using UX on mobile sites as a ranking factor. Use short paragraphs so the content shows up in small chunks for easier viewing on smartphones and tablets.
3. Create dynamic headlines
When you're writing copy for your website or blog, make sure to create dynamic headlines that interest readers enough to read your content. Place keywords closer to the front of the headline for greater impact and search relevance.
Make sure your title is no longer than 70 characters since anything over that will not be displayed in the SERP by Google. Place the primary keyword toward the beginning of the title and don't stuff it with too many keywords.
4. Write user-friendly content
Google content quality guidelines recommend that your ecommerce website copy should focus on the user experience and not on beating the search engine algorithm. Of course, you need to pay attention to balancing both principles. Just make sure the content is conversational, natural, and not overly technical.
In depth: The best wasys to use content for your ecommerce brand
Use bullet lists, two- to four-sentence paragraphs, images, videos, infographics, and statistics. Provide a user-friendly experience with educational information that is relevant to keyword searches.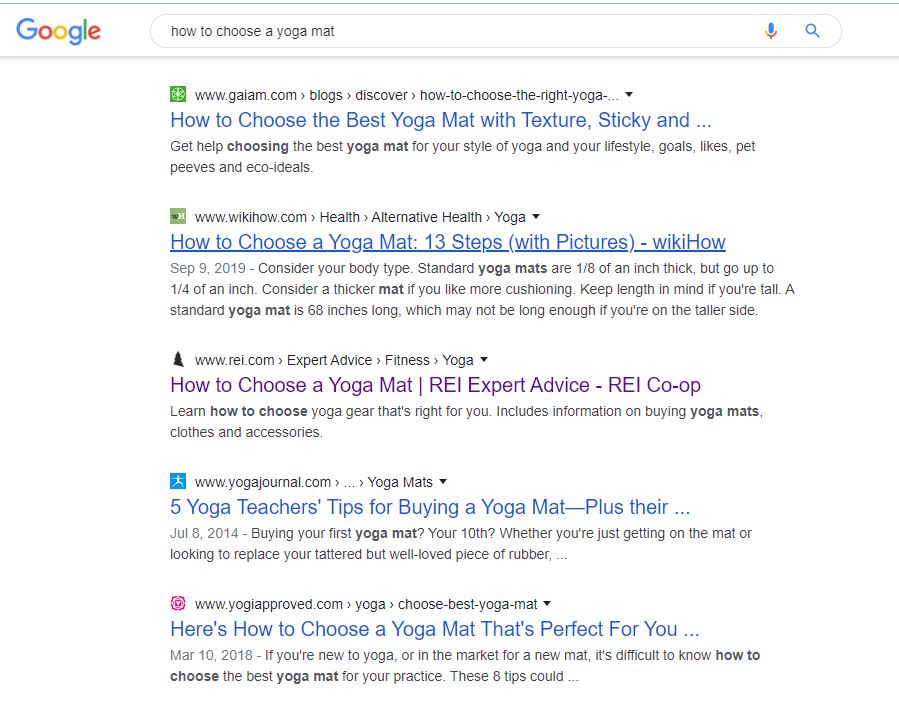 5. Deliver a unified message
Digital touchpoints are all the interactions consumers have with your brand online. Make sure that your ecommerce copywriting is delivering a unified message for all of these touchpoints across all your platforms, such as the following:
Website content
Blog
Online store
Social media
YouTube
Paid search ads
Digital marketing
Look how Man Crates manage to keep their unique tone of voice – and authenticity – across platforms:
6. Be strategic with image placement
Your eCommerce content should include distinctive images that visually attract the reader. Whether you are writing website copy, blog content, or product descriptions for your online store, you need to balance image type and placement with the relevant content strategically.
JPEG files have a lower quality than PNG files. However, JPEG photos will load faster on your website, and that will decrease your bounce rate and improve your online SERP ranking.
7. Write localized content
Help your company grow by writing localized eCommerce content for your website. You want to reach consumers who are searching for shops or businesses "near me" in their online keyword searches.
Do the following to ensure your website content is relevant for localized searches:
Add your company address in the website footer.
Create landing pages for localized searches.
If you provide local services, optimize your content for keywords like the name of the town or city, landmarks, and your zip code.
Just remember not to saturate your website copy with too many localized keywords. Oversaturation will be detrimental to your Google SERP ranking.
Related: Localize your email campaigns
Start crafting your brand's own voice
Take your ecommerce brand to the next level and get your content seen by new customers by implementing these copywriting tips on your website and blogs.