Over one-third of all online stores in the world run on WooCommerce. If yours is among them, you are one of those hard-core entrepreneurs, so devoted to your business that you can't stay away from it for long. You need to know how it's doing constantly, even on the go.
Look no more! We've created the ultimate collection of WooCommerce apps for iOS that you can connect with your WooCommerce store and still be "connected" to your business while you're out there. If you are also looking for an iphone app development agency (just like this iphone app development melbourne agency) to help you with your web & mobile app development, you may visit the Rocket Lab online page for info.
Don't waste your time.
Have All Your eCommerce Metrics in One Place.
1. Official WooCommerce app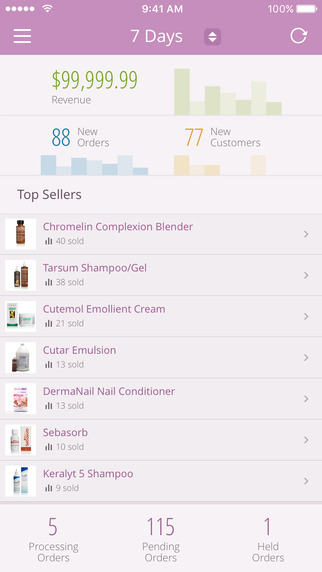 With the latest update from March 2016, the official WooCommerce iOS app is clean and easy to use.
You can manage up to 4 WooCommerce stores (great for WooCommerce agencies) and it "communicates" directly with WooCommerce's new API feature. Note that it requires at least WooCommerce v2.1.8 and iOS7.
From within the app, you can easily see your dashboard data, check out your best selling products, view all orders by status and generally get an overview of how your WooCommerce business is going.
The WooThemes guys are working intensively on the app and we expect push notifications for new orders, customer view and ability to edit products pretty soon.
The app is free on the AppStore.
2. WooView – WooCommerce app
The guys at BCSL Brands have a pretty cool story on how they came up with WooView.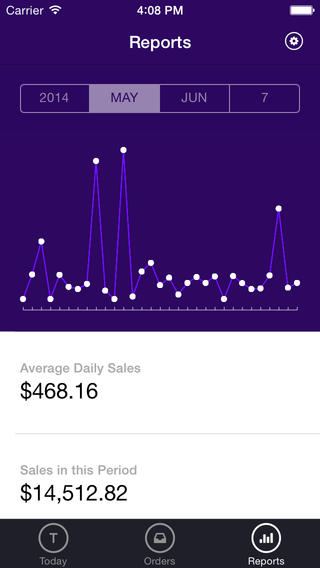 They had a WooCommerce store and they wanted to manage it while on the go. And since there wasn't such a WooCommerce app at the time, they decided to create one.
They've done a great job – their WooCommerce  app is clean, stylish and pretty straight-forward.
Reviews claim it's the best WooCommerce app out there with just everything merchants need on the go.
To get it working, you need to install their WordPress plugin on your WooCommerce store.
You can download the iPhone app from the AppStore. It's 100% free.
3. WooMobile  app
WooMobile is another WooCommerce iPhone app from the developer Bowdie Mercieca.
While it doesn't have reporting features as the previous two apps mentioned, it has a pretty convenient way of displaying your latest orders. This is probably the thing you're going to use a WooCommerce app for most of the time anyway.
It supports up to 20 WooCommerce stores and you can lock each one with а Passcode.
You can get the plugin here. It requires  v3.5 or later. The app on the App Store is priced at $3.99 (a free Lite version is also available).
4. WooSales app for WooCommerce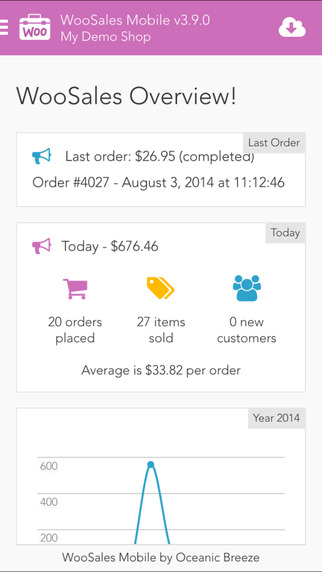 Another simplified option if you monitor orders away from your desk. It gives you key
stats on sales, products sold, new customers, etc.
While it may have some restrictions, it might be a good alternative for those of you who are not data geeks and just want a quick look that the site is up and selling.
It's good for order history checks and basic reports on average order totals and average order items. Those come daily, weekly and yearly. Who doesn't like seeing money coming in through the door?
Last updated in June 2015, the  app is compatible with WooCommerce v2.1.x and v2.2.x. You can get it free on the App Store.
5. WooStats app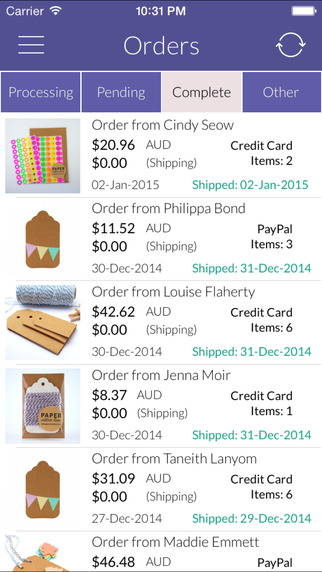 This is an app for those of you who check their sales first thing in the morning.
No complicated reports here, but plenty of mood-boosting stats like orders and revenue, along with access to customer messages, shipping details and so on.
It looks easier to read than the standard WooCommerce dashboard – especially if all you want to see is that last order.
We like the way it displays orders along with items included, date shipped, value (plus shipping fees) and payment method.
One special requirement to use the app is that your website uses commercial SSL certificates.
It was last updated  in August 2015 and now supports multiple currencies.
Get WooStats from the App Store at the price of $2,99.
6. WooAdmin app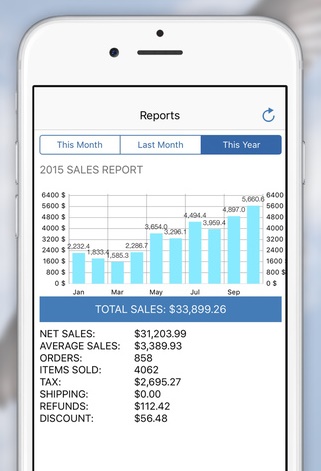 This app gives you graphs of sales performance and overview of orders. A cool feature is that it displays shipping destination in one map.
Another cool thing is that it shows you totals for net sales, tax, shipping fees, refunds and discounts. That's definitely something not all WooCommerce apps offer.
WooAdmin also lets you add new products to your store on the move.
One downside is that it needs at least iOS 9.1 to run smoothly. And it might be a bit basic, but, after all, it'll do the job of telling you if something is down on your site.
It's available here for iOS for $3,99.
Surely, these are not all WooCommerce mobile apps out there (we haven't even started on WooCommerce Android apps), but when choosing, keep in mind that it should just replace your dashboard for easier reading of real-time data, but it can't be your analytics platform as well.
Whichever you choose, though, should keep you well connected with your brain child, e.g. store. And when those notifications start pouring in. Feels good, right?
Let us know what you use and why you like it!