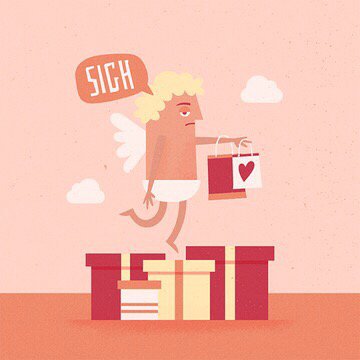 Generally, there are 3 kinds of people out there:
Valentine's Day is beautiful and romantic, it should be celebrated just like [insert important holiday here]!
BS! Cheesy and hypocritical, I can't stand it. People, chill down.
What am I doing on the 14th? What day is it? Sunday? I'm doing legs. Sunday's leg day.
However you feel about the holiday personally, 62% of US consumers and 68 % of Indian consumers plan to celebrate in one way or another. Sales in the US alone are expected to exceed $19 million.
Hope you already have some strategy to reap some of the holiday's sweet business. We recommend a few quick fixes that can add up to your efforts or save you from completely foregoing the holiday's potential sales.
Stock up
If you sell any of these:
flowers, jewelry, candy/ chocolate, tickets, vacations/ experiences, lingerie, greeting cards,
make sure you're well stocked up to never display "out of stock" to desperate lovers. Either carton boxes or cardboard sleeves are good option for the packaging of chocolate. See: https://www.eliter-packaging.com for more chocolate packaging machines.
Proposals will be made this weekend and relationships will depend on your products. That's the moment to shine as their reliable partner in the shadows that has all the good gift ideas.
Don't you dare charge for the gift wrap
Just like Christmas, now is not the time to be greedy. If people shop online, they appreciate the convenience and most probably the gift they order will be shipped to the recipient directly. No time for tying ribbons.
Many of the large retailers with online shops charge about $5 for a gift box, but that's where you can outrun them – surely, you can afford to give your customers free pretty boxes and wrapping 5 days a year.
Make returns easy
Chances are, many people will be disappointed with the gifts they receive so make returns and exchanges no pain.
Display all details prominently on your website and include details on the receipt. After all, the user of the product is your customer, too. Maybe even more important than the buyer.
Be there for them
The weekend will be hectic and lots of complications may give you headaches, but bear with your customers.
Satisfying customers as they're stressed out – at their worst – is highly likely to earn you their strong loyalty and they'll come back to you at their best.
How? Go out of your way to deliver before Sunday. If you sell locally, get help (even from Uncle Dave) and drive to them on Saturday evening. Yes, it's that important.
Go out of your way to deliver before Sunday. If you
sell locally, get help (even from Uncle Dave) and drive around on Saturday evening. Yes, it's that important.
Take extra care with shipping so precious boxes arrive gorgeously-looking. Ship sweets in refrigerated containers.
And answer their messages/ calls.  They trusted you enough to order sexually-charged lace sleepwear from you. Don't ruin their holiday.
Be [a little] cheesy on your site
It's just for a few days, so you can close your eyes and survive. Hearts, cute overweight Cupids and lovebirds flooding your home page…. We hope you find ways to keep it classy.
Tweaking your logo might do the trick. Even Google does it every year. Free tools like Designapp.io can help you there.

Offer holiday promotions
People are looking for gift guides/ ideas, special bundles, and limited editions so catch the wave. Cool banners on your home page and dedicated holiday sections would do great.
Even if you don't carry special holiday merchandise, put together a good selection that's relevant: for him and for her presents, everything couple-themed, romantic, red.
Here's what Scandinavian shopping site bol.com has done this year: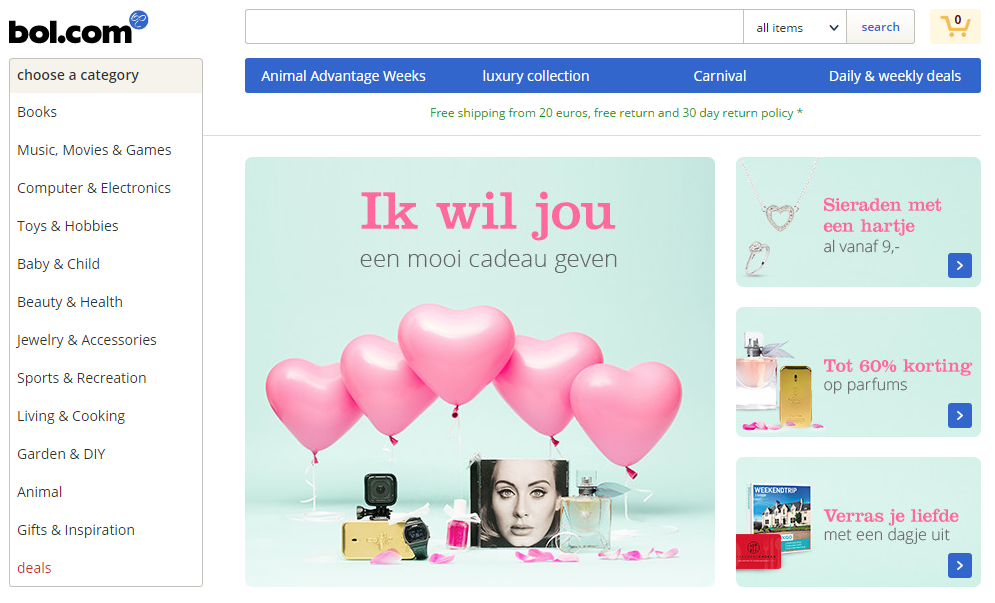 However, for all romantics in Italy, the fashion online retailer Yoox.com has outdone itself with their themed illustrated page. We have to admit, we liked it because it is so very different from the usual tasteless cheesy stuff.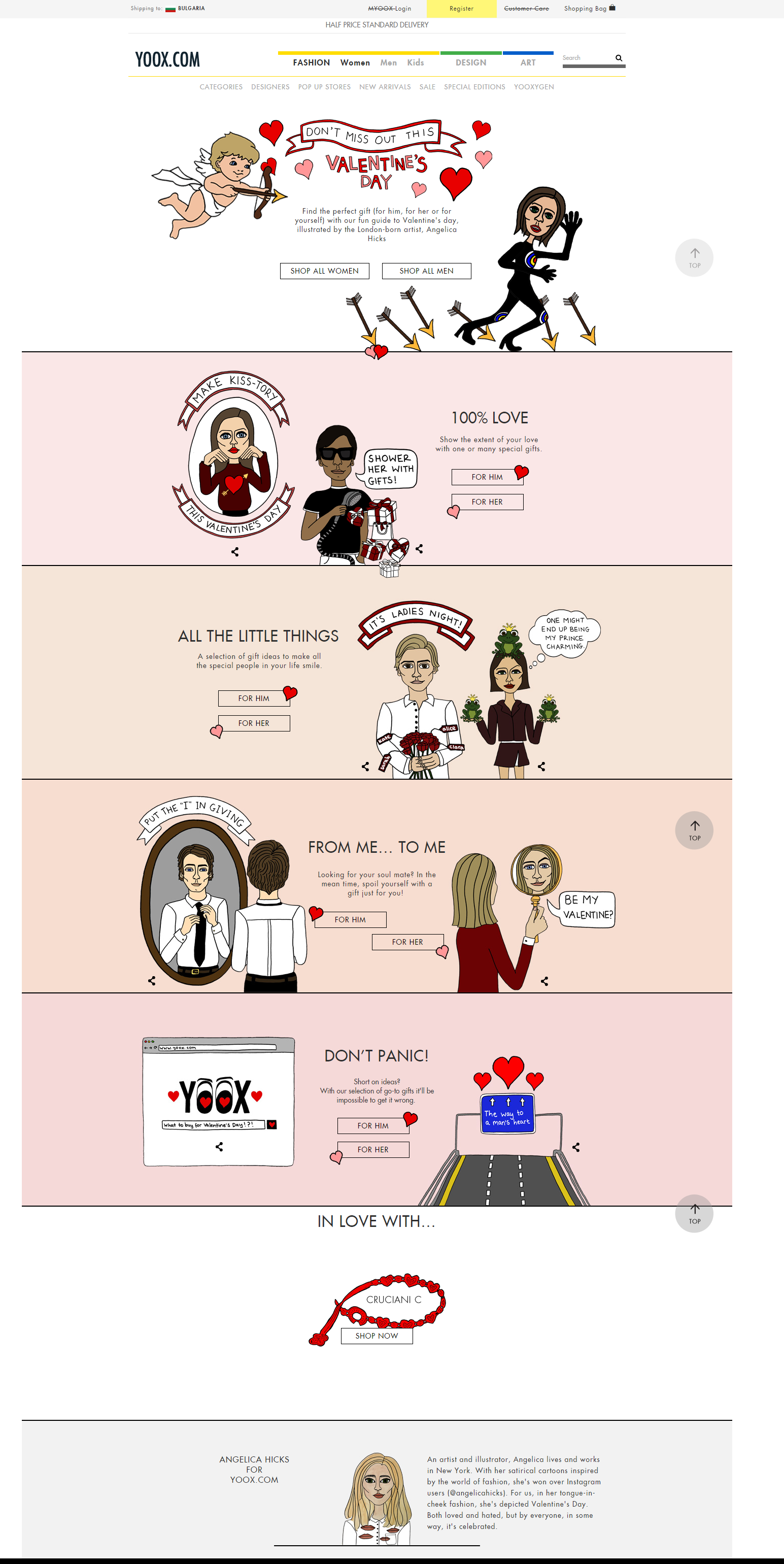 Give away coupons for refills/ accessories for the gifts they buy 
That's a simple way to lure them back after the holiday. Don't limit the validity of the coupon and keep it discreet so the person who receives the item as a gift never learns its price.
This will work for any product from fountain pens to art classes. There's always something else they'll need in the future.
Spark a competition
All social networks work in your favor. You can literally create a challenge today and get your winners on Sunday.
You can target both couples and singles – even better, turn the two groups against each other. Valentine's Day is a good fight-starter so people will be very willing to share opinions. You're sure to have tons of fun and increase your brand's presence.
If you want to keep it under control, though, target women. Those among them who are serious about celebrating will be more than happy to share outfits, nail art, meals, greeting cards and all the flowers and gifts they get.
Make sure you give them awesome-looking gifts to share on Instagram and tag you.

Surprise your top customers
Why don't you become your loyal customers' Valentine and send them unexpected gifts? Just because. You should know what they like so picking the perfect gift is easy. Sometimes it only takes 10 hand-written Thank you cards to land brand ambassadors for life.
Instead of conclusion
Here are two fun facts we couldn't let you get away with:
53% of women would end a relationship if they didn't get anything for Valentine's Day.
11,000 children are conceived on Valentine's Day on average each year.