A conversion funnel is the Rosetta Stone to figuring out why you don't sell that much. Yes, there are metrics and experts to help, but you can look at the map of the customer's journey yourself and see where the spell breaks.
Split the complicated process into smaller steps and you'll clearly see how many people complete each step and where they drop out.  The map of  steps, the number of people on each step and the conversion rates between two steps is what we call a conversion funnel.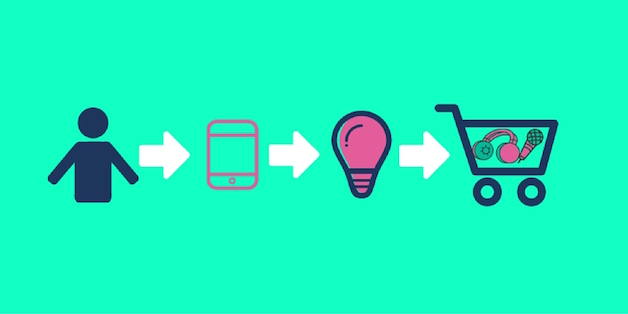 Your must-know terms when using a conversion funnel are:
Conversion rate between every two steps, or how many people go from each step to the next one. The more, the better. The conversion rate between the first and the last step is also important, because it indicates how many people have completed the whole process and achieved the final goal, which is usually buying.
Average time between steps indicates how much time it takes people to complete the simple task of going to the next step. The less time, the better. This depends both on your web site navigation and loading times, as well as on their way of making purchasing decision.
Sample size. A conversion funnel with 17 people in the first step cannot be trusted. You need a bigger sample size to trust the data.
Conversion Funnel – From Visit To Purchase
The classic ecommerce conversion funnel has a website visit at the beginning and a successful purchase as a final goal. Here are the most common steps of this conversion funnel and why people drop out at each step:
Visiting website 
This is the first step. Conversion rates should be calculated on all of your website visitors, no cheating. At this first step, the user forms his first impression of your site, which is formed by a lot of factors:
how good your design is
how popular your brand is
how trustworthy your company looks
how fast your page loads
do you provide secure payments
do you ship to the user's physical location,
If you loose a lot of users after this step, maybe there's a major problem with the way your website is built and you should address those first. This Marketizator blog post offers intriguing facts about visitors perception of ecommerce sites such as where the Product and Cart pages should be placed so you don't turn away your visitors.
Viewing a product
Second step, of course, people should be able to look at your products. A reason not to do so might be if the user landed on your site by mistake, or if they were mislead by a link or an ad, or they clicked the wrong result in a search engine. Also a problem could be if your website's navigation is really bad and people can't find the product they're looking for.
Make sure you have simple and elegant category structure and well designed navigational elements. Having bad images of your products and really high prices can make some user leave your site before this step without even looking at your products. The Digital Marketer Blog suggests that the purchase process might also get interrupted because visitors want to search for more info on the seller/ product/ competitive offers.
Adding a product to cart
Here starts the serious stuff. This is the first step of your conversion funnel where the user shows purchase intent. It's normal that a very small percent of people who view products add them to their cart, but this step is crucial, so every little change counts.
Is your "Add to cart" button big and bright enough? Do you provide a variety of size and color options? Are your prices good? Are your product descriptions and images good enough? Have you received trustworthy positive reviews from previous customers to present?
Start checkout  – Some people use the "Add to cart" button as a bookmark and leave it to decide later, that's why it appears as if most users leave before purchasing. It's expected to have some shopping cart abandonment, but there's a ton of things you can do to optimize and prevent it.
Intelligent reminders by e-mail and push notifications can help improve your shopping cart abandonment rate. Also, knowing that the user showed interest in the product by adding it to the cart, you can provide cool discounts and promotions to make them come back and complete their purchase.
Complete checkout
The goal of the conversion funnel! Starting a checkout process is a huge indicator of interest by the user so they probably have a good reason for leaving at the last moment: maybe your shipping price is too high for some locations? Maybe you didn't provide a secure and comfortable payment method or there аre hidden fees that show up in the last moment as a deal breaker?
As you have probably noticed in this ecommerce purchase funnel example, each step becomes more and more sensitive. Тhe more you go towards the end of the conversion funnel, the more attention you should pay to every little detail to make the purchase process smooth and easy.
There are no trustworthy benchmarks to tell you what is a good or bad performance for each step. Parameters vary across industries, categories and niches, that's why segmenting comes to the rescue.
Segmenting With a Conversion Funnel
A conversion funnel with the same steps on the same ecommerce website will work differently for different traffic sources, industries, categories and niches. That's why we often filter one conversion funnel to see performance only for a small group of people. Here are some examples:

Mobile users only – See if users on the go behave differently from desktop users. Do they just research more or do they purchase directly from their smartphones? Maybe you have a problem with your mobile website, and mobile users underperform?
Users from a specific city or country – Maybe your shipping prices are too high for some region? Or you have a really strong local competitor beating you on the local market? You can research this by segmenting your conversion funnel by location and then dive deep into optimization.

Users coming from a specific marketing channel – Some traffic sources bring in good traffic, others bring in a lot of clicks but no quality. You can filter a conversion funnel by traffic source and optimize your advertising budget. That's  a life saver! You don't expect kids coming from a flash game site to purchase expensive photography gear for example, right?
Segmenting lets you explore in-depth the behavior of your customers and find correlations that would get lost in the big-picture conversion funnel.  You'll see where the process fails and identify places for improvement. The powerful insights you get, especially across marketing channels, are directly actionable, helping you optimize advertising strategy and achieve better ROI in ads.
Comparing Conversion Funnels
Benchmarks might be hard to find, but you can still use funnels to identify which user flow works better and you can then work on improving website design. You can compare conversion funnels with the same first and last steps and see which one performs relatively better, based on the conversion rate.
Here are some questions that can be answered by comparing conversion funnels:
Do visitors who watch the product video buy more than visitors who just look at static images?
Do visitors who read the user reviews buy more than visitors who just read product specs?
Are visitors who submit positive product reviews more willing to make another purchase than those who give negative reviews?
Test, test, test till you are the best
Well, you can't really improve something if you don't measure it, right? Measure, track and analyze what visitors do on your website and how they go through different sections. Make changes in the design of your site, the copy, the advertising strategy, and see how they affect the results that work best for you.