3, 2, 1, DEPLOY! 🎉
As you've seen, our mission here at Metrilo is to help ecommerce entrepreneurs achieve data-driven growth. That's why we improved our main feature that allows you to act on your data. Yes, it's the email feature!
To let you use your data to the max and customize everything, we made Metrilo's email composer HTML-friendly. ☺
Now, you can upload your own custom HTML emails and create virtually any kind of email.
Why is HTML a big deal?
With Metrilo's sales analytics and customer insights you already know what segments to target and when to email them, what offers to send, which products to promote. This way your email campaigns are well-targeted and relevant.
Now, you can make them even more personal, playing with the design, too!
With custom HTML you can build your own email designs that fit your messages best and present your brand in the best way possible.
You can even create tailored designs for each of your customer segments for hyper-personalized communication.
How to prepare your first custom HTML email?
You create a ZIP file with the HTML and images included. Image formats supported are jpg, jpeg, png, gif. Then, go for Email as you usually do in the People tab. There's a new option – upload a ZIP. Upload your file and edit it before sending if you need.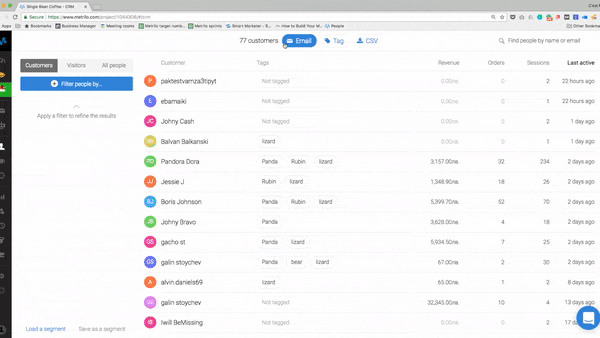 Or you can simply copy-paste any HTML in our editor. You can host any images you like directly in Metrilo.
Here's a step-by-step guide.
Also, take a look at the best practices for working with HTML emails
Go ahead and try it out! And let us know what you think.