In our predictions article on what to expect in the industry in 2016, we mentioned mobile content and content saturation as key trends. Content saturation is becoming a problem and people are increasingly looking for short and clear answers to their search questions instead of links to websites that might answer them.
Mobile content, on the other hand, is the only way to get people on the go. You have to be place- and time-relevant to manage to grab them.
One of the largest players is signaling we were onto the right track. Different mobile search results have arrived that are both a partial solution to content saturation and a way for organizations to provide mobile content.
Google is testing a new feature in connection to mobile search results
It would allow verified publishers, brands, media and other organizations to publish content directly to the search results instead of appearing as a link to another page.
The Wall Street Journal reports the giant has a special interface for the unnamed feature where content can be formatted before uploading to Google's dedicated hosting.
The limitations – for now – are 14,400 characters in length and no more than 10 videos or images.
Those posts show in the form of a carousel (Facebook articles, anyone?) along with the regular search results for the author or organization.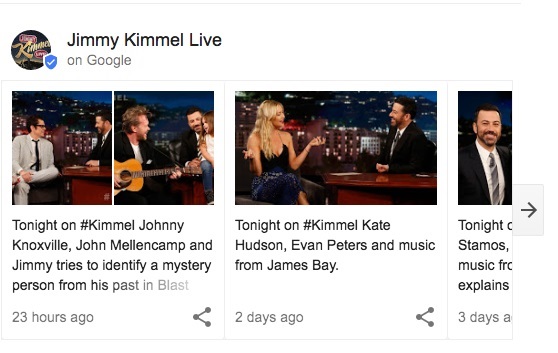 They are also ready to be shared on social networks and via email, which prolongs their life – they would appear in search results for about a week and then stop showing.
The Jimmy Kimmel Show, HBO, Fox News and People.com have already tried the feature, but Google is unrolling it to small business, too.
Why is it important for entrepreneurs doing ecommerce in 2016?
That's a new (and free) way of displaying your business info in brand searches. Now, instead of just a link to your website, you will be able to get a short paragraph of text (still longer than the meta description) complemented with visuals.
And the best part?
Google calls it the ability of "mobile users to hear directly from the people and organizations they care about."
What do we think? You have the full control over that bit of info so you will be able to start influencing your audience before they have even clicked on your website.
Building a positive image without any traffic? Sounds pretty sweet.
No need to index the website to show in results. That is the cherry on top.
Think about how you can get involved in a trending topic or current events – people will surely be searching for them and then you appear with engaging content.
Heavy rainfall expected? A video on emergency waterproofing your home could be welcome. The rubber rain boots you sell may appear at the end.
Ok, I'm fast-shooting here, but you get the idea.
That is a completely new niche for building brand awareness for ecommerce in 2016.
A good strategy in place can turn you into an expert and influencer providing value in no time. It looks a creative alternative to branded social presence where people have become somewhat resilient to messages and engagement.
The fact that the feature is mobile-only is great actually – people looking up such things on their mobile phones want the fastest answer to their questions. That is why we love the Google Maps business cards (with open hours when in desperate need of a late dinner). Hire trustworthy GMB services to rank in Google Maps now.
Possible concerns
The feature seems quite close to Facebook instant articles and carousel look.
How do we optimize for this feature? On keywords alone? Will SEO as we know it work or is the feature going to be strictly brand-specific?
Can a brand flood a related search with its content? As Mobile Marketer suggests, maybe highly-competitive keywords and events will emerge and Goge will bring on the good old bidding to choose whose post to show (think luxury brands tapping on a certain event thanks to the celebrities who wear their outfits).
If brands will have control over that content, how do consumers believe it is benevolent?
If it disappears after a week, brands will have to invest weekly in keeping evergreen content live.
And finally, it might turn out hard for small e-commerce businesses to come up with such content that takes the place of a full-fledged website in the battle for audience attention. In the traditional SEO game at least everybody was given the same means. Can we handle it?
At the time of writing, we could not actually find any official information from Google on the issue. We hope they shed some light soon so we can come back and revisit those concerns because, yikes, they are so many!
For the skeptics, you can indulge in an unashamed tirade on Google's dominance. For the rest of you, we see a great opportunity for both development in the way we do marketing and for more brand awareness.
After all, ecommerce in 2016 is supposed to be disruptive, right?