To increase conversion rate is the never-ending struggle in eCommerce. It depends on many factors and one of them is delivery dates. Let's face it – we can't do much about the actual delivery times. Unless, of course, you start a shipping carrier. Until then, you can use this little trick to keep your customers happy.
Then if you ship temperature sensitive goods then you should see this supplier of temperature controlled packaging as we have used them a lot for another business and they are brilliant.
It all comes down to how you display delivery times to customers. Presentation can make or break your checkout process.
Most online stores play along the way most shipping carriers define delivery times – e.g. next 48 hours, 2-day delivery, overnight shipping, etc. This is the standard, but why isn't Amazon doing the same? For good or bad, we have to watch and learn from the Big Brother.
In your customer's mind, the worn-out "the next 48-hours" doesn't set off fireworks.
A survey by Econsultancy found out the most preferred shipping options by customers.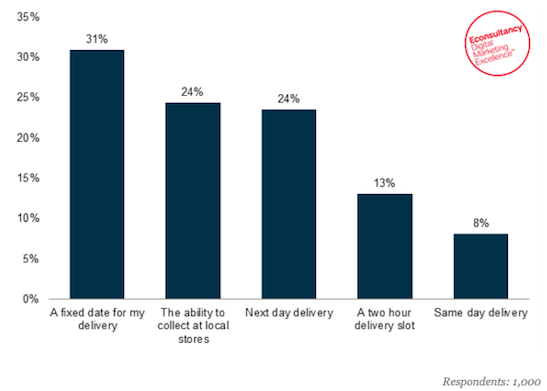 It's clear that people want certainty. They shop because they want stuff – as simple as that. Naturally, they get excited abut the new things they're getting and that's why they want them asap.
It's not because they don't have anything to wear on Thursday, but because they want to wear that particular shirt on that day.
Amazon figured that a long time ago and made a small change to how they display delivery times so customers can easily picture already receiving their purchases and putting them to use.
"Order in the next 5 hours and receive it Wednesday, 13th January."
First, this message creates a sense of urgency. Second, display delivery date as an actual point in time is a small brain trick and it'll help increase your conversion rates.  It makes customers visualize an actual day (in the very near future) they'll receive their purchase.
They know this they'll have their new headphones on Thursday and play with them right after work – isn't that awesome?
What's even better for your customers' happiness is giving them the option to pick delivery date and time themselves. Yes, it sounds like more work for you. But it is a whole new level of customer care and shows your customers you're there for them. Check out Parcll for the best delivery services.
Before you stress out how it's possible to fulfil orders this way, let me tell you: you won't manage in 100% of the cases, but what matters is that you'll do your best. And a little disclaimer along these lines will save you.
Tools for delivery dates to help you increase conversion rate
There're a ton of plug-ins to do it for you – here's just a small list for the major platforms:
Magento – Delivery Date | v1.2.10, Delivery Schedule, Estimated Delivery Date Extension for Magento
Shopify –  Local Delivery and this manual set-up
WooCommerce – Woocommerce Customer Delivery Date Time Selection, Order Delivery Date for WooCommerce
So, a little tweak can keep your customers and motivate them to complete an order. See, baby steps to success 🙂
For more ways to fight shopping cart abandonment and more conversion rate optimization tips, here is a check list you might find useful.