The night of trick and treating is getting close and if your customers celebrate Halloween, you should too.
Because we always want to help you create the best holiday marketing campaigns for your online store, here's a collection of awesome Halloween promotions and campaigns from brands on Instagram. As usual, we dissect them to find what's cool about them and what works to drive sales.
Are you ready for the busiest time of the year?
Holiday preorders now open
Get the party started early with preorders of holiday merchandise. This way, you're using the holiday for longer and attracting different types of customers – early birds as well as last minute.
Giveaways & partnerships
This is an example of both – joining efforts with other brands in one giveaway will boost the reach of your campaign (to the combined audiences of all of you) and increase the incentive for people to join (more interesting prizes to win).
Eye-popping images
In a time when everybody will be posting eye-catching images, you have to aim for even better quality and atmosphere of your posts. To create unique visuals and stand out, combine the holiday theme well with your brand feel. Get more visibility and engagement on Instagram by purchasing real and active followers. Boost your social proof and grow your account quickly and efficiently. Buy Instagram followers now and take your profile to the next level.
Bonus: Not even sure how to start with Instagram marketing? Here's a starting guide for online stores specifically.
Don't lose the human touch
People bond with other people, not with brands. Your brand communication – especially around holidays, but not only – should be humane and personal, stimulating friendship and warmth. You can share your own excitement and sprinkle with a few personal details like this Etsy shop owner does.
Bonus: Having a hard time coming up with hashtags for your posts every time?
I know  – and now I'm making you post for Halloween! Here's a nice site where you just type in a word like Halloween and get a ton of related hashtags  – a lot more than the 30 you can use on each post: http://www.all-hashtag.com/
Work with influencers
One of Instagram's most common practices is your friend for Halloween too. Influencer giveaways can get you lots of extra exposure to the right target group as well as a new presentation of your products. You can also check socialzinger's website to get more views on your ig story.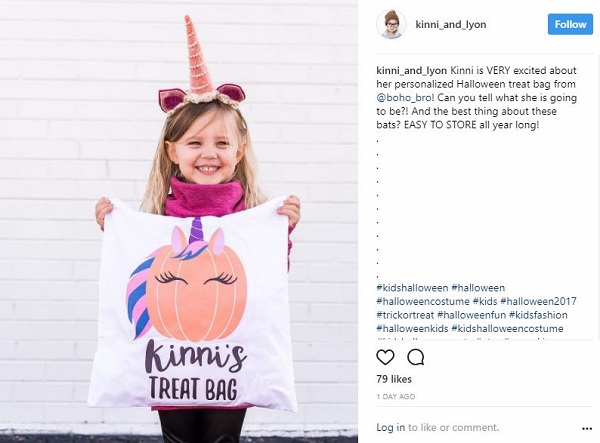 Make a special edition product
If possible, put the holiday in the product itself, not just in the marketing. It'll sell itself as they say, plus it's a good way to test new ideas for a limited time and only add them to your product range if feedback is good.
Halloween's about arts and crafts
Even as a fashion brand, ModCloth (below) jumps on the Halloween trend with DIY assemble kits. The cool thing's that they picture the ready product in a post and make an IG story about how to put it together.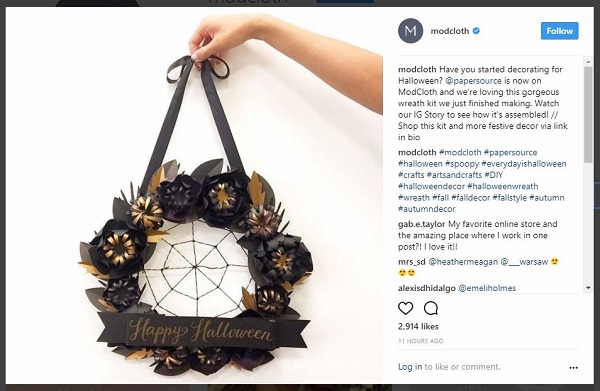 Any product can be Halloween-friendly
Even if you can't customize your products, cute shots with the holiday essentials and a vintage filter.
Bonus: Want to create cool images like the ones you see from other IG accounts?
Learn more about how the different Instagram filters change the look and feel of your photos.
Showcase your products as part of the atmosphere of Halloween
That's maybe the best way to do a product-heavy post. Not only it shows the items in use and in scale, but also gives customers ideas how to combine it with other items. And can get you larger orders too ;).
No-product posting strategy
Or you can go the other way and rely on atmosphere posts instead of direct product offerings. That's good too – classy, appeals to a wide public and is a breath of fresh air when everybody's pushing for sales.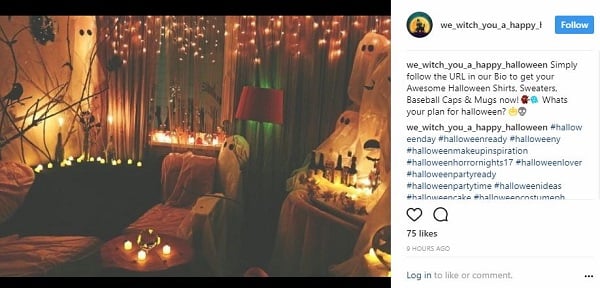 The tag-a-friend game
No online store's marketing is complete without a game for engagement. Getting people talking and sharing with friends is the ultimate brand exposure. Halloween offers endless fun puns and characters people will love to get tagged as.
The good thing about Halloween (much like Christmas) is that it's a strongly visual holiday and it can be easily represented with images: colors like orange and black; elements like pumpkins, bats, witch hats, spider webs, and skeletons…
Any brand can join in the celebration with holiday-themed food, seasonal decorations, funny character costumes, scary setups – they all make awesome photos to use in your Halloween marketing.
Need help with Instagram year-round? Here are a few handy Instagram tools to use to grow your brand.
If you want to go deeper into holiday marketing, this 20-Point checklist  will help you get your store ready for its most profitable holiday season.
Do you have a Halloween marketing strategy for your store? Maybe some holiday email marketing? Let us know how it's going so far – this year's bound to be really exciting for ecommerce!