We know you want to personalize your emails as much as possible, especially the cart recovery emails.
Now, you're able to send customized abandoned cart emails that include links to the specific products customers abandoned.
This way, you're making it even easier for them to go back and finish the order. Abandoned cart recovery gets more and more effective!
How to insert the dynamic products block in Metrilo emails?
In the Email Automation tab, start a new automation flow with the "Abandons cart" trigger.
Then, choose the email tool you wish to use – both the Email Builder and the Visual Editor allow the use of dynamic products in the automation.
Then, choose the regular Products block in the email builder below. It's now upgraded and gives you two options: static product and dynamic product.
Pick the dynamic products block.

If you're using the Visual Builder, there is a special Abandoned cart block, available only in the automation. Just put it where you want it in the email and it will automatically personalize the email, pulling the products each recipient abandoned.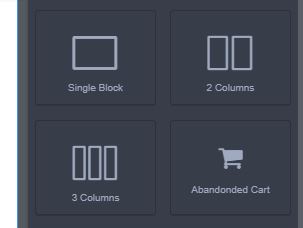 What it does is automatically pull the products each customer abandoned in the shopping cart and insert them into the email with names and pictures.
This block is not available for other automated email flows for now.
Dynamic products in emails will win you more revenue
They remind the customer what they have been looking at and rekindles interest. If they got interrupted while shopping, they'll get excited again and go back to complete the order.
Also, dynamic products shorten the decision-making process – one click and it's all ready to be bought.
You asked for it, we give it to you. 🙂 So try it out now and let us know what you think!
For more, check out Abandoned cart email templates.
Also, see what else Metrilo's email automation can do.