Customer LTV will grow your business in tough times
Customer Acquisition costs are always rising and can slow your growth. That's why the biggest ecommerce stores (including Amazon) maximize Customer Lifetime Value to grow. Metrilo was built to help online stores boost customer LTV and grow.
Try it for free
No credit card, no obligations. Try Metrilo for 14 days on us!
5 min Integration for stores running on
Over 1000 Magento, Woocommerce and Shopify store owners trust Metrilo to optimize their marketing. In an expensive advertising landscape, Metrilo helps squeeze out every sale, making sure customers come back to buy again and again and again. This means more sales with the same marketing budget, growing faster and making more money.
Try Metrilo for 2 weeks and start increasing customer LTV
Try it for free
Free 14-day unlimited trial. No credit card required.
Book a demo
anytime.
What results to expect from Metrilo during the first 3 months
How does Metrilo help you increase CLV?
Shows you which channels and products bring high CLV
Timely offers with personalised promotions
Automated reactivation campaigns for idle customers
How does Metrilo help you increase email conversion rate?
Powerful segmentation allows customized emails
You get behavior and product insights to make relevant offers
Emails triggered by customer actions are accepted better
How does Metrilo help you increase retention rate?
Discovers hesitant buyers and helps you get repeat orders
You'll know what products and channels bring loyal customers
Retention matrix shows you when to send emails
How does Metrilo work on your customer satisfation?
Automates sending customer feedback score emails
Helps you make meaningful offers at the right time
Email campaigns are based on customer behavior and not spammy
How to boost LTV with Metrilo?
Understand
Metrilo goes far beyond standard analytics platforms, our analytics are laser focused on your customers. The Metrilo marketing platform:
Gathers customer feedback automatically

Analyzes order frequency

Maximizes Customer Lifetime Value

Categorizes products by retention score
You will understand how to bring back your customers and make them buy again.
Segment
You already spent a lot to acquire your existing customers. With Metrilo, you boost your chances to make them buy again. Our smart tracking collects everything people do on your website. That's why Metrilo:
Segments customer into tailored email lists

Recovers churned customers

Finds highly converting products and more.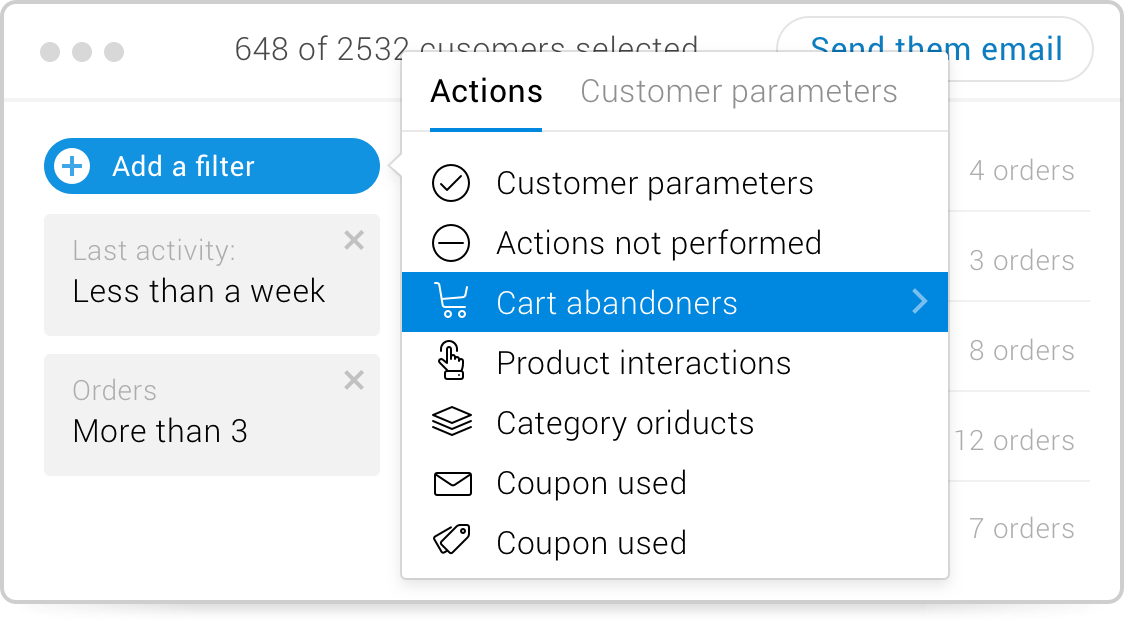 Examples for segmentation with Metrilo
Customers with 2+orders who haven't purchased anything in the past 3 months

People who viewed a product but didn't buy it

People who purchased a product but didn't reorder in the past 3 months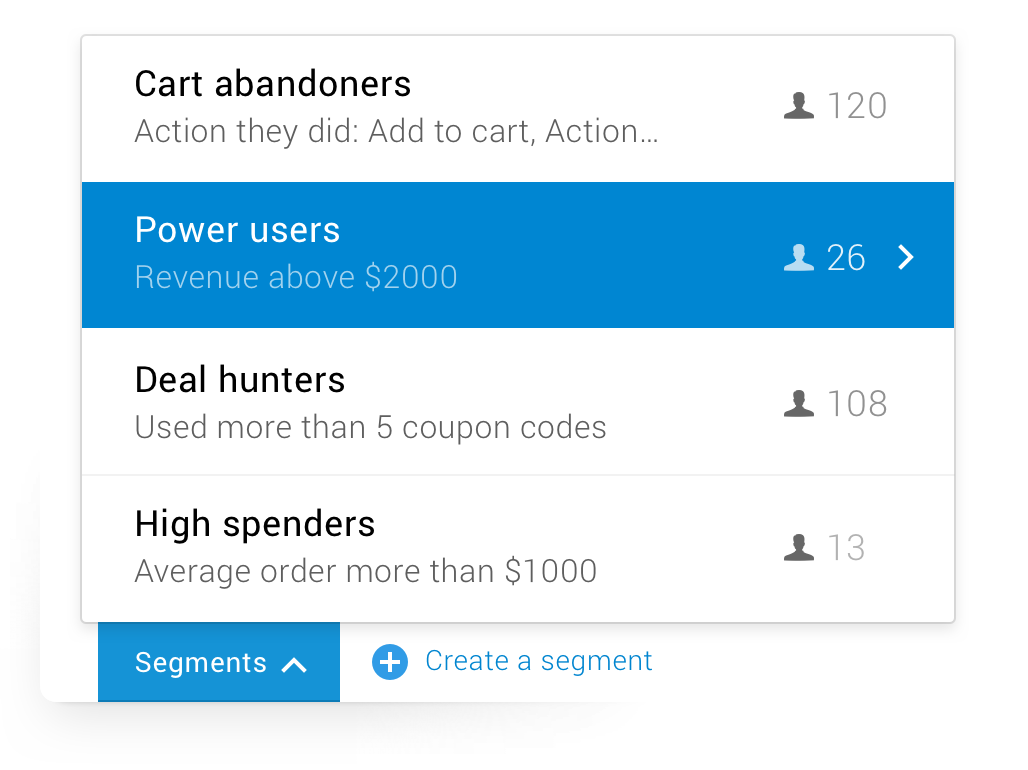 Automate
Sending emails at the right time is crucial. Metrilo automates and optimizes your eCommerce email marketing with:
cross-sell emails

up-sell emails

purchase reminders

cart abandonment emails

feedback emails
The emails run 24/7 on autopilot. Metrilo sells for you even when you sleep.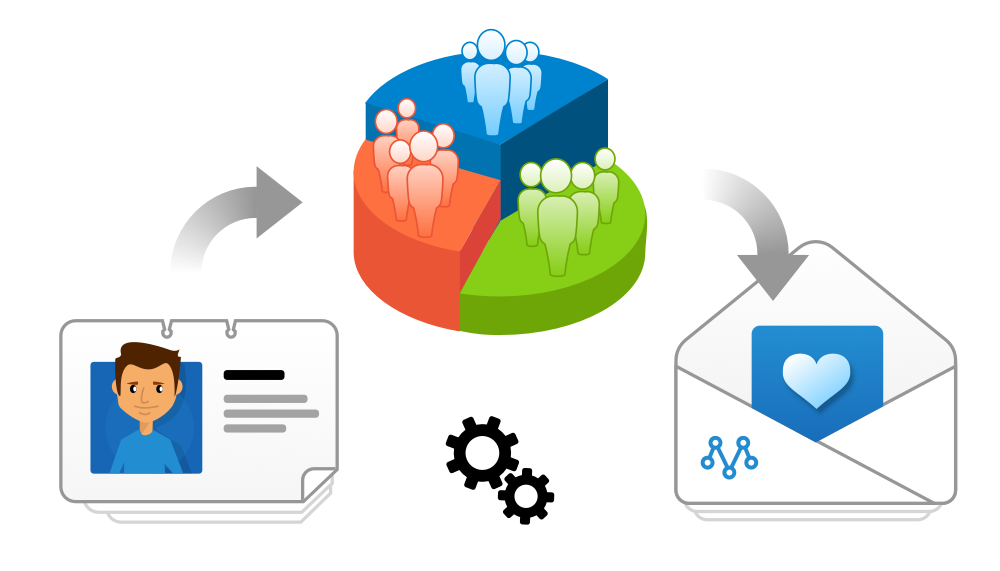 Find out why 1000 businesses like yours love Metrilo
Integrating Metrilo with your WooCommerce, Magento or Shopify store takes only a few minutes and doesn't require any coding or developer assistance - simply install the plugin, connect it to your Metrilo account and sync your data once. Everything will work automatically from then on.
Additional features
Event-based tracking

Track customer actions, not just pageviews

Complete customer profiles

All your customer data in one place

Add your own tags and notes

Searchable and flexible for max effectiveness

Multichannel tracking

Identify acquisition source for each session

Instant order status sync

Immediately updates status and recalculates revenue

Customer segments

Easily save & reach out to specific segments

Live View

Real-life monitoring of your website visitors

One-on-one emails

Send individual emails based on the profiles

Behavior insights

Learn from customers' interaction with products

"I can now easily segment my audience and reach different people with personalized messages. That's the personalization I wanted."
– Nikos Louvaris
, Ecommerce Consultant
5-minute integration. Official plugins for