You're happy with every conversion you make on your online store, right. It costs you a lot of work and marketing money. But are you making the most of every order?
You could – with up-sell emails. You can get larger orders for the same cost of customer. With upsell emails in your email marketing strategy, you'll be getting the maximum ROI on your marketing.
What's upselling?
Adding up to an order so it's bigger and more profitable.
It's achieved by pushing a more expensive version of the product chosen by the customer. It's literally an upgrade of the product in the basket, not just a complimentary one. And usually, it has a higher margin.
The best thing is that unlike the cross-sell emails in ecommerce, you get more money in now and don't have to worry about another conversion.
Here are a few ways to upsell in ecommerce:
An add-on to a product – insurance, maintenance, service, a matching accessory in the same pattern, etc.
A premium or limited version of a product – anniversary print, signed  or stamped handmade item
A consultation – by a stylist, an interior designer, a hairdresser, a child nutritionist, etc.
Tutorials and education – ways to use the product more effectively, like a master class with an ice cream maker purchase
Supplies and spare parts – extra filters with a coffee bean subscription, extra sheets for the daily planner, batteries for the toys, etc.
It's best if you create upsell offers for just a few of your products like the bestsellers. This way you won't overcomplicate things and will still stand big enough chances for efficient upsells.
What makes upsells work?
As we've said many times before, relevancy is the king.
To create appealing upsell offers, you should use product insights from your analytics tool like what products are frequently bought together and what requests and issues they share with your customer service.
Taking these into account, you'll be able to answer their needs and bundle up great premium products that people gladly accept.
For example, you might see that your customers often buy a scarf and mittens so it's only logical to offer them a bundle deal as an upsell.
How to send upsell emails?
The simplest answer is: automatically.
Since you have to offer different upgrades for different products, we recommend setting up an automated up-sell email for each product. The platform you choose to use needs to be able to trigger emails when a particular product is added to cart or ordered.
This way, every customer will get the right message with a relevant offer just on time.
When to send the up-sell email?
This depends on the email sending tool you use. It can be either while the order is not in yet, or just after it's been placed. Both variants bank on the current shopping mood of the customers instead of waiting to re-engage them later.
Option 1
As soon as a customer adds this product to cart, they'd get a specific email, offering them the better (and more expensive) version.
All they have to do it click on the link you provide in the email to update their shopping cart.
Pros: Editing cart, not order.
Cons: An additional step in the checkout.
Option 2
Instead of order confirmation email, customers get the upsell offer with a friendly message that if they don't want to take advantage of the deal, they don't have to do anything.
Pros: Doesn't slow down checkout.
Cons: Updates order already placed.
One psychological reason why upselling works is because you're not asking customers to buy one more item – you're asking them to substitute their choice, which doesn't feel like spending so much more than what they intended.
Advanced upsell email marketing ideas
For those of you who want to go an extra mile here, we suggest you use customer segmentation and handpick the upsell offers you make – that is, upsell differently:
for high spenders – premium versions and special editions, guarantees and maintenance
for thrifty shoppers – good value deals
for loyal customers – consumables and supplies
How to do it?
In your email tool, create customer segments, tag them and set up the upsell campaigns with an additional rule by customer tag.
The effect of upsell emails on the long-term profitability of your store
Thanks to the larger orders you get by upselling, your store's average order value goes up. The LTV also goes up even with the same average number of orders:
normally:                  AOV=$50      orders=3             LTV=$50 x 3= $150
with upsell emails:  AOV=$60      orders=3             LTV=$60 x 3= $180
Great upsell emails examples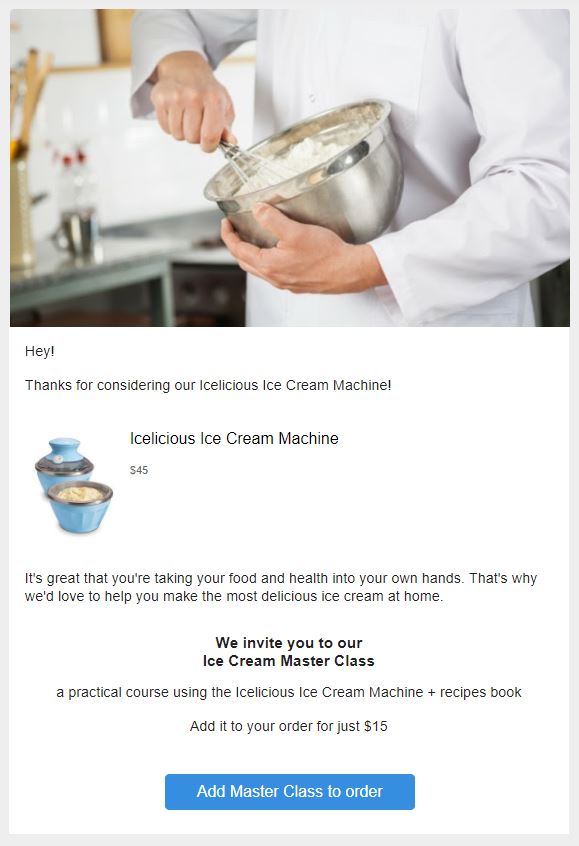 Do you do upsell emails? How do you trigger them? How has it been working for you?
We'd love to hear about it!