Not every buyer looks the same, but boy do they act similarly in many cases.
You know, it's people shopping at 2 a.m. or the same three products getting ordered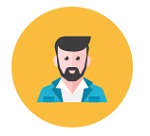 together again and again.
You can see it when your marketing knocks it out of the park and your order forms are slammed.
You also see it when messaging misses the mark and you get snarky comments online, or a new product launch falls flat.
It's right there in your gut but hasn't yet made its way to the calculation center in your brain.
It's time to take that ethereal knowledge and turn it into something that'll help in your reality.
It's time to create the buyer personas that your ecommerce brand needs.